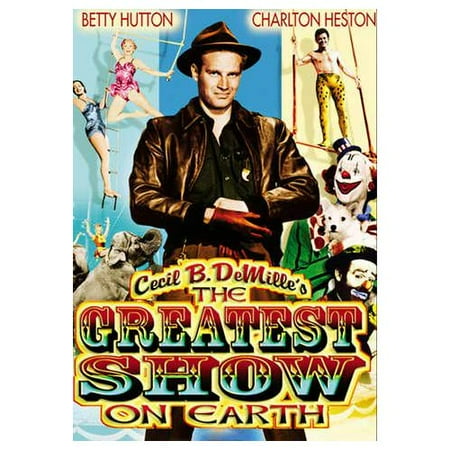 There has been no shortage of lousy movies that have somehow picked up the 'Best Picture' Oscar in their year. Often, that happened simply because there was nothing of much value churned out in that particular year. But not always. In 1952 the nomination list contained a couple of quite good movies, The Quiet Man and Ivanhoe, two over-rated ones, High Noon and Moulin Rouge, and one downright awful pile of melodramatic, cliché-riddled junk titled The Greatest Show on Earth. And the winner was – the pile of melodramatic, cliché-riddled junk!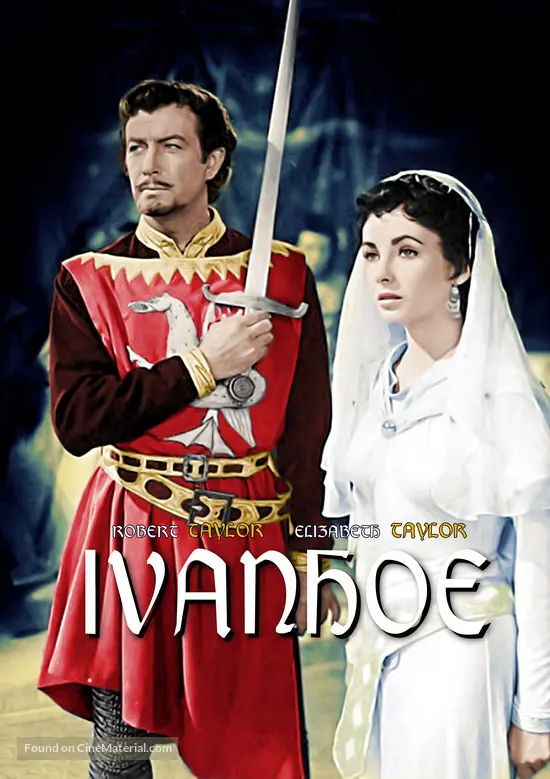 the other nominees
A few days ago I had the distinct displeasure of watching this typical Cecil B. DeMille serving of tripe on Foxtel. In truth, it just happened to screen while I was at my computer, so I decided to give it an unhurried, unprejudiced assessment while I worked. God, it was bad! As it limped along I found myself contemplating other movies from that year, movies that did not even receive a nomination, much less win.
High on the list was a fine western starring James Stewart and the grossly under-rated Arthur Kennedy, a terrific actor who was five times nominated for Academy Awards without a single victory to his name. The movie in question was Bend of the River. Another superb drama was the James Mason vehicle 5 Fingers, a beautifully crafted true-life spy picture from World War Two. It featured a polished cast and an exceptional screenplay so, naturally, it was not nominated. Neither was the excellent interpretation of Rafael Sabatini's swashbuckling best seller Scaramouche, starring Stewart Granger, Mel Ferrer, Eleanor Parker and Janet Leigh. Also overlooked was Elia Kazan's terrific Viva Zapata! The man was a snivelling stool pigeon, but he knew how to make movies. And last, but not least, the wonderfully entertaining musical/comedy Singin' in the Rain. It, too, failed to excite whomever was responsible for the make-up of the nominations list. Were it left up to me, I would have nominated The Quiet Man, 5 Fingers, Singin' in the Rain, Scaramouche and Viva Zapata! Having done so, I should have been happy no matter which one of the five won out.
my nominations
To be perfectly candid, I should point out a few issues I would have had with The Greatest Show on Earth, whether it had been a worthy winner or not. First of all, I loathe circus pictures. Come to think of it, I loathe circuses, period. It is not just the caging and exploitation of the animals I object to; it is the entire range of 'acts' as well. They bore me to distraction. Fire-eaters, sword-swallowers, lion-tamers, jugglers and clowns; they are all a bit of a yawn. And as for the trapeze artists, well, I class them in the same category as racing car drivers. Audiences like to watch them because of the danger, for the dubious thrill of possibly seeing one fall (or crash). This goes part of the way to explaining why, until just a few days ago, I have not bothered to watch this movie, and why I will never watch it again. I guess it also explains why I go out of my way to avoid watching auto races.
A second reason for disliking The Greatest Show on Earth is its length. Once a feature climbs past the 120 minute mark I begin to fidget. By 140 minutes I have usually had enough. It has to be an exceptional film (like Lawrence of Arabia, for instance) to hold my focus after that. This movie drags itself along for 152 minutes! One hundred and fifty two minutes of circus! Give me strength. I suppose a decent director with a strong screenplay and watchable actors might just make such a picture work, but this monstrosity has CB DeMille at the helm, a screenplay that reads like a comic book, and a cast of actors and actresses that appear to be hand-picked to bug me!
First up, we have the ever-dull Chuck Heston, one of only a handful of actors that I simply refuse to pay good money to see. I rate him down there with my other pet hates – Bing Crosby, Jerry Lewis and Kirk Douglas. The Greatest Show on Earth also boasts the services of two of the least attractive (or talented) actresses in Hollywood history. I refer to Gloria Grahame and Betty Hutton. Come to think of it, an aging Dorothy Lamour gets to warble some tuneless little ditty as well, and she was only marginally better. I must be old-fashioned, but female leads (even the male leads, for that matter) should be attractive to the opposite sex. Gloria and Betty are about as sexy as a pair of army socks!
                      Betty Hutton                                                         Gloria Grahame                     
Director DeMille had an aggravating habit of doing voice-over narrations in his movies. Maybe not all of them, perhaps, but since I have not seen all of his movies (and have no intention of ever doing so), I shall assume he only narrated in his so-called 'blockbusters', like this one and The Ten Commandments (1956). Another weakness in his movies is his inability to get any kind of believable performance out of his extras and bit-part players. He gave little or no attention to detail. It is of little use if you have the greatest stars in the world giving award-winning performances, if every time you cut to the extras they are over-acting or hamming it up like trained seals! I realize that DeMille was known for giving 'bits' to long-forgotten silent stars down on their luck, and I admire him for that, but many of these kindnesses back-fired and detracted from his movies. The industry had moved on and their old silent style of emoting had been left far behind.
On an historical note, you may notice in this movie how special mention is made of the circus tent's fireproof quality. Many people believe that the movie itself is little more than an elaborate public relations exercise by Ringling Brothers, the circus at the centre of the story. Just eight years earlier, in 1944, a Ringling Brothers 'big top' went up in flames in Hartford, Connecticut. It not only burnt to the ground, but the inferno claimed 167 lives. Hundreds more patrons were injured. How much impact the disaster had on attendances after that, and whether or not The Greatest Show on Earth helped to alleviate that impact, we might never know. We do know, however, that Field Entertainment, the owners of both Ringling Brothers and Barnum & Bailey Circus, announced on 14 January 2017 that they were ceasing operations after 146 years, due to declining attendances. Perhaps, one day, The Greatest Show on Earth will be considered a vignette of what once was.