Richard Jaeckel was a terrific character actor who racked up a total of 190 screen credits in his 51-year career. In 1943 he was a 17 year-old messenger boy at 20th Century Fox when he was cast as a US Marine private in his first picture Guadalcanal Diary. If you have ever wondered why it took so long to win the battle for 'the Canal', it might surprise you to learn that the actual island of Guadalcanal measures 2,510 square miles or 6,500 square kilometres!
Richard Jaeckel in The Dirty Dozen (1967)                                          Captain Marion Carl
When next you watch this picture look for a Marine Corps pilot wearing his baseball cap with the peak turned upwards. He utters the line: 'Don't look now, fellas, but a truck of gas just came on the field.' He is real life dual Navy Cross winner Captain Marion Carl, a survivor of the Battles of both Midway and Guadalcanal and credited with 18.5 air victories. Sadly, on June 28, 1998 this brave man was murdered in his Oregon home by an intruder.
Bill Bailey in action
Cabin in the Sky (1943) was an unusual film for the wartime years in that it featured an all African-American cast headed by Ethel Waters, Lena Horne and Louis Armstrong. Given that theatres in America's southern states were refusing to screen movies containing black performers, even top ones, MGM took a considerable financial risk agreeing to back such a production. During filming, however, the cast were refused admission to the MGM commissary by the studio manager. When studio head LB Mayer learned of this he invited the performers to join him instead in his private dining room. They were all permitted to dine in the commissary the next day. This picture featured the first performance of the 'moon walk' dance step, (done by Pearl Bailey's brother Bill), decades before Michael Jackson was even a twinkle in his daddy's eye.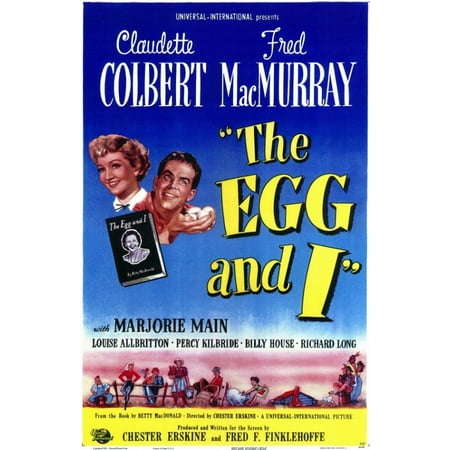 The popular 1947 comedy The Egg and I introduced cinema fans to Ma & Pa Kettle, played by Marjorie Main and Percy Kilbride. Marjorie started as a chorine, dancing in New York in the Broadway show Burlesque in 1916. It is believed that her lover in the late twenties was Barbara Stanwyck, but that has never been confirmed. Marjorie was married from 1921 to 1935. After her husband Stanley died, she carried on 'conversations' with him for the rest of her life. She also had a phobia about germs and was often seen wearing white gloves and a surgical mask.
Percy Kilbride & Marjorie Main as Ma & Pa Kettle                       Spring Byington
Sweet-natured Spring Byington (TV's December Bride) became Marjorie's long-time companion for the remainder of her days. Percy Kilbride made 8 movies as Pa Kettle with Marjorie, the last of them in 1955. Nine years later, he was walking in his neighbourhood with a friend when they were struck down by a motor vehicle. His friend died instantly and Percy passed away a couple of days later.
'Gentleman Jim' Corbett                                   John L. Sullivan
The 1942 film Gentleman Jim made much of the great respect and friendship existent between James Corbett (Errol Flynn) and John L. Sullivan (Ward Bond). In real life, however, the two men did not like each other at all. The movie has John L presenting his championship belt to Corbett but, in truth, he had already hocked it years before. The real Corbett was a quiet, self-effacing man, not the brash egotist depicted by Flynn here. Errol did all his own boxing in the movie, except for the brief time during the shoot when he suffered a mild heart attack. His weak heart would keep him out of World War Two.
Stewart & Sullavan as Martin & Freya                   Margaret & husband Henry Fonda                         her lover Jed Harris
James Stewart and Margaret Sullavan co-starred in The Mortal Storm (1940). The two had met at Harvard University when they (and Henry Fonda) performed with the University Players. Margaret later married Fonda but it lasted just two years before he caught her cheating on him with the horrendously sleazy Broadway producer Jed Harris. She slept with Stewart and Humphrey Bogart as well and was known for picking up men in her car for sex. 'I can give any man a hard-on', even a homosexual', she boasted. 'All except Henry Fonda.'
The movie is today considered to be a classic, but it contains one major plot flaw. Germany annexed Austria (the Anschluss) on March 12, 1938 and The Mortal Storm was filmed in 1939, yet Martin and Freya (Stewart and Sullavan) endeavour to escape the Nazis in Germany by making their way across the border – into Austria. They would have been no better off there than they had been in Germany.
Republic's Flying Tigers was one of 1942's biggest box-office successes. The Tiger Shark teeth and eyes that were painted on the noses of the planes were the brainchild of some idiot in the government who believed the Japanese (being a sea-faring nation) might be frightened if attacked by aircraft painted to look like a school of sharks! The Flying Tigers were the product of a presidential order for an American Volunteer Group to fly for China against the Japanese. It infuriated the Japanese war cabinet and added to their economic reasons for attacking the USA at Pearl Harbor in December 1941.
Alan Hale Sr with Errol Flynn in Dodge City
Alan Hale was the father of Alan Hale Junior who played the Skipper in Gilligan's Island. In 1940 he was in the Errol Flynn western Santa Fe Trail and, like the rest of the cast, was witness to the absolute hatred that existed between Raymond Massey, who was portraying abolitionist John Brown, and director Michael Curtiz. Hale brought some levity to the situation one morning when he admonished the rest of the cast. 'Don't go near Curtiz this morning', he said. 'He's in an ugly mood. The front office has just told him he must fake Massey's hanging!'
Raymond Massey as John Brown in Santa Fe Trail
The movie takes several liberties with historical fact. For instance, J.E.B. Stuart and George Custer were at West Point alright, but seven years apart. They never knew each other there or anywhere else. In Santa Fe Trail they are bosom buddies in everything except their rivalry for the hand of Kit Holliday (played by Olivia de Havilland). Custer was never ever in Kansas Territory and the US Cavalry did not attack John Brown's fort at Harper's Ferry. The US Marines did that.