In the 1975 thriller Three Days of Condor the office of Higgins (played by Cliff Robertson) is situated inside the World Trade Centre. The balcony from which Joe Turner (Robert Redford) watches Kathy Hale (Faye Dunaway) tail Higgins can be seen in the documentary made by two French brothers who, on 9/11, took the only footage inside the WTC after the airliners struck the buildings and before they came down. Incidentally, when Joe says in the coffee shop that Van Gogh never sold a painting in his lifetime, he got it wrong. He sold one. Dino D. Laurentiis planned for Warren Beatty to star under the direction of Peter Yates, but Redford preferred Sydney Pollack as his director when he belatedly replaced Beatty. Not a problem. Dino simply paid Yates the same fee he had promised him ($200,000) not to direct the picture.
  Richard Jordan
The beautiful Martha Hyer married producer Hal Wallis in 1966 and remained his wife until his death in 1986. She has one screenplay credit to her name. Writing under the pseudonym of Martin Julien, she scripted Rooster Cogburn in 1975. One wonders if she was present when the star of the picture, John Wayne, feuded with the director Stuart Miller who insisted on take after take. 'God damn it Stuart', the Duke said, 'there's only so many times we can say these awful lines before they stop making any sense at all.' Interestingly, Miller never directed another theatrical film and this was Martha's one and only screenplay credit. It did not pay to upset Mr. Wayne, it seems. Co-star Richard Jordan went on record, saying that he expected the elderly and frail Kate Hepburn 'to die any minute'. Ironically, she would outlive him by a decade or so. Many people were surprised when Kate agreed to star opposite Wayne. Twenty-eight years earlier she had flatly refused to do Hondo with him because of his public support for the HUAC during the black-listings.
   Peter Arne
Peter Arne portrays secret police Colonel Sharki in the 1975 comedy The Return of the Pink Panther. His character is accidentally shot by Chief Inspector Dreyfus in the picture. Eight years after this film was released Arne was murdered in real life. A homeless man whom he used to feed, bashed him to death following an argument. The man then drowned himself. Police believe that the man probably became incensed when Arne made a pass at him, lay in wait for him to return home, and then killed him with a log from the fireplace.
   Bronson & Moore fight
Breakheart Pass (1975) is the screen adaptation of a western novel written by Alistair MacLean, one with a plot that positively reeks of Agatha Christie's 'Ten Little Indians' and 'Murder on the Orient Express'. During the picture 53 year-old Charles Bronson and the former light-heavyweight boxing champion of the world, 58 year – old Archie Moore, had a running battle atop a moving train during a snowstorm. Neither man used a stunt double. There actually exists a 'Breakheart Pass' in Nevada through which trains do pass, although this movie was shot in Idaho.
   Jay Sebring & Sharon Tate
According to actress Lee Grant 'everyone knew' that Goldie Hawn was sleeping with Warren Beatty during the filming of Shampoo (1975) even though his lover at that time, Julie Christie, was in the picture playing the part of Jackie. Hawn said later that she was never one of his girls, but her ex-husband Bill Hudson wrote in his 2011 biography that Goldie confided to him that she had slept with Beatty in 1971 when they made $ together. At the time she was married to Gus Trikonis. The character played by Beatty here was based on ill-fated hairdresser Jay Sebring. A friend of Sharon Tate, he was butchered by the Manson family, along with Sharon and others on that fateful night in 1969.
In 1975, 18 year-old Melanie Griffith was doing her boyfriend Ryan O'Neal a favour by taking care of his 12 year-old daughter Tatum during a trip to Paris. She took the girl to meet Roman Polanski at his home in the French capital. He took the opportunity to screen a soon to be released film for his two young guests. It was an X-rated Japanese feature titled, In the Realm of the Senses, a charming little thing about erotic obsession that ended in a castration! Well, what else would we expect Polanski to show a 12 year-old girl?
   The Black Knight fight
Cricket fans will probably recognize the face of God in the 1975 hit film Monty Python and the Holy Grail as being that of legendary 19th century batsman W.G. Grace. Incidentally, the Black Knight was played by John Cleese at the beginning of his duel, then replaced by a one-legged local silversmith after he loses a leg. When he gets hewn down to just his stumps Cleese returned and stood buried to his waist in a hole. The much-loved innovation of bashing coconut shells together to depict 'galloping horses' was an old radio sound effect, introduced into the movie for one very good reason. The budget could not afford real horses!
Many people were appalled by the brutality of the electric shock treatment seen in the 1975 hit drama One Flew over the Cuckoo's Nest. The general feeling was one of, 'how could they be so barbaric back then?' Well, even today, according to Mental Health America, electroshock, now slyly renamed electroconvulsive therapy (ECT), is practiced on 100,000 Americans annually! The total worldwide is roughly one million and includes the elderly, pregnant women and toddlers.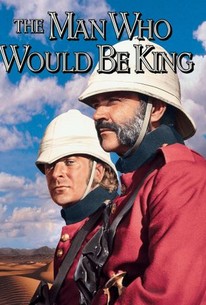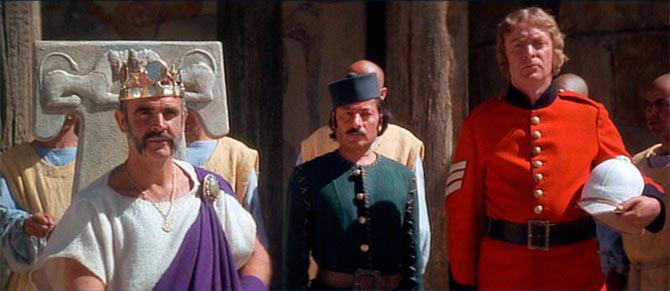 Connery, Saeed Jaffrey, Caine                                                    Karroom Ben Bouih
Michael Caine and Sean Connery co-starred in the wonderful film The Man Who Would be King (1975), supported by Indian actor Saeed Jaffrey who portrayed a character named Billy Fish. Both the stars were disgusted with the treatment of their colleague who had to stand all the time between takes on location. Eventually, Caine lost his temper and screamed at the crew: 'Get this man a fucking chair!' The High Priest, Kafu Selim, was played by 103 year-old Karroom Ben Bouih, who just happened to be the night watchman at the local olive orchard near the filming location!