MARGARET HAMILTON (1902 – 85)
The Wizard of Oz (1939)                     State of the Union (1948)                    These Three (1936)
As the Wicked Witch of the West in The Wizard of Oz (1939)
Margaret Hamilton became so identified with her role as the witch in the 1939 classic The Wizard of Oz, that throughout the remainder of her life she signed her autograph, accompanied by the notation 'WWW', (for 'Wicked Witch of the West'). Ironically, before becoming an actress she worked as a kindergarten teacher; this gentlest of women who portrayed the nightmarish villain of children adored little kids all her life.
As Miss Gulch in The Wizard of Oz
Surprisingly, when the movie was shot she was just 36 years old! The scene in which she exits Munchkin-land in a puff of coloured smoke went terribly wrong in one of the takes and she was severely burnt as the flames singed off her eyebrows and burnt her cheeks and chin. It took over a month for her to recuperate and return to work. Margaret was quick to comment on her reappearance on the set: 'I won't sue, because I know how this business works, and I would never work again.' These were, after all, the days of total studio autocracy and she was no dummy. Rocking the boat was never an option in the 'Golden Age'.
As Grandma Frump (1966)
In 1965-6 she played Grandma Frump in three episodes of the popular TV series The Addams Family, wearing the same dress she wore as Miss Gulch in The Wizard of Oz over 26 years earlier. In 1976 Margaret agreed to appear as the Wicked Witch of the West in an episode of Sesame Street. Afterwards, viewers wrote in to CTW, complaining that she scared their children so much that they refused to watch the show ever again! The network panicked and the episode was never re-aired. In fact, except for a still of her dressed as the witch, standing next to Oscar in his trash can, no other evidence of her performance is still in existence. Margaret Hamilton married once (1931-38) and bore her husband one child. A heart attack took this 5 foot dynamo from us in 1985.
DIANNE WIEST (1948 – )
Bullets over Broadway (1994)                     Hannah and her Sisters (1986)                   Edward Scissorhands (1990)
It almost seems unfair to categorize Dianne Wiest as a character actress. After all, she has been thrice nominated for Oscars and been successful twice. But each one was in the Best Supporting Actress category. Unfortunately, this marvellous performer is one of those people whom producers and directors (and studios) consider a risky proposition to carry a movie in a leading role. Nothing to do with talent, of course, but everything to do with filling cinemas and recouping production costs.
In Bullets over Broadway (1994)
Dianne has collected two Supporting Actress Oscars, both for her performances in Woody Allen films. No wonder everybody and his dog orgasms every time the phone rings and sleazy Woody is on the other end of it! It seems to be almost mandatory that performers in his pictures will be nominated. Well, some of them, anyway. In Dianne's case she well and truly deserved her wins for Hannah and her Sisters (1986) and Bullets over Broadway (1994). I especially liked her in the latter – Woody Allen or not. For the record, if any Allen fan is reading this and happens to be incensed, well, – too bad! I do not like paedophiles, and I like them even less when they use their money and their fame to keep themselves out of gaol. As far as I am concerned, the man should be sharing a cell with that other cinema 'great' Roman Polanski!
In Hannah and her Sisters (1986)
But back to Miss Wiest. She is one of those wonderful players who rarely gets the screen opportunities her ability merits. Still, two Oscars ('supporting' though they be) are ever-lasting proof of her extraordinary talent. In her private life, she was once in a long relationship with Sam Cohn who is godfather to her two adopted daughters, but she is yet to marry.
FLORA ROBSON (1902 – 84)
55 Days at Peking (1963)                   Saratoga Trunk (1945)                        Black Narcissus (1947)
As Queen Elizabeth I in The Sea Hawk (1940)                                    with Sir Robert Helpmann in 55 Days at Peking (1963)
Three years at the Old Vic in London, from 1931 to 1934, saw Flora Robson gain invaluable experience as a character actress in a variety of roles, ranging from Shakespeare to Oscar Wilde, from farce to high drama; all of which provided her with an excellent grounding for a prominent screen career. Despite her natural ability to play all kinds of characters, Flora found herself in monarch roles quite often. She was Queen Elizabeth 1 in Fire over England (1937) with Laurence Olivier and Vivien Leigh, the Russian Princess Elisabeth in The Rise of Catherine the Great (1934), Queen Elizabeth again in The Sea Hawk (1940) and the Dowager Empress Tzu-Hsi in Samuel Bronston's 1963 epic 55 Days at Peking. In 1945 she received her one and only Oscar nomination (unsuccessful), for portraying a mulatto servant in Saratoga Trunk. She never married or had children but, in 1960, was awarded the DBE (Dame Commander of the Order of the British Empire) by Queen Elizabeth II for her services to drama. Cancer took her in 1984.
LOUISE FLETCHER (1934 – )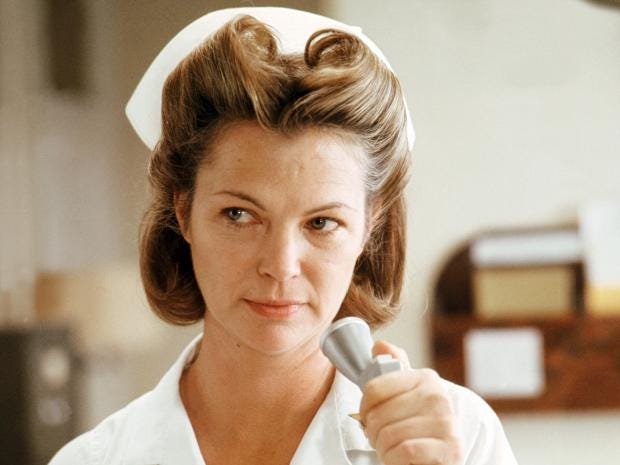 as Nurse Ratched in One Flew Over the Cuckoo's Nest (1975)
Born in Birmingham, Alabama to parents who were both deaf, she was taught to speak by an aunt. 'If I fell down and hurt myself', Louise recalled, 'I never cried. There was no-one to hear me.' Although she has thus far (Dec 2017) chalked up 136 screen credits, her defining role will probably always be her Oscar-winning performance as Nurse Ratched in One Flew over the Cuckoo's Nest (1975). Louise's acceptance speech at the Academy Awards that evening ended with a special message to her parents, delivered by her in American Sign Language. She was 44 when she divorced husband Jerry Bick in 1978, shocking many of her fans by becoming romantically involved with Morgan Mason, the 21 year-old son of legendary star James Mason. Her marriage to Bick lasted 16 years and produced two children.
ELAINE JOHNSON (? ?)                                             with Cantor and Harry Einstein
with Eddie Cantor on his radio show
NOTE:           One of the visitors to this site asked if I knew anything about a former Goldwyn Girl named Elaine Johnson. Unfortunately, there is next to nothing on the Net about the lady, other than the fact that she appeared in an uncredited bit in the Eddie Cantor film Strike Me Pink (1936). There are a few photographs of Elaine on Cantor's radio show, but I cannot even find if the lady in question is alive or dead today. It does seem that she gave up the movie business (or it gave her up) soon after her solitary credit. Since then her life appears to be a mystery. If anyone knows anything else about her I would appreciate hearing from you.
IMPORTANT: Please contact me via the 'Comments' facility, not the 'Feedback' facility. I am unable to lodge responses to the 'Feedback' queries, only those in the 'Comments' section. To all those readers who have asked me questions via 'Feedback', please accept my sincerest apologies for not responding to you. It was (and is) technologically beyond my Jurassic abilities.