MARGARET DUMONT (1882 – 1965)
Margaret Dumont's great claim to movie fame was her regular role as the 'straight woman' to the Marx Brothers in their movies. She was totally bald beneath her wigs and, consequently, wore them all the time. Groucho was convinced that she rarely understood the group's humour which, of course, made her ideal for the role. Others who knew her, however, claimed she was just a brilliant 'straight man', one of the best in the business. I must say that I tend to believe the latter was the case. 'I'm not a stooge', she once told an interviewer. 'I am the best straight woman in Hollywood. There's an art to playing it straight. You must build up your man, but never top him, never steal the laughs from him.' Sounds to me like she knew what she was talking about.
Brer Rabbit & Uncle Remus                           Joel Chandler Harris
Interestingly, Margaret was the god-daughter of author Joel Chandler Harris, the 19th century writer who created Uncle Remus, Brer Rabbit, Brer Fox and Brer Bear. In these days of political correctness, the Disney Company has opted not to re-release to television Song of the South, its version of the Harris book. His so-called 'racist' depiction of life in the Old South scared studio heads to death. The last thing they wanted was ticket-buyers from the Deep South not buying tickets. Margaret nearly always portrayed a stolid, wealthy society matron in her movies which, oddly enough, was what she was in real life. Married to a millionaire industrialist from 1910 until his death in 1918, she was extremely well-heeled. She remained a widow for the last 47 years of her life.
HOPE EMERSON (1897 – 1960)
As 'Mother' with Craig Stevens playing Peter Gunn
At 6'2" and 230 lbs, Hope Emerson was probably the biggest actress in Hollywood history, which made her ideal casting as the sadistic prison warden in 1950's Caged. Her performance landed her an Oscar nomination, but Josephine Hull won for Harvey that year. Other roles were much lighter. For instance, in the 1951 Robert Taylor western, titled Westward the Women, she played a mail-order bride. And in the highly popular TV series Peter Gunn she was the night-club owner 'Mother'. Adam's Rib (1949) saw her memorably portray a circus strong-woman who gets to lift Spencer Tracy into the air in a courtroom scene. Hope never married and died from liver disease at the age of 62.
ELLEN CORBY (1911 – 99)
Ellen Corby is one of the most recognizable faces in movies, a veteran of no fewer than 262 screen credits, yet most cinema-goers would not know her name or that she was once Oscar-nominated for I Remember Mama (1948). The wonderful Claire Trevor beat her with a great performance in Key Larho. From 1971-80, however, Ellen finally gained the recognition she deserved when she played Grandma in the popular series The Waltons.
Most fans would probably be unaware that Ellen was an enthusiastic practitioner of Transcendental Meditation in the sixties and seventies. In fact, the founder of TM, the Maharishi Mahesh Yogi, personally trained her to become a teacher in 1969. Director Francis Corby married her in 1934 when she was a script assistant named Ellen Hansen. They divorced ten years later. The death of her mother in 1963 left a void that was never filled for the remainder of Ellen's life. 'She was a large part of my life', she recalled. 'Much more than my husband ever was.' Ellen Corby was 88 when she died from natural causes.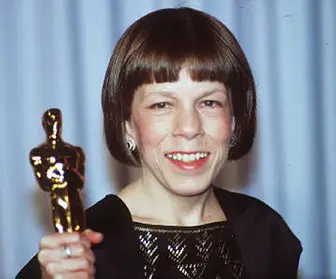 LINDA HUNT (1945 – )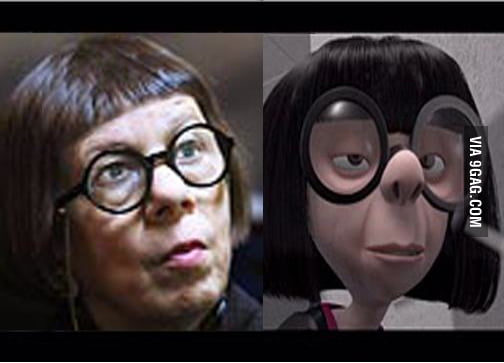 In The Year of Living Dangerously (1982)
When Linda Hunt won an Oscar for her role in The Year of Living Dangerously in 1982, she became the first person in movie history to win for portraying a member of the opposite sex. That is not to be confused with, for instance, Dustin Hoffman playing a man pretending to be a woman in Tootsie (1982).  Linda was a woman playing a man in a serious drama. Since 1987 she has been living with her romantic partner, psychotherapist Karen Klein. Television fans of NCIS: Los Angeles will know her as Hetty Lange in 203 episodes of the series over 10 seasons – from 2009 to 2018.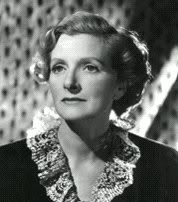 GLADYS COOPER (1888 – 1971)
WW1 Pin-up girl                                  Wilfred Hyde-White & Gladys in My Fair Lady (1964)
The former World War One British pin-up girl, Gladys Cooper, was perfectly cast as Henry Higgins' mother in the 1964 musical My Fair Lady. Her career prior to that saw her grace some of the most prestigious pictures of the Golden Age of movies, among them, Rebecca (1940), That Hamilton Woman (1941), Now Voyager (1942) and The List of Adrian Messenger (1963). A class act all her life, Gladys's final words on her deathbed (after looking at her reflection in a mirror) were typical of her British stoicism. 'If this is what virus pneumonia does to one, I really don't think I shall bother to have it again.'
MARY BOLAND (1880 – 1965)
As a young woman, Mary Boland entertained troops on the Western Front in World War One. She never married or had any children. She was simply far too busy enjoying a 47-year career on Broadway. She also graced some big movies, my favourite being Pride and Prejudice (1940) in which she played the ditzy Mrs Bennett. She died after a heart attack in 1965 at her New York home.
DAME MAY WHITTY (1865 – 1948)
Whenever I watch Dame May Whitty as Lady Belden in Mrs. Miniver (1942), I find it difficult to believe that this same woman was already 47 years of age when the Titanic went down in 1912! I mean, she was a 23 year-old young woman when Jack the Ripper stalked the streets of Whitechapel! May first toured the USA in 1895 with Sir Henry Irving, no less. In the 1918 King's Honour List she was invested as a DBE (Dame Commander of the Order of the British Empire), not for her acting, but for her services to hospital work during the First World War. Cancer killed her at 83.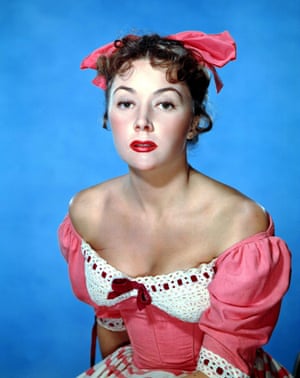 In Oklahoma! (1955)
GLORIA GRAHAME (1923 – 81)
I never liked Gloria Grahame as an actress, but the Academy loved her, bestowing upon her an Oscar and one other nomination. Her private life was a little bizarre, however. 'I married Nicholas Ray, the director', she said. 'People yawned. Later on I married his son, and from the press's reaction you'd have thought I was committing incest or robbing the cradle!' Gloria had four husbands and four children in the 57 years she lived before cancer ultimately caught up with her.
With Glenn Ford in The Big Heat (1953)
She was tone deaf, although she did manage to do her own vocalising in the 1955 musical Oklahoma! It was accomplished, however, in a most unusual way. The songs were edited together, virtually one note at a time, from numerous recordings she made. Gloria often stuffed cotton inside her top lip to straighten it out. Partners in love scenes often complained about getting a mouthful of cotton when they kissed her. She had the lead in a few pictures, but she mostly played supporting roles.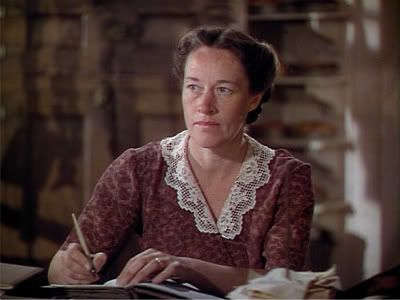 ANNE REVERE (1903 – 90)
With Greg Peck in Gentleman's Agreement (1947)
Anne Revere was nominated for three Oscars (in 1943,'44 and '47), and won once for National Velvet (1944). I am glad she did not win for Gentleman's Agreement (1947), because I truly thought she was hammy and over the top, especially with her silly, flag-waving speech. A direct descendent of Paul Revere of American Revolution fame, she was rightfully incensed when the HUAC accused her of being a Communist. Her refusal to co-operate led to blacklisting in 1951. Anne always maintained that the photocopy the HUAC produced of her Communist Party membership card was a 'plant'. 'I'm a free thinking Yankee rebel', she declared, 'and nobody's going to tell me what to do.'