When deciding to look at some of the big stars and their personal lives, I thought it might be intriguing to settle on a 'Top 10' loves for each of them. Commencing with the 'King of Hollywood', I immediately realized that selecting just ten and placing them in order of importance (to the star) is no easy task. Readers might question my choices and the order I choose, but I shall try to explain each one, as I go, as satisfactorily as I can.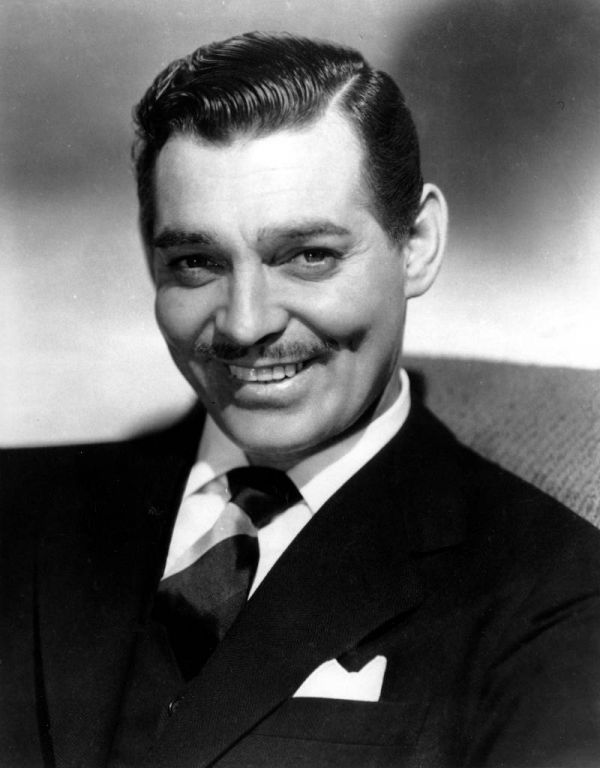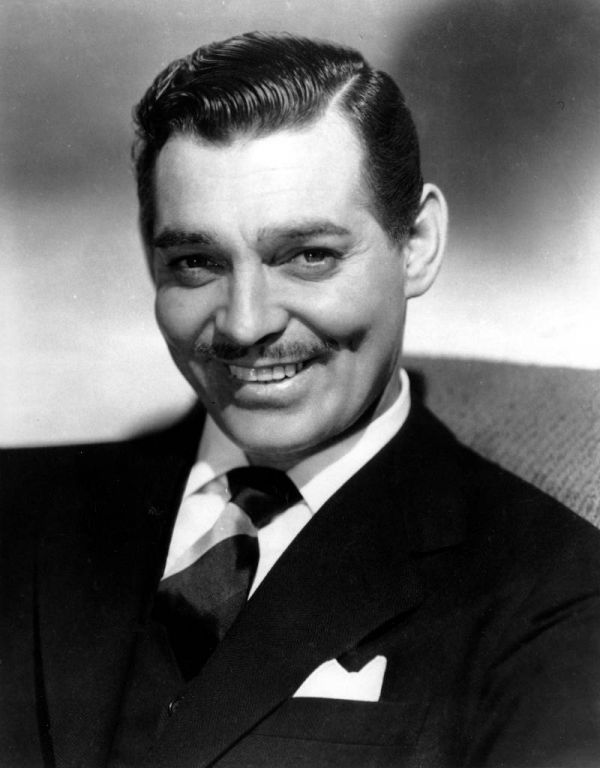 TOP 10 RELATIONSHIPS – CLARK GABLE (1901-60)
 and Gable
#10      GRACE KELLY (1929-82)
It might seem surprising to some that Grace's affair with Gable is only ranked 10. That is because it was nothing more than a 'fling' for the aging superstar. She was not yet 24 and he was 52 when they made Mogambo (1953), on location in Africa, and embarked upon a brief but torrid affair. As usual, Grace fell heavily for this much older man and even followed him to London with thoughts of wedding bells ringing in her head. But it was not going to happen. Clark was a veteran of location flings and this was just one more, as far as he was concerned. Besides, he knew the age difference was just too great for any kind of permanent relationship.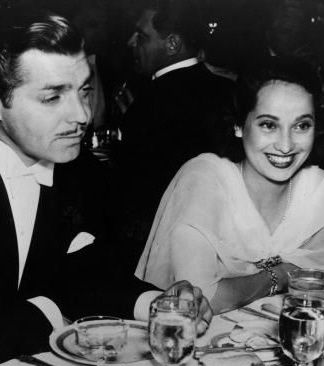 and Gable
#9        MERLE OBERON (1911-79)
In 1936, Gable broke with his wife Ria and was suddenly fair game. Merle was involved with David Niven at the time, but was not gaining the publicity or headlines she was hoping for. So, she set her sights considerably higher and went after 'the King'. On his 35th birthday she unexpectedly showed up at his door with a bottle of champagne and two glasses! They dated for two years (off and on), even while Clark was falling in love with Carole Lombard. Merle would continue to pop up in his sex life, but purely as a 'fill-in' from that time onwards.
#8        JOSEPHINE DILLON (1884-1971)
Gable and Josephine moved to Hollywood in 1924 and were married in December that same year. Theirs was anything but a love-match, however. Josephine was 17 years older than the 23 year-old wannabe actor. They were married until 1930 and (according to Clark) never consummated the union. It was just not that kind of deal. Josephine was a drama coach (theatre) and he needed her to transform him into a performer good enough to gain a foothold in the movie business. By 1930, however, she had outlived her usefulness. He had started to make a dent on Broadway, but he needed someone fresh to get him started as a movie actor. Josephine would be replaced by a richer, better-connected model named Maria (Ria) Langham. It is worth noting that Gable owned the house in which Josephine lived all her life, and he left it to her in his will in 1960.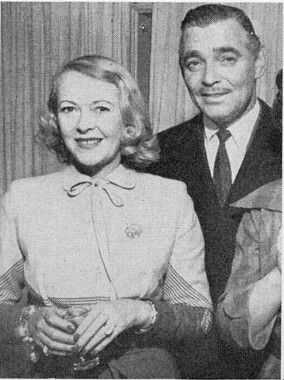 and Gable
#7        LADY SYLVIA ASHLEY (1904-77)
Seven years after the tragic death of his wife Carole Lombard, Gable was still unable to come to terms with his loss. When he met Lady Sylvia Ashley he was taken with her strong resemblance to his dead wife. The couple were married on a ranch in Solvang, California on 20 December 1949, but it was not a trouble-free union. Sylvia's reputation for being a wild party-goer and an insatiable lover did not mix well with Gable's increasing health issues. When their divorce was granted in April 1952, she quoted him as saying: 'I wish to be free. I don't want to be married to you or anybody else.' She would continue with her somewhat scandalous lifestyle, burning the candle at both ends, becoming passionately involved with a great many more men than the five she ultimately married.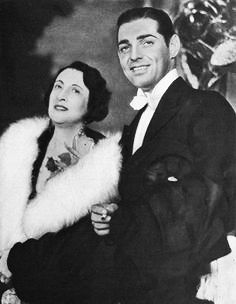 and Gable
#6        MARIA (RIA) LANGHAM (1884-1966)
Maria (everyone called her Ria) was the daughter of a rich Texan family. Like Josephine she was 17 years older than Gable, but unlike Josephine, she was loaded. She continued to hone his social skills, pay for his drama coaching, and introduce him to high society. Doors began to open for the young actor and soon leading roles opposite Hollywood's biggest female stars were his for the taking. In October 1935, Gable and Ria separated. His star was fast approaching its zenith, especially with the success of It Happened One Night (1934), and once again he had outgrown his mentor. She had to go. In all, they were together for nine years, eight of them as husband and wife.
#5        VIRGINIA GREY (1917 – 2004)
It is difficult not to feel sorry for Virginia Grey. After Carole died and Gable had returned from active service, Virginia and Clark began a relationship that lasted on and off for 7 years, from 1942 to 1949. They dated often and were seen around town, seemingly comfortable in their relationship. Pretty much everyone expected them to marry, including Virginia. Just when the tabloids were gearing up to announce their engagement, Gable up and married Lady Sylvia Ashley! The suddenness of the whole thing shattered Virginia and she was heartbroken. She never did marry during her 87 years of life. 'Hollywood men are a lot of phony balonies', she later proclaimed with some justification.  
  and Gable
#4        KAY SPRECKELS (1916-83)
Gable was Kay's fourth (and last) husband. She was born Kathleen Williams in Erie, Pennsylvania, but became Kay Spreckels when she wed husband number three, Adolph Spreckels II, heir to $50 million of the family's sugar fortune. I have placed Kay quite high on the list because she was still married to 'the King' at the time of his death, so we are left to wonder how successful the union might have become had he lived. In March 1961, after he died, she gave birth to their son John Clark Gable.
   and Gable in The Call of the Wild
#3        LORETTA YOUNG (1913 – 2000)
Loretta was one of Hollywood's biggest stars, a stunningly beautiful actress, disliked by almost everyone because of her strict Catholic beliefs and her insufferable piety. It therefore came as a surprise that she was prone to having affairs that were kept far from the public eye. One of those affairs resulted in her pregnancy to Gable while they were co-starring in The Call of the Wild (1935). What happened next was bizarre in the extreme. She went to New York City and confronted Clark with the situation, but his response was less than comforting. 'I thought you were supposed to be a smart girl who could take care of herself', he sneered. And then he walked out.
Judy Lewis                                                      and her dad
After some in-depth discussions with her local priest they reached an agreement that, Since Loretta was a Catholic, an abortion could not be an option, so it was decided that she should 'holiday' in Europe until the child was born, wait a year, and then legally adopt it as her own child! Just about everyone knew the little girl, (Judy Lewis), was Gable's, but the child herself was unaware of this until her husband told her on their wedding night. Loretta finally admitted the truth in her autobiography which was written at the very end of her life. Gable never did acknowledge his paternity.
    and Gable
#2        JOAN CRAWFORD (1906-77)
If Gable was still alive, he might struggle deciding if Carole Lombard or Joan Crawford was the love of his life. He and Joan were kindred spirits for a long time. They came from similar under-privileged backgrounds and both felt forever insecure in their careers, always fearful that the fame and fortune could be snatched from their grasp at any moment if their reputations were sullied. Consequently, when LB Mayer got wind of their passionate affair (both were married to others at the time), he read them the Riot Act, accompanied by a direct order to end their relationship at once or he would ruin them! The couple had made eight movies together and had been an 'item' from 1930 to 1936. They vowed to stop seeing one another at once, but continued their affair in the strictest secrecy. It is generally believed that Gable sought solace in Joan's arms when he learned of Carole's death in 1942.
   and Gable
#1        CAROLE LOMBARD (1908-42)
Carole Lombard was a bawdy, foul-mouthed woman who liked to party. She called a spade a spade; she laughed in the face of authority and treated studio heads and the lowliest members of the crew equally. Cast and crew alike adored her, and none more so than her husband. Gable worshipped her and appeared to be content for the first time in his life. Then tragedy struck. Hearing rumors of a possible romance developing between Clark and Lana Turner on the set of their latest film, Carole decided to fly back home from a Bond-selling tour instead of taking the train. Her plane hit a mountain and all aboard were killed. Gable was inconsolable and may have turned to Crawford for consolation. Later, he joined the USAAF and flew missions over Germany as a tail-gunner in a bomber. Many of his crew-mates thought he harbored a death wish. However, he survived the war, but whether or not he ever got over his wife's death is debatable.