I thought it might be fun to write a few pieces on who came from which city in the world. This will not be a comprehensive assessment of the world's great cities, however, for several obvious reasons. First, there are far too many of them. Second, some of the major metropolises on planet Earth, places such as New York City, London, Los Angeles and Chicago, to name but four, boast literally hundreds of movie and television stars. To write a piece about New York's home-grown, for instance, would require a few hundred thousand words at the least (and I would still be bound to miss a few). What a city! When I first considered this idea of researching a 'city of birth' angle, I was staggered by the inordinate number of movie stars who emanated from what must surely be the most extraordinary city in the world.
Similarly, Los Angeles almost certainly runs a close second, but it has a huge head start over other cities – a kind of home ground advantage. After all, it lies at the heart of the industry. In L.A. everybody and his dog is touched by the movies in one way or another. I don't know how many high school kids there daydream of seeing their names in lights outside a theatre, but I would be surprised if the figure was not massively higher than anyplace else in the world.
Perth at night from the heights of King's Park
So, I have opted to focus on cities and towns much farther down the scale and, since I hail from a small burg that fits that description to a tee, I shall start with my hometown, the world's most remote capital city – Perth, Western Australia. I was actually born in Fremantle, a port a few miles down the coast, but these days Fremantle and Perth are pretty much lumped together, so Perth is as much my birthplace as is good old 'Freo'.
Two images of Sam Worthington in Avatar (2009)
I have read in some publications that Sam Worthington and Greta Scacchi are generally listed as coming from Perth, but that is not so. Sam was born in Surrey, England in 1976. His family moved to Australia six months later and they settled in Warnbro, a suburb just south of Fremantle, and part of the coastal town of Rockingham, thirty minutes by car from the capital.
John Glenn in front of 'Friendship 7'        Gordon Cooper at Muchea talking to Glenn
Americans might recall the name of Rockingham when it was briefly acclaimed across the globe back on 20 February 1962. Astronaut John Glenn was orbiting the Earth in Friendship 7 when, in the middle of all the blackness, he saw the lights of Perth and Rockingham shining below. 'Just to my right I can see a big pattern of lights, apparently right on the coast', he exclaimed. 'I can see the outline of a town, and a very bright light just to the south of it.' At Muchea tracking station further inland, fellow Mercury astronaut Colonel Gordon Cooper responded, 'Perth and Rockingham you're seeing there.' Glenn replied: 'The lights show up very well and thank everybody for turning them on will you.'
In fact, the National Aeronautics & Space Administration (NASA) had asked the Australian government if Queensland and Western Australia could leave airport lights on to see if they were visible from space. A Perth journalist, Bill King, went a step further and asked the Lord Mayor of Perth, Sir Henry 'Harry' Howard, if the city and its residents might leave their lights on for Glenn. Sir Harry refused, saying it would be a waste of public money! The Premier of Western Australia, David Brand, over-rode his decision – and so did the people from Perth, Fremantle and Rockingham – and our tiny moment in history was born. Well, towns and cities down the ages have had their one moment for much worse, I suppose. Of course, Sam Worthington was not even a twinkle in his daddy's eyes in 1962, but it's a nice story anyway.
Greta Scacchi
Another star who briefly lived in Perth was the Italian beauty Greta Scacchi. Born in Milan, Italy, her parents divorced when she was four and her mother moved to England for several years until she remarried. Greta's new step-father was an Italian academic, Giovanni Carsaniga, and the family moved again in 1975, this time to Perth, Western Australia where Giovanni worked as a Professor of Italian at the University of WA. Fifteen year-old Greta went to Hollywood High School (in Perth, not California), and joined the University Dramatic Society. Two years later she returned to England to study at the Bristol Old Vic Theatre School. And the rest is history. After twice being refused British citizenship she was granted Australian citizenship in 1995.
Judy Davis                                                           Judy and her husband Colin Friels in High Tide (1987)
The name Judy Davis is well-known to lovers of film and theatre. She arrived in this world, in Perth, on 23 April 1955. Her education was partially at the Catholic Loreto Convent and the Western Australian Institute of Technology (WAIT). She graduated later, in 1977, from the National Institute of Dramatic Arts (NIDA) and, in 1984, married another NIDA graduate, the excellent Australian actor Colin Friels. Thus far, she has been twice Oscar-nominated (Husbands and Wives in 1992, and A Passage to India in 1984). She has also been nominated six times for Golden Globes and was won twice, plus no fewer than twelve Primetime Emmy nominations that culminated in three much-deserved wins.
Melissa George as Dr. Sadie Harris in Grey's Anatomy (2008)
Lovely Melissa George was born on 6 August 1976 to a Perth nurse, Pamela, and her construction worker husband, Glenn. At 16, Melissa won several awards at the National Roller-Skating Championships of Australia, before dropping out of school to pursue a modelling career. Acting opportunities soon followed and she became known, like scores of youngsters, in the Aussie soap opera Home and Away. In 1996 she moved to Los Angeles in search of bigger and better parts. Nominated for a Golden Globe in 2008, she gained national exposure that same year when she landed an 8 episode role in the highly popular Grey's Anatomy, portraying Dr. Sadie Harris.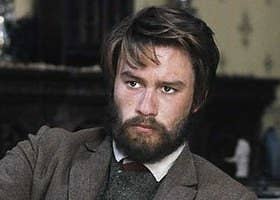 Heath Ledger as Ned Kelly in 2003                                                               and as The Joker in The Dark Knight (2008)
Undoubtedly, Perth's most famous acting son was the late Heath Ledger. Born on 4 April 1979, Heath had the looks and talent to be one of Hollywood's great stars. Sadly, that enormous potential was cut short in 2008 when he accidentally overdosed on prescription drugs in Manhattan, New York City. His mother, Sally Ramshaw, taught French, his father, Kim Ledger, was a mining engineer who also raced cars. Heath attended the all-boys Guildford Grammar School in Perth and excelled in sports and drama. Compelled to choose between a promising hockey future (he made the Under 17s State squad) and acting, he chose the latter. Heath's extraordinary movie career was over in less than a decade after he first became known to the American public in 1999. His posthumous Oscar-winning portrayal of The Joker in The Dark Knight (2008) was, quite literally, breath-taking. It heralded the start of what promised to be an exceptional career. Tragically, it would never come to pass.