There were five of us who hung around together in East Fremantle in the fifties. We weren't a gang or anything like that. We just kicked a footy together in the park across the road, played cricket in Fremantle, bashed golf balls wherever we could, went to the movies once a week and prayed to meet a girl (any girl) who didn't look at us like we were infectious bugs.
Singer Dinah Shore in World War Two
As far as movie and TV stars were concerned, of course, we all had our favourites. Mostly we were in agreeance, but right from the beginning my tastes were considered by the others to be, well – unique. My first screen crush, for example, I had all to myself. My mates thought I had lost the plot when I declared that Dinah Shore was 'the duck's nuts'. I think I saw her on TV around 1957 or 1958, in an old wartime movie titled Thank Your Lucky Stars and I was instantly smitten. I was about 10 years old and she would have been over 40, but what the heck! Love's love and she was a honey. My infatuation lasted for ages (several months at least), until I was love-struck by someone much closer to my age bracket. Her name was Annette.
Annette the Mouseketeer phenomenon                                                                         Annette the movie star
The Mickey Mouse Club burst upon our TV screens in the late fifties, just after television commenced transmissions in Western Australia. These were black and white transmissions, small blurry images, but who cared? It was great. I distinctly recall sitting bolt upright the first time I spotted Annette Funicello in the Mouseketeers line-up. Wow! There was something about her that knocked the socks clean off most pre-teenaged boys on planet Earth and I was one of them. She was, in fact, a bona fide phenomenon inside just a few months. And I just could not get enough of her. Every afternoon I would settle down to watch the Mickey Mouse Club, just to see her say her name, smile, and throw us a salute!
My monumental crush went on for two or three years, until that fateful day I read a magazine article about her at the local fish shop and discovered she was born in 1942. The love of my life was a whole five years older than me! I was nearly 12 – she was seventeen. How could that be? By the time I would be old enough to travel to America alone, meet her and marry her, she was bound to have been already snapped up by some Yank her own age. My heart was in pieces. Truly. My grandmother found me sitting in my bedroom crying my eyes out. 'Alan, whatever's the matter', she pleaded. I had to tell somebody. 'I love Annette', I whispered. It was pathetic. She tried not to laugh as she went off to make dinner. The odd thing was, as Annette got older, I lost interest in her. As a 12 year-old she was special, but as a shapely teenager and adult she, somehow, lost that uniqueness and became just another pretty girl. Strange. Maybe, it had been those Mouseketeer ears!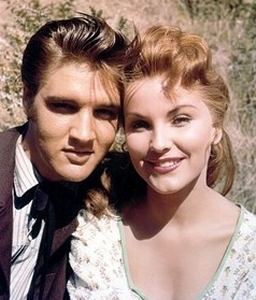 Elvis & Debra Paget on the set of Love Me Tender
Our next goddess was pretty much a unanimous choice – Debra Paget. We drooled over her in unison in Love Me Tender (1956), even putting up with Elvis's posturing for an hour and a half. Greater love hath no man than to squirm through EP for 89 minutes, just to catch the occasional glimpse of the scrumptious Debra. She should have made more movies. In Broken Arrow (1950) she played Jimmy Stewart's Indian wife, but they killed her off too soon. They should have killed off Jimmy instead. He was old enough to be her father for crying out loud.
Shelley Fabares
There was one other girl who captured my attention in a big way in the fifties. The Donna Reed Show ran for eight seasons (1958-66) and Shelley Fabares played Donna's daughter in seven of them. Every so often an actress comes along who is wholesomeness personified. Joan Leslie was one; Teresa Wright was another and Shelley was a third. All three were extremely pretty with personalities to match. As the series progressed, Shelley grew more beautiful season by season. She could sing too. Her 1962 single 'Johnny Angel' made it to the number 1 spot on the US charts in April for two weeks, before Presley's 'Good Luck Charm' knocked it off. Shelley sang it on the show and the clip is readily available on YouTube. She really was the girl of my dreams. Coincidentally, she just happened to be Annette Funicello's best friend. Birds of a feather and all that.
Ursula in Dr No                                           Daniela in From Russia with Love                                           Shirley Eaton in Goldfinger
When James Bond came bobbing down the bunny trail in 1962, he brought with him an assortment of babes, some great and some not so great. By then we were in our mid-teens and beginning to look for attributes other than just beautiful faces. My mates all raved about Ursula Andress in Dr No (1962), whereas I thought Daniela Bianchi in From Russia with Love (1963) was far more attractive. A vote was taken and I was officially labelled an idiot. Shirley Eaton in Goldfinger (1964) was a knockout too, but that same year all three were suddenly relegated to the minor leagues when a new player appeared on the block.
Introducing Ann-Margret – Viva Las Vegas
The emergence of Ursula Andress from the ocean in Dr No is often cited as the sexiest 'debut' in cinema history, (even though it was actually her fourth screen appearance). Similarly, Ann-Margret's so-called debut in Viva Las Vegas (1964) was actually her fourth screen appearance also, yet when the camera focused on her legs and white short shorts for the first time, another mind-blowing cinema moment was born. She became the top fantasy figure for young red-blooded males around the globe, including five from East Fremantle.
Barbara Eden as Jeannie                                 Barbara Parkins from Peyton Place
Another contender for that title was the lovely star of TV's I Dream of Jeannie, the sensational Barbara Eden. The series commenced in 1965, when television in my state was still black and white. For Barbara to seriously challenge Ann-Margret for the mantle of most desirable movie star was no mean feat, considering we had only seen the Swedish bombshell in colour features. Personally, I preferred 'Jeannie' because she was both cute and beautiful. Ann-Margret was only beautiful. You're picky at 18. Barbara Parkins from Peyton Place also found her way into the mix, but only as an also-ran.
Melody Patterson as Wrangler Jane                                   with Ken Berry in F Troop
While my pals debated the pros and cons of these ladies, a super serious contender emerged. It was 1965, and she was only 16 years old – roughly our age. The others were all considerably older – Barbara Eden was 34, Ann-Margret 24 and Barbara Parkins was 23. But Wrangler Jane Angelica Thrift (played by Melody Patterson in F Troop) was one of us! She was a teenager, sexy, saucy, fiery and gorgeous. And she rode a horse! In short, she was it. F Troop only ran for two seasons, (one of the great travesties of programming in the history of American television), and when it went, Wrangler Jane went with it! What a tragedy. She married James MacArthur (Danno in Hawaii 5-0) and I never forgave him. Never.