COREY FELDMAN 
Former child star Corey Feldman appeared on the Dr. Oz show on American television in November 2017 and named eighties star John Grissom as one of the men who allegedly sexually molested him when he was a teenager. Another child star, the late Corey Haim, was also molested, he said. Feldman also revealed that he had gone to the Santa Barbara Police Department (SBPD) in 1993 and named the perpetrators – but to no avail. In fact, he claimed that the interviewing officers turned off the recording device when he began naming names. Consequently, the SBPD say there is no record of his allegations, not even his visit.
While on the show Corey called the LAPD, telling them that Grissom still displayed photographs of both Coreys on his social media pages. Feldman is concerned for his own safety, now that the LAPD is at last looking into his allegations. 'I'm very alone', he said. 'But I need to protect myself and I need to protect my family.' He is hoping to raise $10 – 15 million to enable him to make a film about the alleged abuse, 'hopefully to bring to light what is happening in the world of entertainment…in a very honest way, with no editing, no censorship; no studio behind it.'
JOHN GRISSOM
As for John Grissom, he acted alongside Feldman in two movies, License to Drive (1988) and Dream a Little Dream (1989), was charged with sex offences in 2001, sent to prison in 2003, and has since become a fugitive from justice whose present whereabouts is unknown.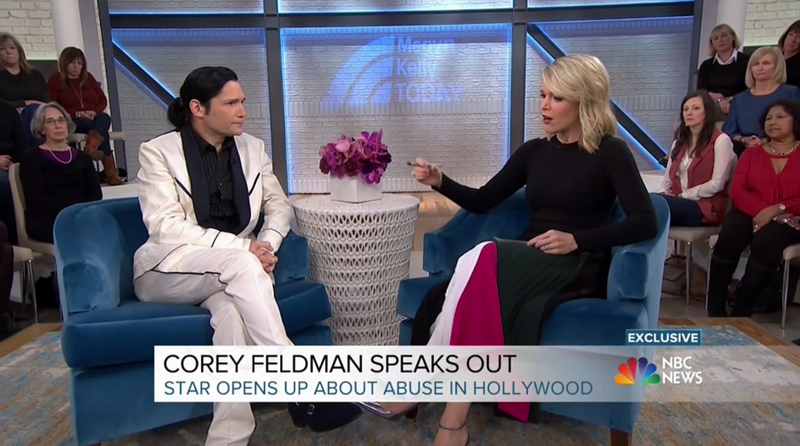 Corey on the Megyn Kelly Today show.
Almost immediately, LAPD officials announced that they would not be pursuing the investigation it launched because the alleged incident is 'out of statute' according to California law, and that there were no other avenues to follow with the case. On Megyn Kelly Today, Feldman added the name of child talent manager and convicted sex offender Marty Weiss, but made it clear that the head of the paedophile ring was, in fact, an 'A-lister', someone whose standard response to an allegation is to threaten people's lives. 'Anyone that knows who I am talking about can find multiple court records in which defendants have claimed that they feared for their safety after confronting him. Corey made a plea to viewers: 'Please realize this isn't reality TV, this isn't a video game, I'm a real live person, and my real life is in danger and you all have the power to save my life.'
Marty Weiss (R) – a convicted sex offender and his victim.
Corey has been trying for decades to raise awareness about the paedophilia he claims is rampant in the movie industry, but has received very little support in his mission to expose the culprits. Lately, however, the situation has changed with the exposure of movie mogul Harvey Weinstein's appalling behaviour. In a lengthy essay, Corey thanked Ashley Judd and Alyssa Milano for bringing to the media's attention the level of sexual abuse prevalent in the business.
HARVEY WEINSTEIN                   ASHLEY JUDD                               ALYSSA MILANO
'It seems as soon as the news broke of the Weinstein scandal, people immediately started turning to me for answers', Corey said. 'I was both perplexed and dumb-founded by the sudden interest in a story I had been telling for decades.' He has no illusions regarding the people he is up against. They have 'well-lined pockets' and 'will stop at nothing, including hiring spies, publicists, lawyers, and God knows what else to smear my name, shatter my reputation…' He hopes to raise enough to pay for a battery of lawyers and a team of 24 hours a day security men to protect him once he names all those involved in the abuses, abuse to not only himself but to Corey Haim who died in 2010.
Corey Feldman was one of those child stars that seemed to have something that many of the others lacked. Perhaps, it was a screen presence. Or was it just sheer talent? After gaining a good grounding in TV and minor films, he landed strong roles in Gremlins (1984), The Goonies (1985), Stand by Me (1986) and The Lost Boys (1987), the last of these earning him a Young Artist Award in 1988.
River Phoenix, Will Wheaton & Corey Feldman in Stand By Me (1986)
In 1986 he was introduced to drugs by his co-star River Phoenix during the shooting of Stand by Me. The picture was being filmed in Eugene, Oregon and River invited him to a local dance, after which they smoked marijuana. A year later Corey was almost fired from The Lost Boys by director Joel Schumacher when he turned up on the set under the influence of marijuana and cocaine. The young actor's agent saved his job, but from then on his father, not his mother, became his manager.
During the eighties, he and Haim, formed a strong friendship. Unbeknown to the public, the two teenagers had been victims of a paedophile ring (one that Feldman vows is still operating in Hollywood). His drugs issue would worsen before improving as he slipped into heroin addiction. 'It did not feel like something that was going to take over my life and destroy it', he told USA Today. 'It felt like a subtle flower instead of a manipulative demon. That's the mystery of heroin.'
Charlie Sheen & Corey Haim in Lucas (1986)
Haim descended into drugs as well but, unlike Feldman who overcame his addictions, Haim never did. He passed away in 2010 at the age of 38. In November 2017, former actor Dominick Brascia, alleged that Haim told him that he had been sodomized when he made the 1986 movie, Lucas, and that 19 year-old Charlie Sheen was the culprit. Haim was 13 at the time. Feldman had written about his friend being raped during the making of Lucas in his memoirs, but had chosen not to name Sheen at that time. It will be interesting to see if he comments now that Brascia has opened yet another can of Hollywood worms. Sheen, needless to say, has categorically denied the allegations.
DOMINICK BRASCIA
Brascia told the National Enquirer; 'Haim told me he had sex with Sheen when they filmed Lucas. He told me they smoked pot and had sex. He said they had anal sex. Haim said after it happened Sheen became very cold and rejected him. When Corey wanted to fool around again, Sheen was not interested.' In another twist, however, a second 'friend' of Corey Haim named Greg Harrison claims that it was Brascia who raped Corey and that Feldman knew and covered it up! Why Feldman would blow the whistle on paedophiles for decades and then 'cover up' the actions of another is not explained by Harrison. Is this the start of a smear campaign to discredit Feldman or has he been lying for 30 years?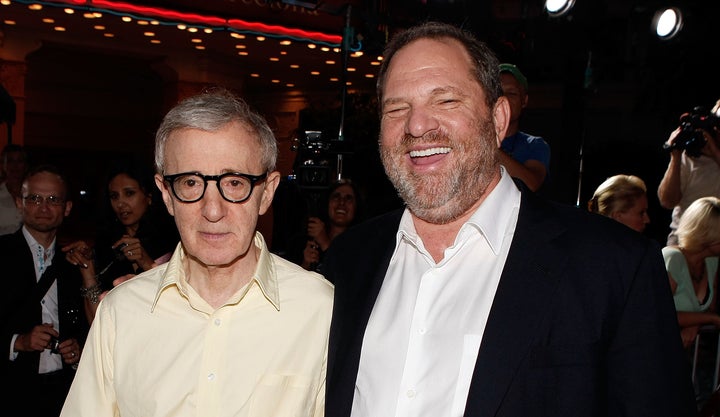 WOODY ALLEN & HARVEY WEINSTEIN
When the first allegations were made public about the conduct of producer Harvey Weinstein, Woody Allen immediately made a public plea, asking that this not be the opening of a 'witch-hunt' in the industry. Presumably, Allen's collaboration with Weinstein in several movie projects had nothing whatever to do with his plea for calm. Nor did the long dormant allegations of his own conduct with Mia's daughter Dylan back when he and Mia Farrow were an item. It comes as no surprise to learn that Weinstein publicly supported Allen back then. At the Golden Globes in 2014, Allen was presented with a life-time achievement award. Mia's son Ronan tweeted: 'Missed the Woody Allen tribute – did they put the part where a woman publicly confirmed he molested her at age 7 before or after Annie Hall?' Several weeks later Dylan Farrow repeated her allegations of sexual abuse from Allen in a letter to the New York Times. As usual, nothing has been done about it. Yet.
Now, the career of Kevin Spacey has all but been destroyed by allegations of sexual harassment and offences involving at least one under-aged boy. Hot on the heels of that story comes Charlie Sheen being accused of raping a 13 year-old. The dam walls may be beginning to break. One imagines there might be a lot of people in positions of power and influence starting to tremble in their boots. And about time, too. Scores of their predecessors over the last century or so preyed on young (and not so young) males and females and got away with it their entire lives. Those days may be ending. Hopefully, the day might also come when the likes of Allen and Polanski will no longer have their so-called talent save them from the consequences of their depradations.