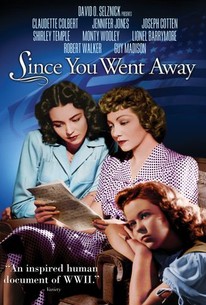 SINCE YOU WENT AWAY (1944)
I suppose it is a sign of my age, but every once in a while I like to select one of my favourite black and white films to watch late in the evening. I know it has nothing to do with the fact that these pictures are not in colour, but there is something about the quality of the screenplays that places these pictures in a class of their own. More emphasis on story and characterization and less on effects and spectacle, perhaps. The direction and acting is special too. I refer to films such as the following:
Casablanca (1942)
Double Indemnity (1944)
Since You Went Away (1944)
The Scarlet Pimpernel (1934)
Beau Geste (1939)
5 Fingers (1952)
A Night to Remember (1958)
The Colditz Story (1955)
The Dam Busters (1955)
Twelve O'Clock High (1949)
Fort Apache (1948)
From Here to Eternity (1953)
Night of the Hunter (1955)
The Man Who Shot Liberty Valence (1962)
Red River (1948)
Some Like it Hot (1959)
Sunset Boulevard (1950)
The Maltese Falcon (1941)
All About Eve (1950)
Laura (1944)
The Letter (1940)
Pick-up on South Street (1953)
Pride and Prejudice (1940)
Rio Grande (1950)
Roman Holiday (1953)
Sweet Smell of Success (1957)
That Hamilton Woman (1941)
Viva Zapata! (1952)
I chose the wonderful WW2 drama of 1944, Since You Went Away, and I am happy to say that it still stands up today. Probably, because everyone in it is at the top of their game. The story has all the elements needed for a tear-jerker of the first water, but the superb script and the underplayed performances prevent it from spiralling into a melodrama. And there is not a flag-waving scene in the whole thing, a rarity indeed for an American movie produced in the middle of World War Two, although the 'Statue of Liberty' speech from Alla Nazimova comes a bit too close for comfort.
Director John Cromwell                    his son, actor James Cromwell
The screenplay is written by Margaret Buell Wilder, the same lady who penned the novel of the same name. It is immediately apparent that the writer was drawing from personal experience. Since You Went Away was based on her newspaper column for the Dayton, Ohio Journal Herald, titled, 'Letters to a Soldier from his Wife'. Just like Anne Hilton in the movie, Margaret spent the war caring for her two teenaged daughters while her husband was serving overseas. The film was directed by John Cromwell, the father of current actor James Cromwell (Babe, The Queen, L.A. Confidential, The General's Daughter). The beautiful score was composed by Max Steiner, for which he won the movie's only Oscar.
Max Steiner                                                           Alla Nazimova in Since You Went Away
It is difficult to settle on which performance is best. Claudette Colbert is almost flawless as the matriarch, Anne Hilton; wife and mother, determined to stand strong for her daughters as the new head of the family, now that her husband has gone off to war. Jennifer Jones was a unique beauty who, (according to her peers), was even more breath-taking in colour. She plays Jane, the eldest of the two daughters, and gets to be centre-stage for one of the movie's greatest moments. More than one actually. Sixteen year-old Shirley Temple is Brig, the younger daughter. It must have been a new experience for the former child star phenomenon to suddenly find herself as a supporting player, but she is personable and believable as the adolescent Brig. Evidently, on the set she developed a huge schoolgirl crush on the much older Joseph Cotten who was 39 at the time of shooting.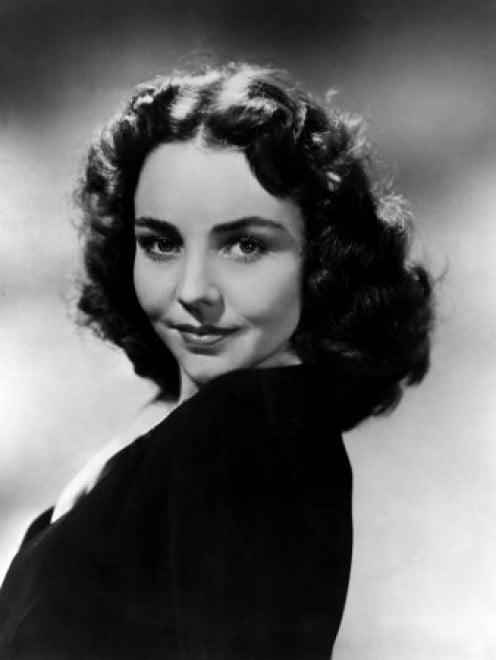 Claudette Colbert as Anne Hilton                                       Jennifer Jones as Jane Hilton     Shirley Temple as Brig Hilton
Monty Woolley was an actor who could only play himself, yet I always found him interesting to watch. The role of Colonel Smollett was ideal for him and he handled it deftly. The man could go from irascible to sympathetic effortlessly and be totally convincing either way. I thought he was terrific in this. Agnes Moorehead has always been a class act. Her character, Emily Hawkins, is no doubt instantly recognizable to anyone who lived through the war at home – a self-important, snide, busybody who uses the war to feather her own nest while back-stabbing her way through friends and foes alike. Agnes was the ultimate, perfect choice for such a role.
Monty Woolley as Colonel Smollett (Ret)                          Robert Walker as Cpl. Bill Smollett                    Walker, Jennifer & Guy Madison
I have never been a fan of Robert Walker, but I have to admit he played the naïve, timid Bill Smollett with aplomb. At the time of shooting he and his real life wife Jennifer Jones were already estranged and she was heavily involved with the producer of Since You Went Away, David O Selznick. In fact, it was Selznick who cast Walker as her lover in the picture. Their love scenes must have been extremely awkward for both of them, but particularly for poor Walker who was still desperately in love and sick with jealousy.
Walker, Jennifer & Selznick at her birthday party    Agnes Moorehead as Emily Hawkins        Hattie McDaniel as Fidelia
Hattie McDaniel waltzed through her role as the maid Fidelia without missing a beat – another class act. Lionel Barrymore did the usual stint as a preacher delivering the obligatory, 'inspiring' sermon to his flock, a dead set 'steal' from Mrs. Miniver. And newcomer Guy Madison set teenage hearts throbbing when he popped up as a young sailor on leave. Alla Nazimova struck the only false note (in my opinion) with her teary speech about coming to America.
Joseph Cotten as Tim                               Brig, Tim & Jane
Of all the truly excellent performances, however, I liked that of Joe Cotten best. It was effortless, almost un-noticeable, along the lines of a Cary Grant performance. There are very few outstanding male romantic/comedy leads in the history of American movies, primarily because playing those roles requires a lot of skill, poise, charm and personality. And it only ever works when all four of those qualities are present. Grant is acknowledged as the very best at it. Cotton showed in this movie that he could easily have matched him had there been more opportunities to do so.
An interesting coincidence concerns the real or suspected sexual proclivities of several of the cast of Since You Went Away. Monty Woolley was one of Cole Porter's lovers; Alla Nazimova was the doyen of lesbian Hollywood; Agnes Moorehead was described by gay comedian Paul Lynde as, 'Classy as hell, but one of the all-time Hollywood dykes.'; Guy Madison came from the stable of gay agent Henry Willson and was said to be Rory Calhoun's long-time lover; Keenan Wynn was said to be one of Van Johnson's lovers; Hattie McDaniel was one of Tallulah Bankhead's intimates; Craig Stevens was said to have a 49 year 'lavender' marriage to Alexis Smith and Claudette Colbert's female bed-mates included Katharine Hepburn among others. Was there some agenda for using so many gay players in the movie or was it merely coincidence? Probably the latter, but one thing is very clear, though. Gay, straight or bi, the entire cast of Since You Went Away contributed to an exceptional movie. Claudette, Monty and Jennifer were all Oscar-nominated, but without success. The picture, too, was nominated but lost out to Going My Way – inexplicably. The Oscars really are a joke. They only get it right about 20% of the time!