in the Austin Powers franchise
ELIZABETH HURLEY (1965 – )
Liz Hurley began life in Basingstoke, Hampshire, England in 1965. Her mother was a teacher, her father an army major. In her early teenage years Liz was a pseudo-punk rocker, spiked, brightly coloured hair; bolt through her nose, the works. When she moved to London chasing fame and fortune, her stunning looks soon brought her to the attention of movie and television producers. As a teenager she was known to swim and sun-bake topless in mixed company and to disdain wearing nickers when she went out dancing, yet her friends were quick to point out that she was not sluttish in any way. Nudity (or semi-nudity) did not faze her in the slightest, as she demonstrated in her first screen appearance (Aria in 1987).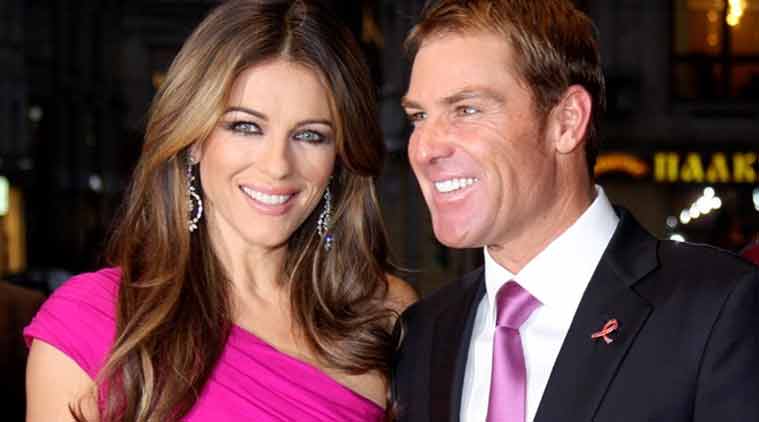 Hugh Grant & Liz Hurley                            and with Test cricketer Shane Warne
She met the up and coming young Hugh Grant when they made Rowing in the Wind (1988). Instantly attracted to each other, they were soon living together although, when Liz decided to try her luck in Los Angeles in 1990, she did so unaccompanied by her boyfriend. Hugh has never liked LA much. Her romance with William Annesley gained headlines when Annesley sold details of their sex romps to the press. But it was Hugh's indiscretion with hooker Divine Brown in 1995 and Liz's dazzling appearance as his date at the premiere of his hit film Four Weddings & a Funeral, clad in a black Versace gown held together with gold safety pins, which brought her to the attention of the celebrity world. She and Grant parted company in 2000 after 13 years together (off and on). Actor Tom Sizemore wrote that he had an affair with Hurley for three years and that President Bill Clinton bedded her for about a year as well. Liz has always denied the Clinton story. She had a child to millionaire Steve Bing and met Australian cricketer Shane Warne in 2010. They announced their engagement in 2011 and seemed set to marry. But it was not to be. They parted ways in 2013, Warne stating that her penchant for inviting ex-lover Grant to spend weekends at her home whenever Shane was away, proved to be the 'bridge too far' in the relationship. She has since married.
(Major movies)
Passenger 57 (1992)
Austin Powers: International Man of Mystery (1997)
Bedazzled (2000)
   in The Untouchables
ANDY GARCIA (1956 – )
Like a great many Cuban families in the fifties and sixties, Andy Garcia's folks were forced to flee to Miami five years after Castro came to power in Havana. Andy's father was an attorney and avocado farmer, his mother an English teacher. They were affluent but had to leave in 1961 with nothing. On the American mainland, however, they started a fragrance company that made them millionaires anyway. At high school Andy dreamed of becoming a professional baseball player, but a bout of hepatitis weakened him and he turned to acting instead. His first role came as a gang member in the very first episode of Hill Street Blues in 1981. His stint as a cocaine dealer in 8 Million Ways to Die (1986) was noticed by Brian De Palma. He was looking for an actor to play Capone's off-sider Frank Nitti in his upcoming The Untouchables. Andy, concerned about being typecast as a gangster or criminal of one kind or another, convinced De Palma that he would be better as the Italian cop George Stone. He was terrific in the role and his career was on its way. Andy is a private man. He married Marivi Lorido in 1982; they have four children and are still together. His name has never been linked romantically with anyone else.
(Major films)
The Untouchables (1987)
Internal Affairs (1990)
Ocean's Eleven (2001)
   in Enchanted
AMY ADAMS (1974 – )
Amy's father was a US serviceman serving in Italy when she was born in Vicenza in 1974. Theirs was a Mormon family (seven children) and Amy was raised in Castle Rock, Colorado – not to be confused with the fictional town of Castle Rock, Maine that Stephen King wrote about in Stand by Me. Amy sang in her school choir, was a member of a local dance company, worked as a Hooters hostess and trained to be a ballerina. She drifted into dinner theatre work in Minnesota where she was offered a role in the movie Drop Dead Gorgeous (1999), which was shooting in the vicinity. Kirstie Alley encouraged her to move to LA where, after a little TV success, she scored a major role opposite Leonardo DiCaprio in Catch Me if You Can (2002). Surprisingly, it did not generate any extra opportunities, but a low-budget independent 2005 production called Junebug certainly did. In fact, it landed her a Best Supporting Actress Oscar nomination! However, it was Amy's delightful portrayal of 'Giselle' in the Disney animated/live action feature Enchanted in 2007 that made her a star. And rightly so. As for her love life – it has always been scandal-free. She met actor Darren Le Gallo at acting class in 2001; they were engaged 7 years later and married 7 years after that! No spontaneous, spur of the moment decisions there. The couple has one child thus far.
(Major films)
Enchanted (2007)
Charlie Wilson's War (2007)
Julie & Julia (2009)
   in Elizabeth
GEOFFREY RUSH             (1951 – )
Geoffrey was born in the country town of Toowoomba, Australia in 1951, in the Darling Downs region of southern Queensland. His parents separated early in his life and he was raised in the state capital Brisbane where he developed an interest in acting from an early age. Whilst in college he roomed with Mel Gibson for a time. Geoffrey became known for his classical repertory work with the Queensland Theatre Company, but he was 30 years old by the time he participated in his first movie, an inauspicious bit part in a feature called Hoodwink in 1981. In 1992 he suffered a nervous breakdown, a combination of overwork and frustration with his career, which he felt was going nowhere. All that changed with his staggering performance in Shine (1996). Not only did he win a British Film Award and an Australian Film Institute Award, but he also picked up a Golden Globe and an Oscar for Best Actor! He was 45 years old and, overnight, had become an international acting heavyweight. Things can happen quickly in the movie business. Since then he has made a string of terrific movies and has become a household name, particularly with young people because of his portrayal of Captain Barbossa in the Pirates of the Caribbean franchise. Selecting just three of his pictures is nigh on impossible without offending someone, so I have selected my own personal favourites of his many great works:
(Major films)
Elizabeth (1998)
Shakespeare in Love (1998)
The King's Speech (2010)