'THE BOND GIRLS' PT 4
The Man With the Golden Gun (1974) starring Roger Moore as Bond.
The Spy Who Loved Me (1977) starring Roger Moore as Bond.
Moonraker (1979) starring Roger Moore as Bond.
For Your Eyes Only (1981) starring Roger Moore as Bond.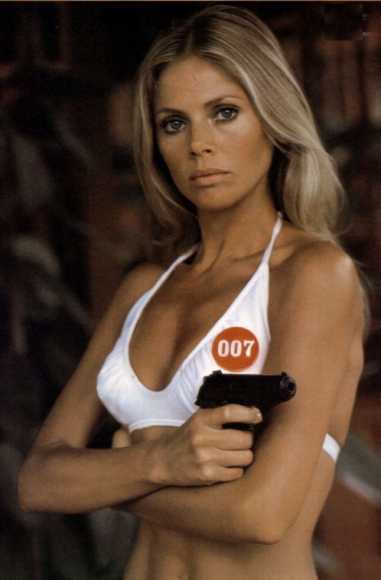 As Mary Goodnight
Britt Ekland (1942 – ) played Mary Goodnight in The Man with the Golden Gun (1974).
The Swedish-born actress auditioned for the role of Scaramanga's mistress, but won the female lead as Mary Goodnight after posing in a bikini and obviously impressing with her acting skills. When she read that Maude Adams had been cast, she assumed it was for the role of Mary Goodnight and was extremely upset until Cubby Broccoli rang to inform her she would be playing the lead. Britt was married to British comedian Peter Sellers for four years. They wed just 10 days after meeting each other for the first time. 'I would squirm with embarrassment', she later said, 'at the demeaning lengths he would go to in order to ingratiate himself with the Royal Family.'
 As Andrea Anders
Maud Adams (1945 – ) played Scaramanga's mistress Andrea Anders in The Man with the Golden Gun (1974).
Like Miss Ekland, Maud was Swedish. She would also appear in Octopussy (1983) as the title character and, later, as an uncredited extra in A View to a Kill (1985), making her the only actress to grace three 007 movies. Director Guy Hamilton met her in New York City and felt she was perfect for the Mary Goodnight role. 'She was elegant and beautiful', he said later, 'and it seemed to me she was the perfect Bond girl.' Broccoli would later over-ride his choice and give the role to Miss Ekland. Maude enjoyed a reasonably solid acting career but was far more successful as a model.
  As Anya Amasova
Barbara Bach (1947 – ) played Major Anya Amasova in The Spy Who Loved Me (1977).
Cubby Broccoli wanted Lois Chiles for the role of Anya Amasova, but when he learned from her agent that she had temporarily retired to take acting lessons, he was forced to pick Barbara instead. That is why she was cast just four days before principal photography started. Four years after the film's release she married former Beatle Ringo Starr. Evidently, Miss Chiles had taken criticism of her acting to heart and had decided to improve her technique by attending acting classes. Broccoli would remember her though and give her the lead in the next Bond vehicle Moonraker.
  As Naomi
Caroline Munro (1949 – ) played Naomi in The Spy Who Loved Me (1977).
Caroline Munro won the role of Naomi mainly because of the impression she made appearing in a highly successful ad campaign for Lamb's Navy Rum; a campaign in which she was prominently displayed in a nearly unzipped wetsuit. Prior to being introduced to Bond and Amasova in this movie, she accidentally sat down on a bee and was severely stung on her derriere. Consequently, she was in considerable pain when required to boat in to meet Roger Moore and Barbara Bach. The stern look on her face in that scene was due to the pain from the sting as she sat in the boat. Incidentally, Caroline's voice was dubbed by Barbara Jefford.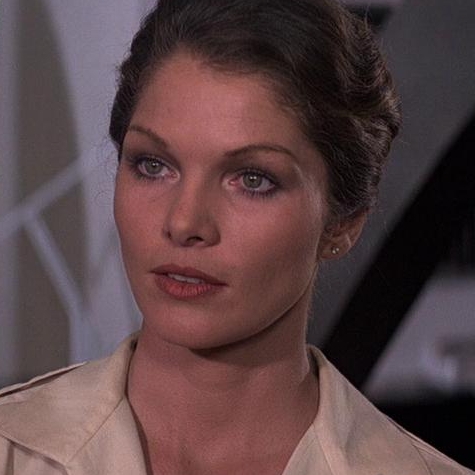 As Holly Goodhead
Lois Chiles (1947 – ) played Holly Goodhead in Moonraker (1979).
As stated previously, Lois missed out on the preceding Bond picture but she was quickly snapped up for Moonraker, her acting lessons behind her by then. It helped considerably when she had the good fortune to find herself seated next to the director, Lewis Gilbert, on an airliner. The chances of that happening accidentally must be remote at best, but no-one knows if it was arranged or not. She was one of America's top models in the seventies. By the time shooting began she was pregnant, almost certainly to her long-time boyfriend Don Henley of the Eagles.
   As Corinne Dufour
Corinne Clery (1950 – ) played Corinne Dufour in Moonraker (1979).  
The character Corinne Dufour was supposed to be an American, but when the production moved to France she was changed to a Frenchwoman, so a French actress was sought to portray her. There was another reason for the change, however. By casting Michael Lonsdale and Corinne (both French-born) the company met the requirements for an Anglo-French production under the 1965 to 1979 film treaty. When Corinne Clery got the nod, she reputedly beat the renowned Dutch beauty Sylvia Kristel to the part. As often happens in Bond films, Corinne was picked on looks and sex appeal, even though she had little or no English. She was dubbed throughout.
   As Melina Havelock
Carole Bouquet (1957 – ) played Melina Havelock in For Your Eyes Only (1981).
French actress Carole became another in a long line of beauties in Bond films who found her lines dubbed by someone else. It began with Ursula Andress in Dr No (1962), then Shirley Eaton in Goldfinger (1964), followed by a string of others. The underwater shots of Carole had to be faked as well, because her sinus trouble prevented her from diving or remaining submerged. Close-ups were shot in slow motion, giving the impression of her hair swirling in the water. Bubbles were added in later. She was involved with French star Gerard Depardieu from 1997 until 2003 and engaged to him for two years after that. Carole angered the producers when she told journalists that Roger Moore was old enough to be her father, not her love interest. He was, in fact, 30 years her senior. Her frankness resulted in her being left out of the publicity tour for the film.
   As Bibi Dahl
Lynn-Holly Johnson (1958 – ) played Bibi Dahl in For Your Eyes Only (1981).
American actress Lynn-Holly's character Bibi is rejected by Bond in the movie because he feels she is too young. Miss Johnson was a professional ice-skater who came to the attention of Broccoli with her performance in Ice Castles in 1978. When the director of that picture insisted she do a nude scene, she walked off the set and halted production for a day until he reluctantly agreed to her demands. Good for her. She laughs when fans describe Ice Castles as a wholesome family film, thinking to herself: 'You have no idea!'
   As Countess Lisl
Cassandra Harris (1948 – 91) played Countess Lisl in For Your Eyes Only (1981).
Australian actress Cassandra Harris was married to a future James Bond, Pierce Brosnan, when she appeared in this picture as the Countess Lisl. Indeed, it was during the shooting of For Your Eyes Only that she introduced Pierce to Cubby Broccoli. Her first husband, Dermot Harris, was the brother of Irish star Richard Harris. Cassandra succumbed to ovarian cancer at 43 a decade after this film was released.