WRITTEN ON THE WIND (1956)                          
I had the misfortune to again watch Written on the Wind recently, the first time I have done so since my grandparents took me to see the thing in 1958 at our local theatre. I was 11 years old. I didn't like it then and I still don't like it. It is a soap opera of the worst kind, one with scarcely any story, a mundane script and inept performances. Only Rock Hudson could hold his head up, although his character did not have a lot to do. Rock was smart enough to carefully select roles that gave him the necessary star exposure without stretching his limited acting range. Lauren Bacall was quite disappointing, but this was made 12 years after To Have and Have Not. Her looks had already begun to harden and would continue to do so. She had very little to do in the picture either. Rock and Lauren may have been the stars of Written on the Wind, but Bob Stack and Dorothy Malone had won the pivotal roles. Unfortunately, Stack's character, Kyle Hadley spent the entire picture wallowing in self-pity and bored living daylights out of everyone. Me especially.
Rock Hudson, Lauren Bacall & Robert Stack in Written on the Wind
As for Bob and Dot's Oscar-nominated performances, well…1956 was a really weak year for the Oscars. How else could either of these spud ordinary actors get nominated? Bob was always a light-weight and the role was simply too difficult for a player of his limited ability. That year Anthony Quinn romped away with the Best Supporting Actor Academy Award for Lust for Life but, in truth, he had nothing to beat, even though he only spent about ten minutes on the screen. In fairness to Stack, however, 20th Century Fox had loaned him out to Universal for the picture and the thought of one of their contract players winning an Oscar performing in another studio's movie did not sit well with them. So they arranged for block-voting against him.
                                   Dorothy Malone                                                                                        Robert Stack
Dorothy actually won the Best Supporting Actress statuette, but it is not too difficult to work out the reasons why. She did her usual thing; heaving her ample bosom, tossing her hair back, rolling her eyes, her mouth half open a la Marilyn Monroe, and emoting for all she was worth. And the Oscar goes to… Ironically, the lady herself has always been a classy, strait-laced woman, far removed from the wanton individual she portrays here. Indeed, in her career she was set some pretty onerous tasks as an actress. Portraying a sex-starved married woman lusting after Tab Hunter in 1955's Battle Cry must have been difficult enough to do effectively given Tab's track record. Endeavoring to convince the movie-going world of Liberace's heterosexuality in Sincerely Yours (in the same year) was even more onerous a task and, in fact, proved to be a bridge too far for her (and everyone else for that matter). Not that the fault lay entirely with Miss Malone. I doubt very much that any actress born could have succeeded in selling the big 'L' as a red-blooded skirt-chaser!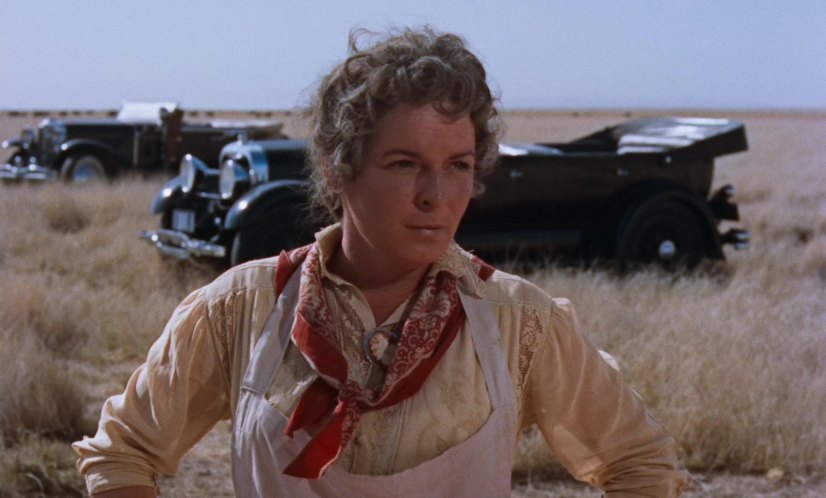 Mildred Dunnock in Baby Doll             Mercedes McCambridge in Giant
I checked out Dorothy's competition for the award. Mildred Dunnock as dotty old Aunt Rose in Baby Doll was one of the nominations. An OK performance (better than Dorothy's anyway), but one wonders how many voters even knew who she was, much less saw the picture? Mercedes McCambridge was also nominated for Giant. She had more acting ability in her little finger than Dorothy had in her entire body, but her role was whittled down to next to nothing. It was certainly not worthy of a nomination so a win was always out of the question. The other two nominees were Eileen Heckart and 11 year-old Patty McCormack, both for The Bad Seed. Either one would have been a worthy enough winner, but we all know what happens when there are two nominees from the same production. They split the vote and neither wins. And that left Dot and her flashy role in a trashy movie. And trashy or not, it was a picture that just about everyone went to see!
   The Bad Seed
Patty McCormack                                                                                 Eileen Heckart
Whenever I see Dorothy Malone on screen I get the impression she is trying too hard. I find myself wondering; surely, if I can see it, why couldn't her directors? Why couldn't they ask her to tone her performances down? Howard Hawks managed it in The Big Sleep (1946), but others did not. Douglas Sirk as director of Written on the Wind let her overdo it relentlessly, not more so than in that woeful scene where she wiggles that ridiculous mambo. I lost count of the number of times she rolled her eyes. It was almost as if Sirk was telling her – 'give us more sex appeal, Dotty, roll those eyes again!'
Tab Hunter & Dorothy Malone in Battle Cry (1955)                                 with Liberace in Sincerely Yours (1955)
Betty Bacall's husband, Humphrey Bogart, thought the film was rubbish and told her so, advising her not to ever make another like it. Even she would declare it to be, 'a masterpiece of suds', in a 2000 interview. She only made it, she said, for the opportunity to work with Rock Hudson. He had just recently married his manager's secretary, Phyllis Gates, a union pre-arranged by the studio to allay suspicions about Rock's sexuality.
Zachary Smith Reynolds                                                                Libby Holman
Interestingly, soap opera or not, the movie has a basis in fact. Twenty year-old tobacco heir Zachary 'Smith' Reynolds was the Bob Stack character to a tee. He was a rich boy, a drinker and womanizer who possessed a volatile temper. He owned his own plane and stalked Broadway musical comedy star Libby Holman until the 27 year-old agreed to marry him in 1931. The marriage was a stormy one that culminated in a drunken fight at a 4th of July party in 1932. Libby announced she was pregnant, there was a tense confrontation, a pistol appeared from somewhere and Zach walked into a bullet. Libby and her lover (Zach's close friend Ab Walker) were indicted for murder, but fear of embarrassing details of Zach's activities being unearthed saw the Reynolds family get the charges dropped. The official cause of death was amended to read 'suicide' and Libby and Ab walked away. When it came to making this movie, however, certain alterations had to be made. All the names were changed and so was the locale. The Reynolds family hailed from North Carolina and were tobacco giants. The Hadley family of the picture were Texan oil barons. In the novel Kyle (Stack) is clearly a homosexual but, of course, that could never be mentioned on the big screen in the fifties, so he was lumbered with a low sperm count instead (shock, horror) and it done his head in. Ah, life in the fast lane can be tough. Poor Kyle has a zillion dollars, a beautiful wife – and a low sperm count. No wonder he wanted to drink himself to death and kill his best friend! Most killings are over money or sex, sometimes both, but a low sperm count? Gimme a break, please. A very ordinary movie, totally over-rated.