The third and final segment regarding 'Katharine the Great', the controversial Darwin Porter biography of Katherine Hepburn.
Eleanor Roosevelt
*Eleanor Roosevelt had a heavy crush on Kate although it was not reciprocated. In the early 1940s the First Lady wrote her many passionate letters, but it was a one-way love affair. In 1948 there was serious talk that Eleanor might run for the Presidency so Kate burned all her correspondence, 'lest they fall into the wrong hands.' Whenever Kate visited Hyde Park on the Hudson at President Roosevelt's request, Eleanor would become jealous if her husband garnered too much of Kate's attention.
Claudette Colbert
*One love affair that was reciprocated was the relationship between Claudette Colbert and Kate. Colbert had surprisingly won an Oscar for It Happened One Night back in 1934. Although the two women were lovers, Kate took a number of others of both genders during the eight years they were together. It ended abruptly in 1948 and the scandal was hushed up.
Kate & Jimmy Stewart
*After Jimmy Stewart escaped Marlene Dietrich's clutches he fell headlong into Kate's ever eager arms. At the same time he was servicing her mortal enemies Ginger Rogers and Margaret Sullavan. Of his bedding both Ginger and Kate, Jimmy commented, somewhat ungallantly: 'I polluted myself with both of them.'
*On the set of The Philadelphia Story (1940) it was pretty much a game of ring-a-ring-a-rosy. Director Cukor fancied Stewart but knew he never had a chance. Cary put the hard word on Jimmy too, but was rebuffed. So, it was left to Kate going after (and capturing) the greatly in demand Jimmy. As actor Wendell Corey said about Stewart, 'There was a whopping big ego underneath that allegedly shy, stuttering, bumbling persona.'
Spencer Tracy and Kate
*Whenever Kate's name is mentioned, inevitably the name of Spencer Tracy will also be mentioned. Their 'great love' has gone down in Hollywood folklore as a match made in heaven. It was anything but that. They fought many a violent fight, they cheated on each other regularly and Tracy's boozing binges were the stuff of nightmares. And, of course, he was already married. Louise Treadwell had married him when both were struggling actors. She knew about Kate from the very beginning, but it did not bother her. 'I'm going to be Mrs. Spencer Tracy until the day I die', she said. And she was.
with Mitchum in Undercurrent 1946
*Robert Mitchum did not impress Kate when they made Undercurrent in 1946. Not at first, anyway. She accused him of getting by on his good looks, not talent, and verbally abused him on a daily basis. Mitchum decided this was, in effect, a disguised form of physical attraction for him so he seduced her in her dressing room one day. It was the beginning of his systematic seduction of his co-stars.
Judy Garland 1946
*Judy Garland's marriage to director Vincente Minnelli was going down the drain when she confided her problems to Kate. Touched by Judy's beauty, poignancy and pain, Kate says she fell in love with the singer. They were soon consumed in a passionate affair. It was 1946 and their relationship would continue until 1961. By then the fires had abated and it was a supportive arrangement more than anything else.
*During a conversation between Kate and Judy, (a conversation that certainly sounds contrived), Judy supposedly told her that she came home unexpectedly one day to find dancer Gene Kelly engaged in coitus with her husband Vincente Minnelli! She also said that at a New Year's Eve party at Jack and Mary Benny's home she had discovered Vincente and Jack kissing passionately! Kate's supposed response: 'All of us, including his wife, Mary, know all about Jack.' And just to round off the conversation, Judy confided to Kate that Orson Welles had also slept with her husband.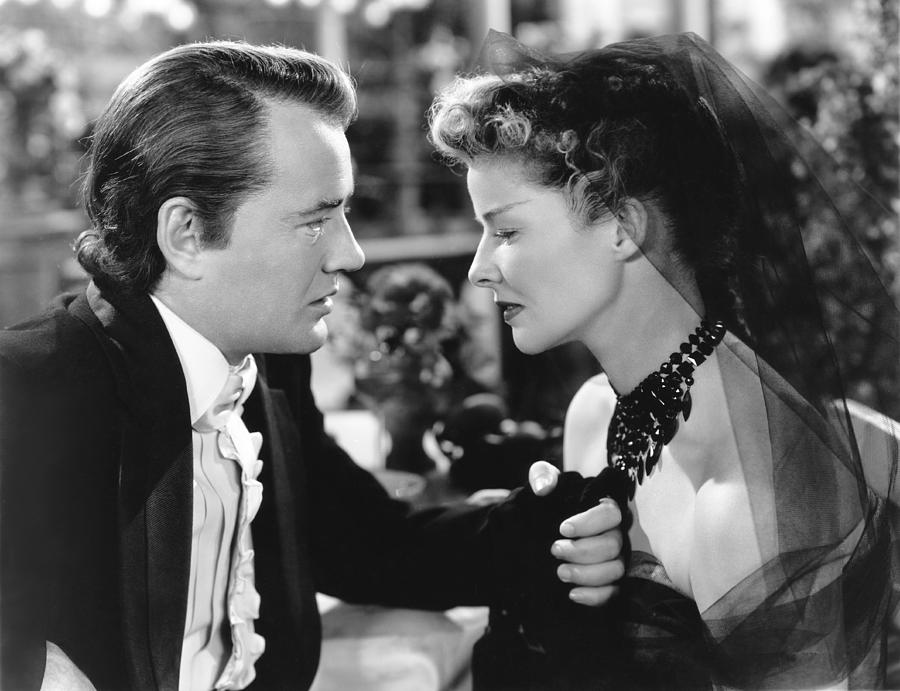 with Paul Henreid and Robert Walker in Song of Love 1947
*By the time Kate and Tracy made their fourth film together in 1947, the tedious The Sea of Grass, Tracy had become bored by their relationship. He was seen dating the occasional woman on the side during shooting, but he spent most of his spare time with male hustlers, usually at Cukor's home. At the same time Kate was briefly involved with Paul Henreid and Robert Walker, her co-stars in the lousy Song of Love.
*While making State of the Union in 1948, Tracy confided to Cukor that he would rather spend his nights with co-star Van Johnson than with Kate. As it happened, Claudette Colbert was lined up to play the female lead opposite Tracy at one point until she suddenly withdrew overnight. Kate believed that Colbert's husband had found her and Tracy in bed together, an argument ensued during which it was revealed that Claudette had also been sleeping with Kate and with Joan Crawford!
*'It's amazing what Tracy gets away with', Claudette Colbert told Hepburn. 'Dating a fifteen year-old Judy Garland. There should be laws against that. Poor little Judy shouldn't even be allowed in the same room with Tracy without a chaperone.'
Judy Holliday and Kate in Adam's Rib 1949                               Tom Ewell
*It was Kate who lobbied hard for Judy Holliday to be cast in the 1949 hit Adam's Rib. She even got her friend Cukor to 'throw the picture' to Judy. Judy's performance led to her being cast in Born Yesterday and a resulting Oscar. Off-screen Kate was mesmerized by the bisexual comedienne and invited her for several 'sleepovers' at her Turtle Bay townhouse in Manhattan. In fact, Kate was fast falling in love with the dazzling, effervescent Judy, but after shooting completed Judy dropped her as a lover. Reluctantly, Kate had to settle for being a 'friend and confidant only' from that time onwards until Judy's early, tragic death. Meanwhile, Tracy, Cukor and the other star of Adam's Rib, Tom Ewell, were spending their evenings with some mostly high-priced male hustlers. Tracy was also bedding Nancy Davis (the future Mrs. Ronald Reagan) at that time.
*Kate told family and friends that Marlene Dietrich once confided to her that she knew first-hand that some of the 'manliest' actors in Hollywood were basically homosexual. Among them, she said, were Spencer Tracy, James Stewart, Henry Fonda, Gary Cooper and Cary Grant. She also threw in Howard Hughes and writer Ernest Hemingway for good measure.
Porter makes an awful lot of assertions here. How much license he took is anyone's guess. Detractors, of course, state that he only cites people already deceased; only writes about stars long dead. And that is true enough. But he is writing of an era long ago. Most of his subjects are indeed very dead, but should that preclude them from being discussed? Definitely not. Personally, I find his harping on who was homosexual and who was not a little tiresome. That may have seemed important back when homosexuality was deemed a criminal offence, but thankfully we have moved on from that medieval mentality. The real interest (to me anyway) lies in exposing the subterfuge practiced by the studios and the lengths they were prepared to go to in order to hoodwink the public about their charges. It is one thing to cover up a star's sexuality, but quite another to pay witnesses to lie about a fatal auto accident just to get some big star off the hook. Those are the really scandalous stories. Unfortunately, studio 'minders' were adept at covering their tracks, so much of the truth lies buried or expunged forever. Porter occasionally touches on those tales, but he appears to favour the quirky stuff. Maybe it sells more.