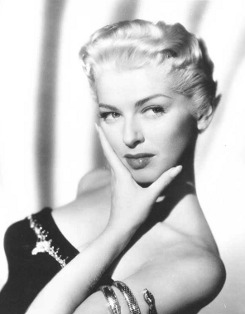 DANI CRAYNE (1934 – )                          Shootout at Medine Bend (1957)                                                               
Darlyne Goldman hailed from Minneapolis, Minnesota, but the family moved to California when she was five. In 1951, sixteen year-old Darlyne married a Frenchman named Donalde Crayne but they divorced four years later. A Universal talent scout saw her giving Mambo lessons at a Hollywood dance school and before long she was placed under contract as Dani Crayne. In 1955 she was seen around town with another newcomer, George Nader, and the studio promoted their 'romance' vigorously. No doubt, Universal were well aware of George's homosexuality, (Dani probably was as well). When they 'broke-up' he was paired briefly with another starlet Mara Corday, but it was all for show.
with George Nader 1956                                             Mr. & Mrs. Buddy Greco 1962
Moving to Chicago, Dani met Buddy Greco in 1960 and married him a year later. She and Greco eventually divorced and Dani took up with their best friend, actor David Janssen, whom she married about four years after their relationship began. He was 44 and she 40. Dani's penchant for crashing parties to which hostesses neglected to invite her aggravated Janssen and led to a brief bust-up. When he suddenly died from a heart attack in their home, it was Dani who discovered his body. He was only 48. Ten months later she married a stuntman.
as Mrs. David Janssen
Now in her eighties, it would be accurate to say that her screen career did not amount to much. Among her credits are Written on the Wind (1956), in which she has a bit part as 'the blonde', and Shoot-out at Medicine Bend (1957), where she landed the second female character behind Angie Dickinson. Dani is probably best-remembered in Tinsel Town for her ability to host A-parties for the rich and famous.
JOAN DIXON (1930-92)                    Gun Play (1951) opposite Tim Holt                                                     
After being given the full 'grooming' treatment by Howard Hughes, Joan Dixon up and married a camera manufacturer named Ted Briskin with the intention of giving up her acting career just 8 pictures into it. Briskin had previously wed Betty Hutton and he nailed another actress, Colleen Miller after Joan. Joan's first marriage lasted just three weeks before she and Briskin announced their separation. Marriage number two was to TV writer William Driskill and was slightly more successful because it survived three months before separation. Driskill claimed he could not write his novel and be in love at the same time!
with Charles McGraw in Roadblock (1951)
Joan's screen career began in 1950 and ended eight years, ten movies and five television appearances later. Probably, her best-known picture would be the 1951 film noir titled Roadblock starring Charles McGraw. After 1958 she focused on her singing and retired from acting altogether. Evidently, she had considerable vocal talent for columnist Walter Winchell devoted a lot of space in his New York City column to promoting her to club owners and patrons alike. She passed away at 61 from unspecified causes.
MARY CASTLE (1931 – 98)                with Rock Hudson in The Lawless Breed (1953)                               
Mary Castle was born Mary Ann Noblett in Pampa, Texas in 1931. The family moved to Los Angeles while she was in her teens and Mary was soon in trouble when she gave birth to a daughter out of wedlock at the age of 15. Still in her teens she landed a professional job modelling bathing suits which brought her to the attention of talent scouts at Columbia Pictures.
Harry Cohn was looking for an actress to replace Rita Hayworth who had gone off to marry Prince Aly Khan and raise a family. He rather stupidly dubbed her, 'The lady who looks more like Hayworth than Hayworth does'. After six months of grooming at the Columbia Studio school she was thrown into a few westerns alongside Gene Autry and others. Around that time she met and befriended newcomer Suzan Ball and introduced her to Columbia executives who quickly signed her. Suzan would later move to Universal – International.
The early fifties saw Mary at the top of her game. One minute she was modelling fur earrings, (the latest Hollywood fad), the next she was in the news sculpting a nude of herself! In 1952 the boys fighting in Korea voted her 'Number 1 Dream Girl', and she landed the lead in Eight Iron Men. The plot played on her strong resemblance to Hayworth which makes her the dreamboat of several soldiers. That much-vaunted resemblance will be short-lived, however. Her hard drinking rapidly took toll on her features and by 1955 her days as a leading lady/sex symbol were already numbered.
Mary was still getting plenty of private life action with writers and actors around Hollywood. Her escorts included writer Sy Bartlett, actors Fernando Lamas and Jack Webb, and the perpetually aroused fashion designer Oleg Cassini. Early in 1954 she attended the wedding of Suzan Ball and Richard Long, and in December she and Mari Blanchard vacationed with the jet-set in La Paz, Bolivia. Mary's lovers included Mexican millionaire Tony Ruffo, wealthy realtor Wallace Ashbury, and Richard Long after the death of his new bride. And there were many others until she wed Texas oilman William Minchen in 1957.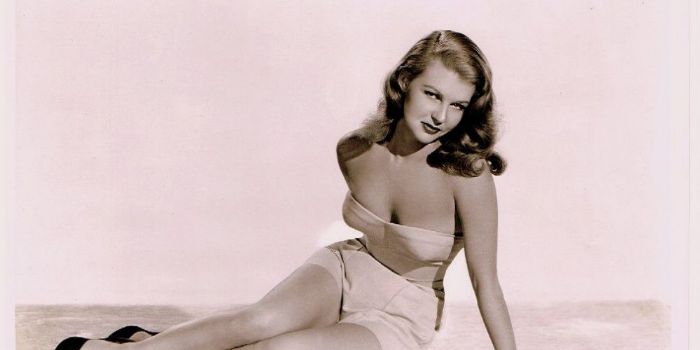 Mary at the height of her beauty and fame
Late in 1957 she was arrested for public drunkenness and for kicking and biting two deputy sheriffs who made the arrest. They reported finding Mary and her husband fighting in the front seat of her car while her 10 year-old daughter sat crying in the back. The marriage to Minchen ended in 1958 and in September 1959 Mary was found unconscious on a Malibu beach, having collapsed following a drunken midnight swim with a female friend. Clad only in bras and panties, she was taken to Malibu Emergency Hospital and revived by artificial respiration. It was a near run thing.
In October Mary was arrested blind drunk again after creating an early morning noisy disturbance with a young male lover. A month later she was arrested on drunkenness charges yet again and deposited in a Beverly Hills jail. Twisting her dress into a noose she attempted to hang herself from the cell door. Discovered just in time, the semi-conscious actress was revived and released on bail. In March 1960 she filed for bankruptcy having been lumbered with $20,000 debts by her unemployed ex-husband.
There were further run-ins with the law in 1960 on various minor charges – failure to appear in court, running a red light, driving without a license, asleep in a drunken state in her car, non-payment of an interior decorating bill and failure to pay for furniture she had bought. In June even Mary had had enough. She retired from acting, became a press agent for New Orleans Kitchen gourmet specialties, and married an insurance detective. She was not yet 30 but looked much harder and older.
Mary would divorce her insurance detective, marry a third time in 1971 and divorce again in '72. By the time the 67 year old troubled woman died in 1998, she had less than a quarter of one lung left to breathe with. She had sampled the heights of movie fame (or close to them) in the fifties, but her time hovering near the top was short-lived because of her love of alcohol. In the end she became just another pretty girl whose Hollywood dream had turned into a nightmare.