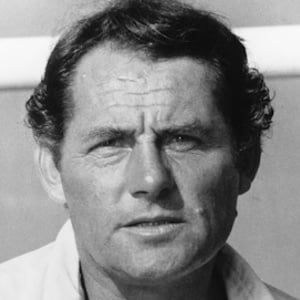 ROBERT SHAW (1927 – 78)                                            
I suppose we all have our favourite character actors. I have several, but near the top of the list is Lancashire-born Robert Shaw. I wonder if he would appreciate being categorized as a 'character actor'. Possibly not, for he seemed to have a sizeable ego on-screen. Was he the same off it? His on-screen persona reminded me of Lee Marvin (another of my favourites) – a no-nonsense professional who was as tough as he looked and who did not suffer fools gladly. When it came to convincingly playing a tough guy he had few equals.
He was born in Westhoughton, Lancashire in 1927; the son of a nurse born in Swaziland and a British doctor. When Shaw was 12 his father, an alcoholic and manic depressive, took his own life. Attending school in Truro, Robert was good at rugby, squash and athletics, but he soon discovered he liked drama much more. Courtesy of an inheritance from his grandmother he enrolled at the Royal Academy of Dramatic Arts (RADA) and, two years later, went to Stratford-on-Avon where he worked under the direction of John Gielgud who felt he had great promise. He made his professional stage debut in 1949 and toured Australia with the Old Vic. Further tours of Europe and South Africa with the company convinced him his life would be in Shakespearian theatre, but sooner or later the movies would beckon.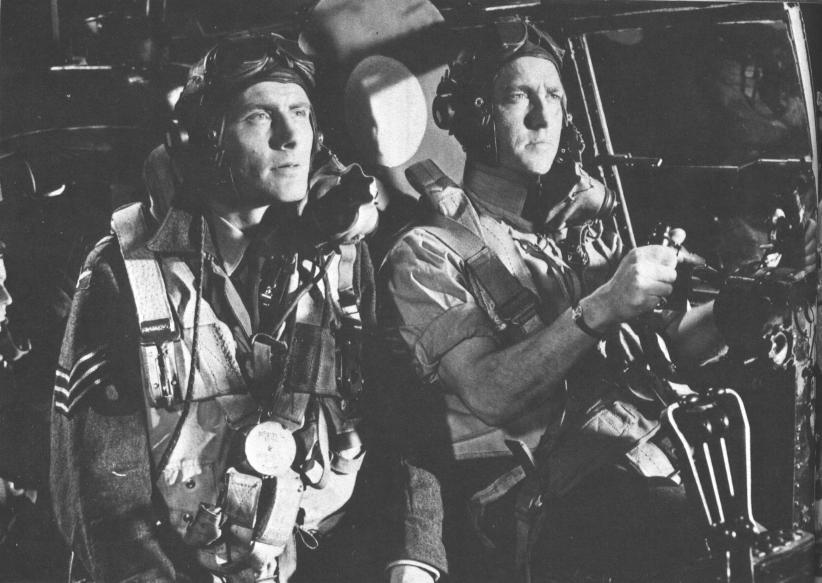 a bit part in The Lavender Hill Mob (1951          with Richard Todd (R) in The Dam Busters (1955)
In 1950 Alec Guinness helped him land a small role in The Lavender Hill Mob (1951), during which time he married his first wife, Jennifer Bourne, another Old Vic actress. They would produce four daughters. Barely noticeable parts in The Dam Busters (1955) and Hell in Korea and Double Cross a year later, did little to enhance his reputation, but a showy role as Dan Tempest in TV's The Buccaneers gave him some much-needed exposure. In 1959 he met actress Mary Ure who was married to writer John Osbourne at the time, not that her or Shaw's marital status bothered either of them overly much. Indeed, Mary gave birth to his child at almost the same time as did his wife Jennifer! Mary and Robert eventually married each other in 1963 and they, too, would have four children together.
as TV's Dan Tempest                     with his wife Mary Ure
That same year, 1963, saw Shaw play the blonde assassin Red Grant in the second Bond film From Russia with Love. Of all 007's adversaries throughout the franchise, I have always felt that Red Grant was the most memorable. Bond fans will well remember him holding their hero at gunpoint and sneering: 'The first one won't kill you; not the second, not even the third…not till you crawl over here and you kiss my foot!'
Red Grant in From Russia With Love (1963)    as Hessler in Battle of the Bulge (1965)
A rather over-the-top turn as the German Panzer commander Hessler in the tedious Battle of the Bulge (1965) slid by, to be followed by the plum role of Henry VIII in the highly acclaimed A Man for All Seasons in 1966. The movie itself and Paul Scofield's tour de force as Sir Thomas More rightfully garnered most of the accolades, but Shaw's performance did not go un-rewarded as he was nominated, albeit unsuccessfully, for both an Oscar and a Golden Globe.
Henry VIII in A Man for All Seasons (1966)                   with Mary Ure in Custer of the West (1967)
The less said about Custer of the West (1967), in which he played the title character and his wife, Mary, played Libby Custer, the better. Suffice to say that, of the many movies about George Custer and the Seventh Cavalry, this one is probably the most ludicrous. Shaw played a squadron leader in Battle of Britain (1969), the only memorable moment coming when he encounters a group of Luftwaffe POW's just after his airfield has been bombed. When a junior officer asks what he should do with the German officers, Shaw's character surveys the airfield strewn with bomb craters, and snarls: 'Give 'em a bloody shovel!' In Young Winston, in 1972, he provided one of the better performances in the picture portraying Lord Randolph Churchill.
in Battle of Britain (1969)                                         with Anne Bancroft in Young Winston (1972)
Shaw's next major role established him as an elite character actor. The 1973 caper film The Sting still holds up as a superb example of movie-making at its finest. It has everything. The highly complex plot is brilliantly presented, the script is flawless, the acting (from everyone) is of the highest calibre; the photography captures the mood of the era, as does the terrific Marvin Hamlisch score. If ever a movie deservedly won an Oscar for Best Picture in its year, in my opinion, it was The Sting. And a large part of that success must surely go to Robert Shaw's portrayal of the gangster Doyle Lonnegan. Curiously, of all the excellent performers in the film, only Robert Redford was nominated – and unsuccessfully at that. It would be the only acting nomination he would ever get.
as Doyle Lonnegan in The Sting (1973)                          as Bernard Ryder in The Taking of Pelham 123 (1974)
Just a week prior to the commencement of filming Shaw injured his knee when he slipped on a wet handball court at the Beverly Hills Hotel. This accounts for Lonnegan's limp throughout the picture. The actor wore a leg brace underneath his trousers during the shoot. He only got the job because Richard Boone had declined it. It was Paul Newman who recommended Shaw for the role and gave him the script to peruse. The day after he read it, he called Newman. 'Delicious', he exclaimed. 'When do I start?'
The grossly under-rated The Taking of Pelham 123 (1974) was the next major project for Shaw. As in The Sting, he was a most convincing heavy, a man we have no doubt will kill without remorse if his plans or demands are tampered with in any way. This is a terrific, tense hijack drama, far better than the 2009 remake with Denzel Washington. Perhaps, the quality of the cast of the 1974 version is superior – Walter Matthau, Martin Balsam, Hector Elizondo and James Broderick (Matthew's dad), who played the train conductor Denny Doyle.
as Quint delivering his USS Indianapolis monologue in Jaws (1975)
The seventies were Robert Shaw's golden years, culminating in his tremendous performance as the professional shark hunter Quint in Spielberg's Jaws (1975). For the life of me I cannot understand why he was not nominated as Best Supporting Actor for this. His stunning monologue about the sinking of the USS Indianapolis should have been enough to not only secure a nomination, but to win him the statuette. In my view, it is the singular most electrifying monologue of any movie I have ever watched. Ever!
Shaw did not make a cent from his Jaws role. Everything went to pay his American and Canadian taxes. Mary Ure died in the same year from what is believed to have been an accidental overdose of barbiturates. She was only 42. A year later Shaw married Virginia Jansen and their two children brought his total offspring to ten. In August 1978 he suffered chest pains during a game of golf in Ireland and was driving home with Virginia when the pains returned. Deciding to 'walk them off', he got out of the car, walked four or five steps before collapsing. The 51 year-old actor was pronounced dead on arrival at hospital soon afterwards.