DR NO (1962)
    URSULA ANDRESS (1936 – )                  as Honey Rider                                   Ursula at 78            
Swiss-born Ursula Andress was introduced to the movie-loving public in Dr No, when she walked out of the Caribbean in a white bikini setting male pulses racing all over the world. That was in 1962. A year later she starred opposite Elvis Presley in Fun in Acapulco and her career was off and running. She has thus far only married once and that was to actor/director John Derek (1957-66). At various times, however, she has lived with actors Harry Hamlin (1979-83) and Jean-Paul Belmondo (1965-72). She has always said Belmondo was the 'love of her life'. For a time she was engaged to Italian actor Fabio Testi. Today, she is fluent in English, French, German, Italian and Swiss-German but, when making Dr No, her accent was far too thick so she was dubbed by Nikki Van Der Zyl.
   EUNICE GAYSON (1931 – )  as Sylvia Trench           Eunice at 86     
Eunice was initially cast as Miss Moneypenny, but that role eventually went to Lois Maxwell. Instead, she was given the sexy role of Sylvia Trench, the lady in the casino scene in which Connery introduces himself as, 'Bond, James Bond'. Sylvia Trench was intended to be a continuous character in the Bond films but she was dropped after the second feature in the series From Russia with Love (1963). Originally trained as an opera singer, Eunice later switched to acting. For years she played the Baroness at London's Palace Theatre in The Sound of Music. Her 24 year-old daughter, Kate Gayson, appeared as an extra in another Bond film, GoldenEye (1995). Eunice, now 86, last appeared on television in an episode of The Adventurers in 1972.
 ZENA MARSHALL (1925 – 2009)  as Miss Taro             
A native of Nairobi, Kenya, Zena Marshall will always be remembered as the Eurasian beauty seduced by James Bond in Dr No. The scene took three days to shoot because she had difficulty with the part in the script that called for her to spit in Bond's face after he seduces her then hands her over to the police. Fans of the delightful 1965 comedy Those Magnificent Men in Their Flying Machines might be surprised to learn that she played Countess Sophia Ponticelli, the wife of the accident prone Italian aviator.
LOIS MAXWELL (1927 – 2007)     as Miss Moneypenny
This delightful, classy Canadian actress played Miss Moneypenny in 14 Bond films, second only to Desmond Llewelyn ('Q') who appeared in 17. She was a close friend of Roger Moore who portrayed Bond after Connery called it quits. Lois visited her son in Fremantle, Western Australia (my home town) in 2001, became ill, and remained there until her death from bowel cancer in 2007. When asked about the actors who played 007 in the pictures she was in, she replied, 'I always said I'd have Roger for a husband, but Sean for a weekend lover.'
        FROM RUSSIA WITH LOVE (1963)
        DANIELA BIANCHI (1942 – )         as Tatiana Romanova                       Daniela at 72
Born in Rome, Italy in 1942, Daniela Bianchi was chosen from 200 girls to star in From Russia with Love after being named Miss Rome and then finishing second in the 1960 Miss Universe competition. In 1970 she married the president of an Italian cargo shipping company. They are still married as of August 2017. She spoke almost no English in the movie and her accent was so unintelligible that her lines were all dubbed by an English-speaking Italian accent with a clearer accent. Daniela was only 21 at the time, making her the youngest 'main Bond girl ever'. Director Terence Young thought her hips were too wide and her walk awkward, so he shot her only from the waist up. The good-natured merely shrugged and laughed when he berated her. Daniela had little interest in being an actress, spending most of her spare time on the set reading Italian novels and eating chocolates. As a young girl she studied ballet but grew too voluptuous.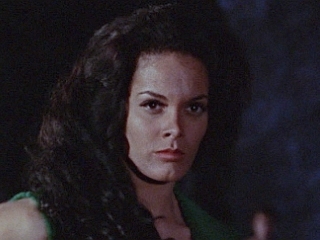 MARTINE BESWICK (1941 – )          as Zora                         Martine at 73                                                    
Former Miss Jamaica Martine Beswick almost landed the role of Honey Rider in the first Bond film Dr No, but it went to Ursula Andress instead. The producers remembered her, however, and she was rewarded with the small role of Zora, one of the two cat-fighting gypsy girls in From Russia With Love. She was also in the fourth Bond film, Thunderball, as the doomed British spy Paula. Speaking of cat-fighting, she was back doing just that with Raquel Welch in the silly One Million Years B.C. in 1966. After that Martine featured in several Hammer Horror pictures, usually in some form of semi-nudity until she retired from acting in 1995 and bought a removals business in London, England. In 2013 she was one of 12 former Bond girls invited to dine on an episode of the BBC's popular show Masterchef.
      ALIZA GUR (1944 – )                as Vida
Aliza Gur's Jewish parents fled Germany when Hitler came to power and eventually settled in Israel (it was Mandatory Palestine then) where Aliza and her brother were born. In 1960 she was crowned Miss Israel and finished in the top 15 in the Miss Universe pageant. Coincidentally, her room-mate during the Miss Universe pageant in Miami, Florida was none other than the Miss Italy entrant Daniela Bianchi! Aliza's movie career never amounted to much, but she can at least lay claim to being a Bond girl, albeit in the tiny capacity of Martine Beswick's opponent in the gypsy caravan's cat-fight in From Russia With Love. These days she resides in the Los Angeles are
NADJA REGIN (1931 – )     as Kerim Bey's girl                and as Bonita in Goldfinger
Serbian actress Nadja Regin is one of only a handful of beautiful women who have appeared in more than one Bond film. In 1963 she played Kerim Bey's mistress and a year later she was Bonita, the South American dancer who lures Bond into her room where an assassin lies in wait in the opening pre-title sequence of Goldfinger. The impetus gained from these two movies saw her cast in the New Zealand road movie Runaway in 1964 and billed as 'that James Bond 007 sex kitten.'
NOTE: I shall be looking at all the Bond girls over the series of films thus far made. Where possible I will try to include pictures of these actresses today or at least recently.