RYAN, Robert (1909 – 73)
I recently had the pleasure of watching a terrific western named The Proud Ones (1956). It has gone completely unheralded, yet it is clearly a couple of cuts above the average western fare. I watched it for one simple reason, because Robert Ryan was its star and I cannot recall him ever appearing in a sub-standard movie. For that matter, I cannot remember him ever giving a sub-standard performance. He first came to my attention in a 1947 film noir called Crossfire. The critics raved about the picture, although I personally did not cotton to it all that much. It starred three 'Roberts' – Robert Ryan, Robert Mitchum and Robert Young – and was released the year I was born. Eight years later he played the main heavy in the brilliant Bad Day at Black Rock.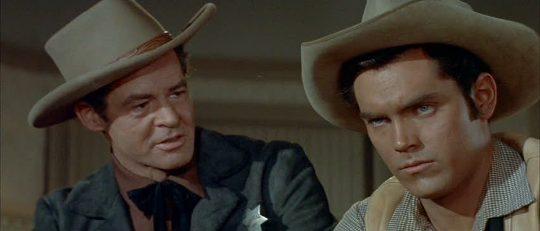 Ryan with Jeff Hunter in The Proud Ones (1956)
Ryan was born in Chicago in 1909. While at Dartmouth College he held the heavyweight boxing title for the whole four years he was there. From 1944 until 1947 he served as a drill sergeant in the United States Marine Corps at Camp Pendleton in Southern California. He was as tough as the roles he played, yet in spite of his military and boxing background he was a pacifist, sharing the views of his Quaker wife Jessica. Prior to his acting career kicking off with RKO in 1941 he worked at all kinds of jobs – cowboy, seaman, miner, salesman, photographer's model and sewer builder. He even doubled as a bodyguard/chauffeur for a mobster.
with his wife Jessica and child
RKO specialized in film noirs featuring its bevy of tough guys and gals. Performers such as Robert Mitchum, Robert Young, Ida Lupino and Gloria Grahame were ideal for the genre. So was Ryan. The film noir genre was relatively short-lived, but Ryan's screen persona was equally suited to westerns and war pictures. He played the bad guy in the Jimmy Stewart western, The Naked Spur (1953), but was equally adept at playing strong, upright characters such as the town marshal in The Proud Ones three years later. A decade further on he was good in The Professionals (1966) alongside his good friend Lee Marvin.
Ryan as Colonel Breed in The Dirty Dozen (1967)              his friend Lee Marvin – same movie
He and Marvin also made The Dirty Dozen together in 1967. Ironically, the characters they played positively loathed each other. Interestingly, several members of the cast were World War Two veterans. Marvin and Ryan were ex-marines; Telly Savalas, Charles Bronson and George Kennedy were ex-Army; Ernest Borgnine was in the US Navy and Clint Walker served in the Merchant Marine. Fans of the 1998 film Small Soldiers are probably aware that Borgnine, Kennedy, Walker and another of 'The Dirty Dozen', Jim Brown, supplied the voices for some of the toy soldiers.
in The Wild Bunch (1969)
Ryan and director Sam Peckinpah were at loggerheads on the set of The Wild Bunch in 1969. Evidently, Ryan was incensed that he was not afforded top billing in the credits and complained about it whenever he saw the director. Peckinpah decided to exact his revenge in the opening credits. He froze the screen on the faces of William Holden and Ernest Borgnine as their names appeared, but when it came to displaying Ryan's name he froze it on the rear ends of several horses! Ryan's reaction has not been recorded. When he requested time off to campaign for Senator Bobby Kennedy, Peckinpah flatly refused him and insisted he spend 10 days in full costume and make-up. And then did not use him in any of the scenes shot over those 10 days!
with John Wayne in Flying Leathernecks (1951)
He was also a man of strong moral fibre, championing civil rights issues all his life. He campaigned against the Hollywood blacklist and vocally supported the Hollywood Ten during and after the McCarthy witch hunts of the fifties. He and John Wayne made Flying Leathernecks together in 1951 and got along OK, despite their violently opposed views on McCarthy. It was a far different story in 1962 on the set of The Longest Day. They did not like each other at all by then. It probably stemmed from Ryan being a joint chairman (with Steve Allen) of the Hollywood chapter of The Committee for a SANE Nuclear Policy. Wayne, of course, was extreme right-wing, all the way down to his toenails.
with Terence Stamp in Billy Budd (1962)                     and as Reno Smith in Bad Day at Black Rock (1955)
In the sixties Ryan joined the fight against racial discrimination, serving in the cultural division of the Committee to Defend Martin Luther King. He even helped organize the short-lived 'Artists Help All Blacks', along with Sidney Poitier, Bill Cosby, Robert Culp and other actors. More often than not he found himself portraying characters on screen that he was thoroughly opposed to. In Bad Day at Black Rock and in Crossfire he played a bigoted killer. In the superb Billy Budd (1962) he was wonderful as the sadistic John Claggart, Master at Arms. As far as malevolent, manipulating evil villains go, Ryan is extraordinarily convincing in this excellent film. Indeed, he was so good at playing 'heavies', he rarely got the chance to play a character even remotely like himself.
Maureen O'Sullivan
Jessica remained his wife until her death from cancer in 1972. Lung cancer claimed her widower a year later. They had lived in the Manhattan Co-op, The Dakota building up until their deaths. Their estate sub-let the apartment to ex-Beatle John Lennon and Yoko Ono who were still residing there in 1980 when John was shot to death on the pavement outside the building. For the final five years of his life Ryan was in love with Irish-born actress Maureen O'Sullivan (Johnny Weissmuller's Jane in his Tarzan pictures), and the mother of Mia Farrow. They met in 1967 and planned to marry after Jessica's death, but it never eventuated. Maureen was at his bedside when he died. Robert Ryan was an actor of rare excellence, a polished professional who took his profession seriously and performed it without fuss and at the highest levels.