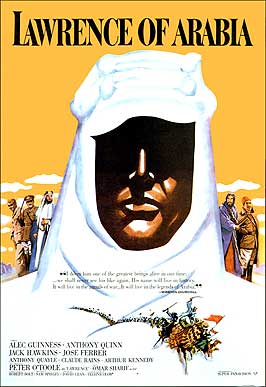 Lawrence of Arabia (1962) is a remarkable movie for many reasons, not the least of which is that it runs for 227 minutes (the restored Roadshow print) without a single word being uttered by a female! No women, no romance and no love story. Most Hollywood experts would automatically label it 'destined for box-office failure' on those grounds alone. And, no doubt, many of them did. They were wrong. It truly is a masterpiece. In an industry where that accolade tends to get bounced around willy-nilly, in the case of this particular film it is entirely warranted. Why? Because it incorporates all the factors that a great piece of cinema requires and leaves out all those factors that today's 'experts' find essential to the success of whatever movie they assess.
Lawrence of Arabia has a brilliant screenplay by Robert Bolt and Michael Wilson, based on a brilliant book by T. E. Lawrence himself, titled Seven Pillars of Wisdom. It has a cast of exceptionally talented people directed flawlessly by David Lean. The cinematography (by Freddie Young) is nothing short of breathtaking and the score by Maurice Jarre fits it like a glove. The other 'pluses' are – a) No 'gutter' language. b) No sex scenes and c) No 'in your face', explicit, sickening violence. One could be forgiven for thinking that film-makers back then did not need to bolster their talents with such senses-bashing contrivances.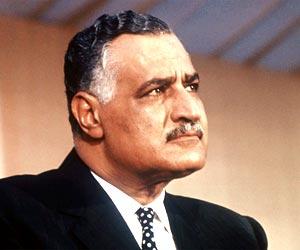 Gamal Abdel Nasser
A number of Arab countries banned the picture outright, indignantly accusing it of misrepresenting the Arab people in general. Omar Sharif, himself an Egyptian, managed to get Egypt's President Gamal Abdel Nasser to view the film and see for himself that this was not the case. Nasser loved it and allowed its release in Egypt where it went on to be a monster hit.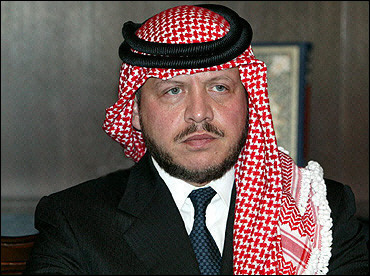 King Hussein and Antoinette 1961          King Abdullah II of Jordan
King Hussein of Jordan was a regular visitor to the set of Lawrence of Arabia in 1961, partly because he had loaned an entire brigade of his Arab legion to be used as soldiers in the movie, but primarily because he had become enamoured of a British secretary in the crew, a pretty young woman named Antoinette Gardiner. This was no casual fling, for she became his second wife in March that same year and bore him four children before they divorced in 1971. Their son Abdullah became King of Jordan on his father's death in 1999.
Albert Finney screen test                            Costume designer Phyllis Dalton
Peter O'Toole signed to play Lawrence after Albert Finney chose not to be tied to a lengthy seven-year contract. His army uniform, incidentally, was deliberately made to be ill-fitting. The real Lawrence always felt uncomfortable in uniform, so costume designer Phyllis Dalton received permission to deliberately make O'Toole's trousers too short in the leg and the rest of his uniform loose and hanging. Unforgivably, someone forgot to enter Miss Dalton's name for consideration in the Best Costume Design category for an Oscar, almost certainly depriving her of what should have been the picture's eleventh nomination.
The rescue of Gasim
O'Toole had a really tough time learning to ride a camel. Blood was seen oozing from his trousers after several days in the saddle, but he eventually used some sponge rubber padding in the seat of his pants to overcome the problem. Oddly enough, Bedouin extras thought the sponge rubber was a great idea and followed suit! He was fortunate not to be killed on one occasion when he was thrown from his mount during a charge. His camel had been trained for just such an emergency and stood over him as the rest of the charge thundered by. When he and I. S. Johar (Gasim) were required to share a camel during shooting of the 'rescue of Gasim', sequence, both men had trouble staying aboard the animal. A block of hashish was found on closer inspection and it was quickly realised that the two men were utterly stoned out of their minds.
Jose Ferrer as the Turkish Bey                                                                      Peter O'Toole as Lawrence
Interestingly, considering the array of legendary actors in the cast, O'Toole later said that he learned more about acting in two weeks from Jose Ferrer than he did in all his years at drama school. Implausible as it might seem today, Ferrer was paid more for his role than O'Toole and Omar Sharif were paid for their combined performances. He considered the part too small for an actor of his standing and would only do it if he was paid $25,000 and a brand new Porsche straight from the factory! His demands were met.
Omar Sharif and O'Toole
Sharif was already a big star in his native Egypt when producer Sam Spiegel arranged to meet him in Cairo to discuss the role of Ali. Sam then arranged with the Egyptian government for Sharif to make a screen test for him in Jordan. In his autobiography Omar wrote of his astonishment that a Jew could arrange an exit visa for him so easily when Sharif himself had been applying unsuccessfully for one for years. When he signed on with Spiegel, however, there were conditions. He had to agree to make seven pictures for him at $15,000 per picture over the next seven years. The other six films were Behold a Pale Horse (1964), Doctor Zhivago and Genghis Khan in 1965, The Night of the Generals (1967), Funny Girl (1968) and Mackenna's Gold (1969). After Lawrence of Arabia his price went through the roof (but not for his contracted pictures with Spiegel). O'Toole had signed for three pictures at $50,000 apiece. After 'Lawrence' made them both superstars they bitterly resented working for Spiegel for 'peanuts' for the duration of their deals.
Professor A W Lawrence
Not everyone was happy with the finished product when 'Lawrence' was released. Professor A. W. Lawrence was shown the completed film and was so appalled at the liberties taken with the truth that he refused the use of the title of his brother's book 'Seven Pillars of Wisdom'. After watching the picture he stated that he did not recognize his brother in O'Toole's portrayal at all. One wonders what he would have said about the original 1953 choice to play the title character – John Wayne! Happily, that production failed to get the necessary finance and was abandoned. The family of the former General Allenby sued Columbia over the movie's portrayal of their ancestor. So did the families of Auda abu Tayi and the real Sharif Ali ibn Hussein. Ten long years of litigation later all three plaintiffs dropped out.
The movie hinted at Lawrence being sexually assaulted by the Turkish Bey in Deraa. There is no definite proof of this, but Anthony Nutting, while researching his own biography of T. E. Lawrence, came across a rare 1922 edition of the 'Seven Pillars of Wisdom' manuscript, plus a letter from T. E. to George Bernard Shaw's wife that strongly suggested he had been raped by General Hajim Bey. Other contemporary researchers since then have argued that Lawrence never even went to Deraa at that time, much less was he detained and raped there. In the scene where Lawrence first tries on his Bedouin robes, David Lean took O'Toole aside and asked him to do whatever he thought the real Lawrence would have done, alone in the desert and free to fantasize. The result was O'Toole checking out his image in the blade of his knife (below). Lean loved it and used it.
Lawrence of Arabia is wonderful cinema, but historically it fiddles with the facts. For instance, the British and the Arabs did not capture Damascus. Australians took the city two days before they arrived. A fortress fifty miles from Aqaba was taken by Lawrence's Arab force, but the actual port itself surrendered after being bombarded by British warships. Auda's force marched into Aqaba unopposed a few days later. The war correspondent Jackson Bentley (loosely based on Lowell Thomas) did not accompany the Arab Revolt and Lawrence throughout their campaign. He was with them for just a couple of weeks. Finally, friends and enemies alike vehemently refuted Lawrence's claim (and the movie's inference) that General Bey in Deraa was homosexual. As usually happens with stories based on fact, the viewer is left with the option of watching an 'entertainment' or a historical documentary. Very few movies (if any) deliver both.