There has been a number of mysterious deaths in Hollywood and the movie (and TV )business over the past hundred or so years. Over the next week or so I shall briefly look at the most interesting of these. Of course, on the Internet there is no end of gory photographs of the victims and crime scenes, but I have no intention of including any of those pictures here. The deceased, I feel, deserve to be remembered as they were in life rather than as grisly corpses in a brutal crime scene. If you want to view those photographs they are not hard to find. However, you will not find them here. I have tried to be as impartial as I can be. As a historian, I am obliged to look at every possibility before weighing the known facts and making a personal assessment based on what I have found. I should stress that these are merely my own opinions and they may well be incorrect or inconclusive.
The victim – 1922 – Los Angeles, California
William Desmond Taylor (49)            
Taylor was shot to death in his home on 1 February 1922. Actress Mabel Normand was the last person (other than his killer) to be with him. Neighbours saw him walk her to her car at around 7.45pm. He was shot sometime after that. Time of death was difficult to establish, but the dead man's valet found his body at 7.45am the next morning, February 2. Studio officials had been called to the scene long before the police were called and, allegedly, removed vital evidence that hindered investigations.
Mabel Normand                                        Mary Miles Minter                  Charlotte Shelby
It emerged that the dead man had been intimately involved with Mabel, Mary Miles Minter, Minter's mother Charlotte Shelby and several other high profile Hollywood actresses. Money may very well have changed hands and names suppressed accordingly. A negligee with 'MMM' embroidered on it was found in Taylor's bedroom. It was enough to wreck Mary Miles Minter's career. Some investigators must surely have known the names of Taylor's other lovers, but if they did, those people are now long dead. And that information, it would seem, has died with them. Pity. There has been some speculation that the world's biggest star, Mary Pickford, might have been one of the deceased man's intimates, but no direct evidence of that has ever surfaced or is likely to at this late stage. Muddying the waters even further, another silent screen actress named Margaret Gibson confessed on her deathbed in 1964 to killing him. Maybe she did. Mabel Normand's dying words in 1930 were, 'I wonder who killed Bill?'
The victim – 1924 – Aboard the Oneida?
Thomas Ince (44)                                            
Officially, director Thomas Ince died at home of heart failure. Rumours persist to this day, however, that he was accidentally shot by William Randolph Hearst aboard the magnate's yacht during a brief cruise. Many say Hearst mistook Ince for Charlie Chaplin who was intimately involved with Hearst's mistress Marion Davies. The other guests on board that night were said to have been paid to say nothing and Louella Parsons, who was among them, is said to have been given a lifetime job with the Hearst newspaper chain as its Hollywood gossip columnist in return for her silence.
William Randolph Hearst              Marion Davies                                         Charles Chaplin
The Ince family vehemently deny all these rumours. They always have. It has been said that Ince was buried without an inquest before even his wife knew he was dead, yet this too is utterly rejected by his family. As the story stands there is no concrete evidence to prove any version, so take your pick. The biggest hint that something untoward took place aboard the Oneida lies in the lack of comment from those we know were aboard. Why the silence? Why the uncertainty over the names of those on board? If nothing happened why the reluctance to speak about the outing?
The victim – 1932 – Beverly Hills, California
Paul Bern                    
Writer, producer and director Paul Bern surprised everyone when he married the world's highest profile sex symbol, Jean Harlow, in 1932. He was a balding, slight of build, insignificant man, but he was also intelligent and kind and Jean fell in love with him. Just two months after their wedding his body was found in their home. He had been shot through the head. Evidently, his first wife Dorothy Millette, who had been institutionalized for years, had reappeared and read of his marriage to Harlow. She took a hired vehicle to Paul's home, argued with him and shot him dead as he emerged from taking a shower. Then she drove away and drowned herself in the nearby Sacramento River. Paul had never divorced the woman which meant Jean had wed a bigamist. It could mean the end of her career so MGM executives moved fast.
Paul and his wife Jean Harlow                        Dorothy Millette
It appears that they invented the story that poor Paul had killed himself because he could not measure up to the love goddess of the movies. Employees at the studio were instructed to concoct tales about the dead man that implied he was impotent, under-endowed and a wife-beater. None were true. A highly dubious 'suicide note' was 'discovered' and attributed to the deceased, despite the obvious fact that a highly skilled writer like Paul was extremely unlikely to have made the grammatical errors it contained. The world, however, believed the suicide story and its titillating details. For decades Paul Bern's reputation was sullied until alternate explanations surrounding his death surfaced. Sadly (and unfairly in my opinion) his death is still officially listed as a suicide.
The victim – 1935 – Pacific Palisades, California
Thelma Todd (29)
Thelma was found dead in the front seat of her garaged car at her home in Pacific Palisades, California, on 16 December 1935. Her demise was officially recorded as 'death by carbon monoxide poisoning', but the notoriously corrupt district attorney wrapped up the investigation far too quickly. Suspicions persist today that it was a mob hit, brought about because Thelma had refused Charlie 'Lucky' Luciano's offer to sell her 'Sidewalk Café' to him. He wanted to turn it into a gambling establishment for Hollywood high-rollers, or so the rumour-mongers insisted. Well, maybe. Maybe not. Thelma Todd's Sidewalk Café was small potatoes in the overall picture of organized crime in California. Would a crime boss such as Luciano really become personally involved in a celebrity murder?
Thelma's beloved cafe                                  Roland West                                  Charles 'Lucky' Luciano              
The rumours of foul play were fuelled by the police and the district attorney when they entered the garage and locked reporters outside for 45 minutes or so before opening up and allowing photographs to be taken of the dead woman. Reports (unconfirmed) stated there was blood on her face and her lip was badly bruised, but police said later that she must have struck her face on the steering wheel when she lost consciousness. Those who knew her would never believe that the effervescent, bubbly Thelma would ever even contemplate suicide. Intriguingly, a number of persons who knew her well stated that they saw her driving around on the Sunday, whereas the police said she had died in her garage on Saturday night. On his deathbed in 1952, Thelma's boyfriend Roland West told his friend, Oscar-nominated actor Chester Morris, that he had murdered her. As far as I am aware he did not mention a motive nor offer any conclusive evidence. Like many Hollywood mysteries, this one may never be definitively solved after more than 80 years.
The victim – 1958 – Beverly Hills, California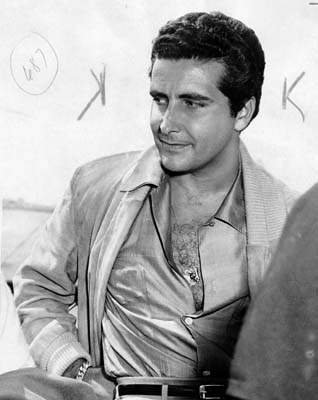 Johnny Stompanato (43)
Fourteen year-old Cheryl Crane, Lana Turner's daughter, was acquitted of stabbing her mother's boyfriend Johnny Stompanato to death in 1958. A verdict of 'justifiable homicide' was delivered after attorney Jerry Geisler convinced the jury that Cheryl had raced into her mother's bedroom to defend her from her boyfriend's attack and that Stompanato had accidentally ran into the butcher knife in her hand, catching it in the abdomen. As implausible as it sounded, the jury bought her story. Mother and daughter walked free.
Lana, Johnny and Cheryl                                        Johnny & Lana
Another version, one that the Stompanato family and friends found more credible, is that Lana discovered her 14 year-old in bed with Stompanato and stabbed him to death there and then. She then called former detective Fred Otash, a known 'fixer' to come to her home and 'rearrange' things. Unless there exists a photo somewhere that I am yet to see, the crime scene photos of the deceased lying on the bedroom floor show no sign of blood anywhere. Stompanato's boss Mickey Cohen was under no illusion that Lana had killed his boy. Neither were the dead man's supporters in the courtroom and they were furious at the verdict. Outside the courtroom a friend of Stompanato's created a scene. He had wanted to testify, he claimed, but was not called. He did not believe Lana's version of events for a moment. 'It's a lie', he said. 'The girl was in love with him. There was jealousy between her and her mother. He was a gentleman. That's more than the rest of you Hollywood people are.'
lawyer Jerry Giesler      former detective Fred Otash
In 1988, Cheryl wrote a book titled Detour: A Hollywood Story, in which she claimed that she had indeed stabbed the man because he was sexually abusing her (just as Lana's previous husband, Lex Barker, had allegedly been doing). Interestingly, formal statements from both Lana and Cheryl were not taken by police until after they had discussed the situation with Lana's lawyer Jerry Geisler. Did he come up with the 'Cheryl strategy' to get Lana off the hook? A lot of people think so. Years later, one of Lana's seven husbands wrote that she had confided to him: 'I killed the son-of-a-bitch and I'd do it again!' Who do we believe? I haven't the foggiest, but somebody was telling porky pies. Once again, the distance between style and substance in Hollywood is considerable.