I have written nine books on Hollywood, mostly on the stars of the so-called 'Golden Era', and have reached the slightly disillusioning understanding that most of my readers, (not all I hasten to add), are far more interested in the scandal and gossip than about any of the genuinely decent, unsullied stories. And that is very much a human trait I guess, particularly in an industry prone to scandal, promiscuity, monumental egos and rampant ambition. Eight of my books sell reasonably well, but one lags far behind the rest. I refer to 'Movies Based on True Stories' and I can only presume that the lack of juicy gossip within is the primary reason for this. So, with that in mind, it is a treat to be able to write about a lady who was universally loved, not just by movie-goers but by her colleagues as well, over a long and distinguished career. Deborah Kerr, (her surname's pronunciation rhymes with 'star' not 'cur', by the way), was unique among movie stars. I do not recall ever reading or hearing of her bad-mouthing another person, either in her private life or in her profession. I imagine she had her differences with others (who doesn't?), but any thought of saying so publicly was complete anathema to her.
with Bob Mitchum in Heaven Knows, Mr. Allison
Until she made From Here to Eternity in 1953, Deborah tended to play well-bred, aloof, even puritanical women devoid of any fire or sensuality. And most fans thought of her as an extension of those roles in her private life, yet that was simply not the case. She was a vibrant, beautiful woman who loved and was loved by several men in her life. Like most actresses she even used earthy language whenever she felt the need. John Huston, who directed her in the 1957 classic Heaven Knows, Mr. Allison, could have certainly vouched for that. On an especially hot day in Tobago she was required to paddle a rubber raft in several takes, and Huston felt she was not paddling with enough vigour. 'Faster, Deborah! Faster!' he yelled. She was paddling furiously when the paddle itself snapped in two. 'Is that fucking fast enough for you?' she screamed. Her profanity was all the more exquisite because she was dressed in full nun's habit at the time. Speaking of Heaven Knows, Mr. Allison, her co-star, Robert Mitchum, absolutely adored her. Their mutual affection remained throughout their lives and the general view is that the friendship was platonic. They made three more pictures together, The Sundowners and The Grass is Greener (both released in 1960) and a TV-movie called Reunion at Fairborough in 1985.
Director Michael Powell
Another dear friend (also platonic) was David Niven, but Deborah certainly had the occasional lover between husbands. Her first lover of note was director Michael Powell. He proposed to her on her 21st birthday (Powell was 37). It was 1942 and wartime and he wanted her to remain in Britain and star in his movies. Deborah had been approached by MGM, however, and Hollywood offered far more opportunities. They parted company and Michael returned to the long-time girlfriend he had ditched for Deborah. He married the lady a few months later.
with Robert Donat in Perfect Strangers
Esteemed actor Robert Donat fell heavily for Deborah shortly afterwards, a love that was reciprocated when they co-starred in Perfect Strangers in 1944, even though Donat was unhappily married at the time. Oddly, despite his infatuation with Deborah, he was not above complaining to producer/director Alexander Korda about her name being billed alongside his on the film's posters. He insisted on top billing and he got it. They broke off their relationship in early 1945, Donat later stating (rather ungallantly) that his attraction had been a 'rebound' from a previously unhappy affair.
with Stewart Granger in King Solomon's Mines
By then, however, Deborah had met Stewart Granger on a blind date. He, too, was a married man, so the romance was kept very hush-hush. His wife, Elspeth March, may have been surprised to read in his 1981 autobiography decades later that he and Deborah consummated their relationship in the back of a chauffeur-driven limousine. As strange as it might seem, it was Granger who introduced his pal Squadron Leader Anthony Bartley to Deborah at dinner in Brussels. Stewart and Deborah had by then agreed that he should return to his wife. Bartley became her new love and they were eventually married in November 1945. Bartley was a WW2 Spitfire ace with 15 'kills' and his best man at the wedding was none other than another famous ace, 'Sailor' Malan. Unfortunately, the marriage was ruined by prolonged separations as Tony chased a career in the movie business in one direction while Deborah's career often took her in entirely the opposite direction. They had two children but the union faltered after a dozen years. In truth, it had been dormant for years.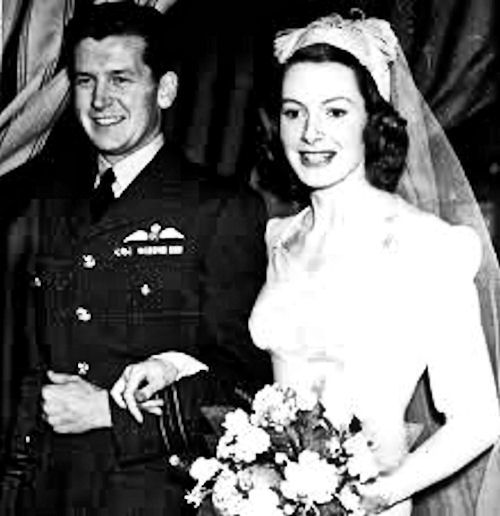 Tony and Deb's wedding day 1945
In 1951 Deborah made King Solomon's Mines with her former lover Granger. He casually mentioned in his memoirs that they renewed their affair for six months in Africa, but I seriously doubt that. For one thing, the movie company, aware of the stars' previous history, thought it prudent to fly Tony out to Africa to accompany his wife on location. It is just possible she and Granger were meeting secretly without Tony knowing, but that kind of subterfuge was probably not her thing. Her lovers (Donat and Granger) may have been comfortable cheating on their spouses, but that did not necessarily mean she would contemplate cheating on hers, particularly while he was visiting her on the set. As their separations became longer, however, it was only a matter of time before she strayed.
a publicity still with Burt Lancaster
for From Here to Eternity
Columbia head Harry Cohn took some convincing, but he finally realized the publicity value of announcing that the role of Karen Holmes, the promiscuous wife in From Here to Eternity (1953) would be going to Deborah Kerr, a completely 'against type' casting. Pundits thought Joan Crawford had it wrapped up. So did Joan. When word got back to Cohn that she was insisting on wearing clothing she personally intended selecting, regardless of their suitability to her character's personality or even the time period of the picture (Hawaii, December 1941), he replaced her at once. 'That's great for that stuck-up British bitch', she told close friend William Haines. 'It's about time somebody got to fuck her!' Joan rarely lost graciously. It has since emerged that Deborah and Burt Lancaster embarked on a torrid affair during the shoot – both on-screen and off. Her marriage was in name only anyway. Seven years later, in June 1960, Tony and Deborah finally called it a day. It had not worked for years and they had become virtual strangers a decade ago. Deborah was deeply in love with writer Peter Viertel by now and they married six weeks after her divorce was finalized. They would remain together until Deborah's death from complications related to Parkinson's disease in 2007. She was 86. Three weeks later Peter, too, passed away.
Deborah and Peter Viertel
Deborah Kerr was nominated for six Best Actress Oscars during her career and missed out every time. Below are the pictures accompanied by the ultimate winners for each year.
Edward, My Son (1949) – Olivia de Havilland won for The Heiress.
From Here to Eternity (1953) – Audrey Hepburn won for Roman Holiday.
The King and I (1956) – Ingrid Bergman won for Anastasia.
Heaven Knows, Mr. Allison (1957) – Joanne Woodward won for The Three Faces of Eve.
Separate Tables (1958) – Susan Hayward won for I Want to Live.
The Sundowners (1960) – Elizabeth Taylor won for Butterfield 8.
Deborah was unlucky to come up against some incredibly tough opposition, but she must have been disappointed to lose out to Liz Taylor for Butterfield 8. It was typical of the lady to issue the following statement to the press before the ceremony when asked whom she thought should win that year: 'The Oscar should go to Elizabeth Taylor', she replied. 'Not because of her grave illness, but because her performance on Butterfield 8 is superb. She deserves the prize as Best Actress. She has been in the running many times and perhaps this will be the lucky time.' Class – all class.