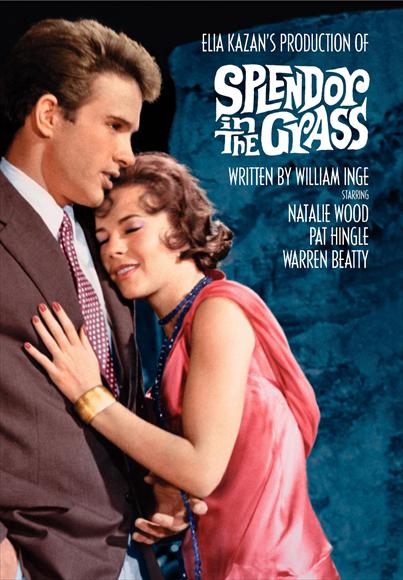 Stars Natalie Wood and Warren Beatty in Elia Kazan's Splendor in the Grass (1961) were supposed to be playing teenagers, but were in fact 22 and 23 years old respectively at the time of filming. Kazan simply surrounded them with more actors in their twenties, rather than players in their teens, so that his subjects would not appear out of place. This was Beatty's movie debut, yet crew members found him to be very arrogant. They did not like him, referring to the future super-star as 'Mental Anguish' or 'M.A.' for short, behind his back. Kazan, too, was annoyed by the untried actor's arrogance, but he recognized screen presence when he saw it. 'Warren was a little 'snotty', he said. 'I don't know a better word for how he behaved and can't find one in my thesaurus.'
Beaty with Joan Collins
Beatty was living with Joan Collins when this picture was shot. Natalie was married to Robert Wagner. 'They became lovers whilst I wasn't looking', recalled Kazan. 'I wasn't sorry', he admitted. 'It helped their love scenes.' Shortly after Joan had stupidly confided to a gossip columnist that her boyfriend had an insatiable 'three, four or five times a day sexual appetite', Warren ran off with Natalie. Wagner was distraught, but found brief solace in the arms of – you guessed it – Miss Collins. All acting aside, Beatty had discovered a short-cut to instant fame by flaunting his romance with one of Hollywood's highest profile beauties.
Beatty and Natalie Wood
Natalie was no shrinking violet either. Dennis Hopper often spoke of the night that several members of the Rebel without a Cause cast, among them Nick Adams, Hopper and Natalie, smoked a few joints and decided to have an orgy. They filled a bathtub with a lot of cheap champagne, Natalie stripped naked and stepped in, then started screaming in pain as the alcohol found its way between her legs. She had to be hospitalized and the orgy was still-born.
On the set of 'Splendor' Kazan wanted Natalie to do a nude scene, a 'first' for a major star in a mainstream Hollywood film. She readily agreed. It would involve a bathtub scene (no alcohol this time), and require her to run naked from the bathroom, down a passageway and into her bedroom. There would be a shot of her naked behind as she fled down the passageway. Jack Warner ordered the scene removed. Controversial ground-breaking was not his thing, although the picture did depict the first French kiss in a Hollywood film.
Natalie and Robert Wagner
In the plot, Natalie's character, Deanie, throws herself into a reservoir, distraught over her love for Bud (Beatty). In what would be a tragically prophetic portal into the future, Natalie pleaded with Kazan to have the sequence filmed in a swimming pool because she nursed a profound fear of 'dark' water. He refused and eventually talked her into doing the scene in shallow water in the company of an assistant who stood out-of-shot. Her hysteria was very real and the scene was completed in a single take. 'On dry land she continued to shake with fear, then laughed hysterically, with relief.'  As we know, twenty years later Natalie would drown at night after, presumably, falling from her husband's yacht, ironically named Splendor.
Lana Wood
Natalie and Warren ultimately went their separate ways, Natalie eventually re-marrying Wagner. Beatty took up with her voluptuous sister, Lana, for several years in an on-again, off-again relationship built on sex and little else. Natalie's funeral was in December 1981, but Beatty did not attend. A few days later Lana met with him to discuss a project. Natalie's name was not mentioned until Lana was about to leave. 'I wanted him to say something about her', she recalled. 'To say how he would remember her.' So she asked him if he missed her sister at all. 'No, not really', he replied. 'She's gone and I'm sorry, but that's it.' He then attempted to pull Lana towards him. 'Warren simply could not let the opportunity get by. This time I could, though.' The man's lack of sensitivity angered her and she walked out after bidding him goodbye for the final time. The story says a lot about Mr. Warren Beatty.
Pat Hingle                                                                      Barbara Loden
Character actor Pat Hingle played Beatty's father, Ace Stamper. Shooting was about to begin when he accidentally fell fifty-four feet down an elevator shaft in his apartment building. 'I broke everything', he said later. 'I landed upright, so I broke hips and knees and ankles and ribs, and that sort of thing. That lurching walk that Ace Stamper has – that was as good as I could walk.' He refused to withdraw from the picture and merely incorporated his limp into the character he was playing. Although he portrays Beatty's father he was only 13 years his senior. Iconic American stand-up comic Phyllis Diller made her screen debut here as the night club owner. Her character is clearly based on real-life New York owner of the Roaring Twenties, Texas Guinan. She used to sit on a stool at the entrance to her club, greeting patrons with her catch-cry, 'Hello, suckers!'
Elia Kazan and Natalie on the set.
During the making of Splendor in the Grass its director, Kazan, was involved in a relationship with Barbara Loden, the actress who plays his sister. He was married at the time to someone else. He and Miss Loden would marry in 1967 and remain together until her death from cancer at 48 in 1980. Interestingly, she was cast as Beverly Abbott in The Swimmer (1968) opposite Burt Lancaster. It was a crucial part because her character has an affair with Lancaster's. By all accounts her performance far outshone Burt's, so he had her replaced by Janice Rule and her scenes re-shot!
One final word on the Beatty-Wood-Wagner scenario. When Natalie announced her separation from Wagner in June 1961, the media was already fully aware of her romance with Beatty. According to author and lawyer Suzanne Finstad, however, Natalie took the heat as a 'cheating wife' in order to save Wagner's career. In her 2001 book, Natasha, Finstad wrote that Natalie broke with her husband because she found him in a compromising situation – with a man. Through a spokesperson Wagner has denied this, but Finstad has consistently stood by her claim, reiterating it in documentaries. She insists that Natalie accepted the accusations of infidelity rather than expose Wagner as being bisexual, a revelation that would surely have ruined his career.