Doctor Zhivago was released in the same year as The Sound of Music and was almost as successful, finishing second behind that picture in the race for box-office champion of 1965. Furthermore, of all the movies produced by MGM in its entire history, only Gone with the Wind (1939) made more money for the studio. In 2010 'Zhivago' was named as the 8th greatest grossing film of all time after allowing for inflation. When the picture first hit the screens, however, the critics raked it over the coals mercilessly. They hated it while the public loved it. So, what else is new? At the Oscars the Academy showered it with ten nominations, including Best Film and Best Director, and it won five statuettes.
Director David Lean
Director David Lean became so disillusioned by the critics' comments that he vowed never to make another movie. After the picture's success at the Academy Awards, however, his confidence was restored and he soon launched into another epic – Ryan's Daughter. Oops! Not only did the critics rip it to pieces but the public stayed away in droves as well. Devastated, he announced his retirement from movie-making and it took him fourteen years before he would try his hand again. A Passage to India in 1984 was his swan-song, so at least he went out on a positive note. He died in 1991.
Julie Christie as Lara
I was 18 years old when Doctor Zhivago came out and, like most teenagers at the time, I was smitten by Julie Christie, the stunning English actress who played the leading role of Lara. She was born in Assam, India to British parents, (her father managed a tea plantation), and by the time she left for Paris to complete her education she was already a dazzling beauty who would soon become fluent in both French and Italian. In 1962 she nearly landed the Honey Ryder role in the first James Bond film Dr No, but it went to another newcomer Ursula Andress. Julie, it was decided by producer Cubby Broccoli, was not 'busty enough'.
After winning an Oscar for Darling in 1965 she was suddenly in great demand and the logical choice to play Lara that same year. Before she hit the big time she and British actor Terence Stamp were heavily involved before the relationship foundered. From 1967 until 1974 she virtually walked away from her career, putting her love for Warren Beatty first and foremost in her life. It was a strange decision. Her meteoric rise to the top of her profession was considered by many to have been squandered but, like Beatty, she simply chose not to seek steady work. Even so, her sheer magnetism saw her offered a million dollars to play Jacqueline Kennedy in 1978's The Greek Tycoon. She rejected it and Jacqueline Bisset (another iconic English beauty) took her place. The movie failed.
During her years in Hollywood Julie became close friends with the ill-fated Sharon Tate. Goldie Hawn became another dear friend. Interestingly, in the seventies a strong rumor persisted that Julie and model/actress Lauren Hutton were lovers. Neither lady acknowledged them. Throughout her lengthy romance with Beatty, Julie was said to be unfazed by his dalliances with scores of women on the side, but in the end she finally tired of his philandering and called it quits. He had first seen her in person at the 1966 Royal Command Performance of the movie Born Free. Beatty and his then girlfriend Leslie Caron were in line to meet the Queen when he espied the ravishing blonde beauty. The attraction was immediate and mutual. It took them a few months to ditch their then-current lovers.
Omar Sharif as Zhivago
Egyptian star Omar Sharif was a strange choice to play the Russian Doctor Zhivago. It became necessary to disguise his Middle Eastern looks, so every morning he had to undergo the uncomfortable process of having a) his eyes taped back, b) his hairline shaved up about 2-3 inches and c) his skin waxed. He was also required to don a wig. Critics of the movie argue that it is too slow. It is a fair enough observation. For example, the first lines spoken between the two principal characters, Zhivago and Lara, do not occur until eighty-one minutes into the picture (counting the overture and opening credits), a most unusual thing.
Rod Steiger as Komorovsky
Lean wanted Marlon Brando for the role of Viktor Komorovsky. For that matter he had also wanted him to play the title role in Lawrence of Arabia, but both times Marlon prevaricated until the director lost patience and signed someone else. In this instance it was James Mason who briefly stepped into the breach before he reneged and it went to Rod Steiger. Almost the entire cast were of British descent with the exception of Sharif and Steiger. There are virtually no Russians in the picture at all.
Very few people got along with David Lean. Peter O'Toole flatly refused the role of Zhivago because he had such a grueling time working with the man on Lawrence of Arabia. His refusal caused a rift between the two men that never fully healed. Sharif became quite ill during the shoot and came close to a break-down, a combination of the stress of carrying the picture as its central character and having to deal with Lean on a daily basis. Alec Guinness and Lean were at loggerheads throughout the production.
Screenwriter Robert Bolt was asked if he thought Sarah Miles might make a good Lara. 'No', he replied. 'She's just a north country slut.' He later married her. Carlo Ponti won the bidding for the screenplay in 1963 and planned for Lean to use his wife, Sophia Loren, as Lara. Lean said no. His reason? 'She is too tall', he told Ponti. Jane Fonda was asked to play the lead but did not fancy spending nine months in Spain. By the time she had changed her mind Julie had been signed.
I love the make believe in movies. The Partisan charge across the frozen lake, for example, was shot in temperatures exceeding 30 degrees C (about 90 F) across a riverbed covered with a cast-iron sheet sprinkled with fake snow (marble dust). The actors perspired profusely. Even the inside of the ice palace was faked. It was made of specifically formed wax. A 10-acre replica of Moscow was constructed in a suburb of Madrid. It even included a replica of the Kremlin. There was no snow in Spain that year, so the crew were forever disguising the fields with white paint, plaster dust and white plastic sheets in order to create the snow-filled vistas we see in the movie. It should be noted, however, that some shooting took place in Finland and Iceland.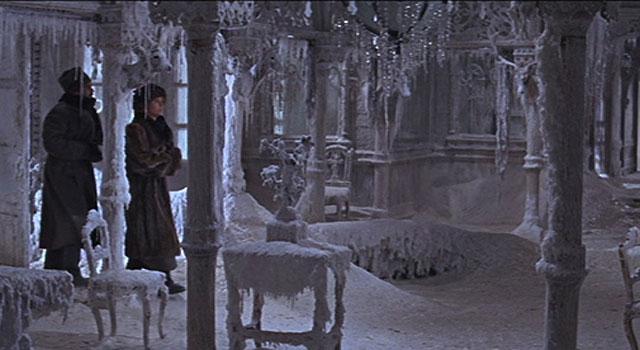 the ice palace
Doctor Zhivago is a beautiful movie. It is epic story-telling at its best, the kind of movie-making that most of us look forward to and appreciate, for it presents to audiences a world long- disappeared in an age we shall never see again. That is the true magic of the motion picture business. It offers us a glimpse into the past, a visual feast that we can never quite get from books no matter how well they are written.