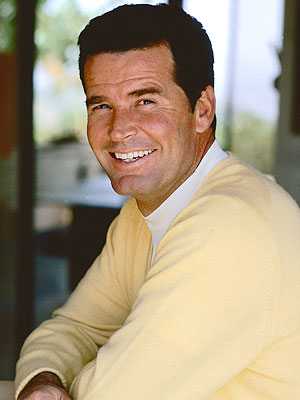 James Garner was one of those rare Hollywood stars who lived long lives completely free of scandal. He met his wife Lois Clarke in 1956, they married two weeks later, and remained together until Jim's death in 2014! As far as I am aware he never played around and they lived in the same Brentwood house for all 58 years of their marriage. Their next-door neighbor was Steve McQueen. The two men became friends, but when Garner landed the lead in Grand Prix (1966), a role that McQueen desperately wanted, Steve refused to speak to him for four years! 'I called him 'Crazy McQueen', Garner recalled, 'because, quite frankly, he was crazy! He wasn't a great actor, but he was a star.'
as Bret Maverick
Not only was Jim Garner a principled man, he was also very popular with those he worked with, greatly admired, both on-screen by his fans and off-screen by those who knew him. In plain terms, he was a gentleman. He was also a fine actor who rarely made a bad movie. In fact, in a 1973 interview, none other than John Wayne described him as 'the best American actor'.
Jim as a teenager
Born in Norman, Oklahoma in 1928, young James Bumgarner dropped out of school at 16 to join the Merchant Marine and would become the first Oklahoman to be drafted for the Korean War. He was wounded twice in the conflict. On one occasion he and a South Korean comrade were trying to get back to the American lines when they ran into a North Korean patrol. Garner placed his hands on his head while his companion pretended to be his captor. They continued on their way and eventually reached safety.
I was greatly surprised to learn that Garner was a lifelong smoker of marijuana! I was surprised because I could never imagine him doing anything that was not ultra-conservative. 'I started smoking it in my late teens', he said before he died. 'I drank to get drunk, but ultimately didn't like the effect. Not so with grass. It had the opposite effect from alcohol: it made me more tolerant and forgiving. I did a little bit of cocaine in the eighties, courtesy of John Belushi, but fortunately I didn't like it. But I smoked marijuana for 50 years and I don't know where I'd be without it. It opened my mind and now it eases my arthritis. After decades of research I've concluded that marijuana should be legal and alcohol illegal.'
Lois and James 1964
When I was a teenager Garner was one of my heroes. I was a huge fan of the TV series Maverick and rarely missed an episode because he was Bret Maverick. He shared the starring role with Jack Kelly and the two would alternate from week to week. Kelly was good, too, but he could not hold a candle to Garner in my eyes. Most fans, apparently, felt the same way. Fans may be amused to learn that it was intended Jim would star as Cheyenne Bodie in Warners' new series Cheyenne, but the casting director was unable to locate him in time, so the role went to another newcomer named Clint Walker! Maverick was a kind of consolation prize.
Brent, Bart & Beau Maverick
What made the Maverick series unique, according to producer Roy Huggins, was that the writers reversed the usual western writing principle of setting up a situation that was 'serious but never hopeless', and reversed it with a weekly situation that was always 'hopeless but never serious.' And Garner was the perfect actor to play a tongue-in-cheek- hero in a western setting. Huggins actually created the series, by the way, not that Warners were ever willing to acknowledge that in the credits. They saved money by pretending that each of their TV series was derived from an old movie script they owned. He was at last credited on-screen in the 1994 Mel Gibson hit movie, Maverick.
Garner played Bret Maverick, Kelly played Bart, and the role of their English cousin Beau was first offered to a young Sean Connery who turned it down prior to Roger Moore accepting it. Coincidentally, as we all know, Roger would replace him a second time when Connery left the James Bond franchise decades later. Robert Colbert popped up in three episodes of Maverick at the end of season four as the younger brother of Bret and Bart, because Moore's contract had expired and there were still episodes to be filmed.
Support Your Local Sheriff (1969)    with Lou Gossett Jnr in Skin Game (1971)
In 1960 there was a writers strike in Hollywood and Warner Bros suspended Garner without pay, claiming they were justified in doing so because there were no scripts available for the series. He took the studio to court over the suspension and won his case after testimony was heard that Warners had secretly acquired over 100 scripts during the strike. He was released from his contract because Warners had violated several contractual clauses. Garner had come a long way from the day in 1956 when he signed with the studio as a $200 a week contract player. In 1961 he relaunched his career as a contract player with United Artists.
Hendley 'The Scrounger'        The Rockford Files (1974-80)
in The Great Escape (1963)
From 1974 until 1980 he starred in another highly successful television series called The Rockford Files. During the 1979-80 season, however, he was struck down by a bleeding ulcer and hospitalized. He was extremely disappointed when the series was cancelled due to his illness, but was compelled to heed his doctor's advice that season six had to be his last. Jim and Lois separated in 1979 because she could not handle the fact that he was working far too hard and his work ethic was destroying his health and their marriage. They reconciled in 1982.
Mariette and Jim Polaroid ads                Mariette and that t-shirt
Americans became accustomed to seeing his face on television throughout the late seventies in advertisements for Polaroid. Garner and actress Mariette Hartley made over 300 of these commercials as husband and wife. So convincing were they as a married couple that Mariette felt compelled to have a t-shirt made that read: 'I am not Mrs. James Garner'. For four years (1985-9), Jim was also the TV and radio commercial spokesman for Mazda. Reportedly, each year the company paid him $1 million and a free Mazda vehicle of his choosing.
in The Notebook (2004)
James Garner made many fine movies. Romantics would probably name The Notebook (2004) as one of his best. Lovers of the art of acting might choose his Oscar-nominated stint in Murphy's Romance (1985) as his most impressive work. I personally have a soft spot for two of his westerns, Support Your Local Sheriff (1969) and Skin Game (1971). Garner himself always said that the picture he was most proud of was The Americanization of Emily, a 1964 anti-war drama he made opposite Julie Andrews. Then, of course, there was his terrific performance as 'The Scrounger' in The Great Escape in 1963…For what it is worth, my late mother always considered him to be, hands down, the most handsome man in movies. Ever.