Compiling a list of Hollywood's most notorious Lotharios is an inexact business. For starters, there are just too many to choose from. Second, in some cases it gets down to personal opinion on who makes the bottom reaches of the list and who misses out altogether. Names such as Burt Lancaster, William Holden, Michael Caine, Al Pacino, even little Burgess Meredith are absent, although any one of them could have been included. They all had numerous 'conquests', but they were possibly a little more discreet than those who made my Top 30.
I just noticed that there are no black men on my list. Understandable, I suppose, when we consider that there were no leading black men in Hollywood films until Sidney Poitier came along in the sixties. Anyway, I have no doubt he would not have made the list regardless of his colour. The man has too much class. I do not mean to imply that every one of my Lotharios is or was a classless 'rug rat'. Just most of them. I have also shied away from the modern lot. Frankly, I find them a little tedious.
I have also ignored those skirt-chasers associated with the acting business who are non-actors. I refer to studio executives such as Darryl F. Zanuck at Fox or Mickey Cohn at Columbia, lechers who preyed on their young starlets at will. The likes of attorney Greg Bautzer, billionaire Howard Hughes, or 'ladies men' such as Porfirio Rubirosa, John F. Kennedy and a score of others with just one thing on their minds. No, to make this list you needed to be an actor with an overactive libido. No shortage of them in good old Tinsel Town. I have attempted to arrange these dudes in some kind of order – lowest to highest – based on known tallies and their ability to find their way into newspaper headlines with monotonous regularity. If I missed a few I offer my apologies, but let's face it – no two lists on this subject are likely to be identical. So here goes, starting with number 30:
30        Peter Lawford (1923 – 84)
London-born Lawford was a member of Frank Sinatra's Rat Pack until they had a falling out. He was bisexual, so his tally of 'conquests' is probably a lot higher than it would be had he stuck to the ladies. Undoubtedly, his brief popularity was given a lease of life through his association with Sinatra. Not a nice man, actually. And he knew a lot more about Marilyn Monroe's death than he ever divulged.
29        Fredric March (1897 – 1975)
Hailing from Racine, Wisconsin, Fred March gained a reputation among his leading ladies as a groping, lecherous womanizer. Married for 47 years to Florence Eldridge, he was always staid and obedient in her presence, but once she was elsewhere he went after his co-stars with considerable vigour. 'He had twenty fingers', recalled Claudette Colbert, 'and they were all over my ass!' Irene Dunne detested him. So did Garbo.
28        Johnny Weissmuller (1904 – 84)
Johnny Weissmuller was actually born in Austria-Hungary in an area that has been Romania since 1950, but his mother pulled an identity switch to enable him to swim for America in the Olympics. He arrived in the USA aged 7 months and his brother Pete was born in Pennsylvania 8 months later. Mum switched them around and Johnny spent the rest of his life in fear of being stripped of his five Olympic swimming gold medals. Married six times, he was (according to actress Esther Williams) sexually aggressive towards all his leading ladies and female swimming partners. She wrote that he was usually sexually aroused and delighted in exposing himself to her and others. In later years he was known to stand on the sidewalks outside the hotel rooms of his latest conquests, beating his chest and bellowing his famous Tarzan call.
27        Leslie Howard (1893 – 1943)
Another Londoner, Leslie Howard certainly had an eye for the ladies. Unlike March, however, he was generally loved by his co-stars, probably because he made no secret of the fact that he genuinely admired women of any age or culture. Joan Blondell adored him. 'Leslie Howard was a darling flirt', she remembered. 'He was adorable…He just loved ladies.' His death at 50 during WW2 put a premature end to his romancing. Indeed, it appears his fondness for the opposite sex led directly to his early death. Desperate to get back to London to see his girlfriend, he changed to an early flight out of Lisbon. It was shot down by German fighters over the Bay of Biscay and all aboard were killed.
26        Ronald Reagan (1911 – 2004)
The man from Tampico, Illinois who would be elected the 40th President of the United States in 1981 was quite a player in Hollywood, particularly in his early days in the thirties and forties. He also resided at the notorious Garden of Allah Hotel (1927 – 59) in West Hollywood in between his marriages to Jane Wyman and Nancy Davis, and seduced dozens of actresses and others while he was there. These allegedly included Marilyn Monroe, Lana Turner, Ann Sheridan and Piper Laurie. Miss Laurie openly described him in her memoirs as 'not a gentleman between the sheets', whatever that implies.
25        James Stewart (1908 – 97)  
Born in Indiana, Pennsylvania, Jimmy Stewart became one the biggest stars in movie history, probably because he appealed to so many different types of people. Men liked him, children liked him and woman absolutely adored the guy. He has always enjoyed a reputation as a prolific 'ladies' man', but I am still uncertain just how prolific that really was. It is common knowledge that he was sent out on scores of publicity dates, possibly hundreds, and the tabloids just assumed he slept with them all! He definitely landed his share, but just how many is still open to conjecture because Jimmy was not the 'kiss and tell' type. There were well-publicized romances with Loretta Young and Marlene Dietrich, but Louis B. Mayer at MGM became seriously worried that the public thought Jimmy might be gay, so he ordered him off to the studio-owned brothel, 'to make a man of him'. Of course, Stewart was neither gay nor bisexual, but the studio 'owned' him, so he reluctantly did as he was told.
24        Desi Arnaz (1917 – 86)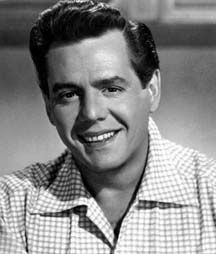 Desi Arnaz was the son of a former mayor of Santiago, Cuba. The family fled the 1933 Batista revolution and settled in Miami, Florida. Desi started his own band and single-handedly launched the conga craze in America. He was brought to Hollywood where he met Lucille Ball. They fell in love and were married. Unfortunately, throughout their long marriage he was a serial philanderer. Couldn't help himself. In fact, he and Lucy came close to divorce several times over his infidelity. Ultimately, she came up with the idea of them starring together in 'I Love Lucy'. It was her best chance of spending more time with him. She really loved the guy. Friends of Arnaz said he was known to have professional girls in waiting rooms, standing by to be serviced in their turn by him in a nearby bedroom. Desi had a serious sexual addiction.
23        Spencer Tracy (1900 – 67)
Out of Milwaukee, Wisconsin, Spencer Tracy rightly deserves to be remembered as one of the truly great movie actors – possibly the greatest. He was also a world-class alcoholic and enjoyed the services of an enormous number of beautiful women throughout his career. His long relationship with Katharine Hepburn is well-documented, but there were scores of others, including it has been alleged, several men as well. He was almost certainly servicing a very young Judy Garland back in the forties and found time for a brief tumble with Grace Kelly when he was in his fifties. Who knows how many more conquests there might have been had he indulged in fewer week-long binges along the way.
22        Charlie Chaplin (1889 – 1977)
Yet another Londoner, Chaplin was a bona fide genius of the silver screen, but he was also far too fond of young girls – very young girls. He was probably fortunate he did not spend much of his life in prison for carnal knowledge of minors. His universal fame (and untold wealth) kept authorities at bay it seems. He wed 17 year-old Mildred Harris when he was 29, 16 year-old Lita Grey six years later and 17 year-old Oona O'Neill when he was 54! And there were a lot of other young things in between.
21        David Janssen (1931 – 80)
'David Janssen screwed more women in Hollywood', said his good friend John Wayne, 'than Kennedy screwed in Washington, Hollywood and everywhere else combined!' Quite a wrap. David, who hailed from Naponee, Nebraska, became universally recognized for his portrayal of Dr Richard Kimble in the iconic sixties TV series The Fugitive, and with that recognition came a legion of adoring female fans of all ages. Among his many, many relationships were a couple of reasonably lengthy ones with actresses Suzanne Pleshette and Angie Dickinson. Unlike many of those on my list, David Janssen appears to have been truly loved by those who knew him, ex-girlfriends and ex-wives included.
(Part 2 in two days)