It pains me to say anything positive about a low-life like Roman Polanski, but he probably should have won his nomination for Best Director for this picture. This was the final movie he made in the United States and it is brilliant. In February 1978 he high-tailed it to France just before he was about to be sentenced for unlawful sexual intercourse with a thirteen year-old girl named Samantha Geimer. He had plied her with booze and sleeping pills before raping and sodomizing her in Jack Nicholson's jacuzzi. The girl was under the impression she had been invited to his home for a photo-shoot for French Vogue. Her mother was instructed not to accompany her. Polanski's lawyers managed to get the charges downgraded, but he was still convicted. He has been on the run ever since, carefully avoiding any country that has an extradition arrangement with the US. It has since been suggested that the girl's mother 'pimped' her out to Polanski to court favor with the director. That may even be true, but there is no getting away from the fact that Samantha was just 13 – and he knew it.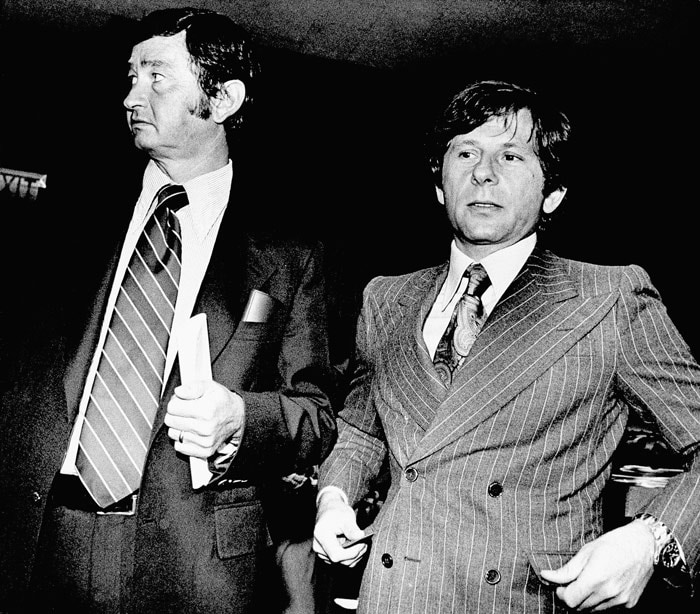 Polanski (R) briefly arrested in                    Samantha Geimer 1976
Switzerland 1978                                                
On the surface Chinatown probably doesn't seem like much of a movie, but it is quite the complete package. The picture has an undeniable 'mood' about it. It also has Jack Nicholson at the top of his game. Above all, however, it has Robert Towne's wonderful Oscar-winning screenplay. In fact, so highly regarded is his screenplay that it is studied at screen-writing seminars all around the world and heralded as the ultimate perfect example of the craft. Just before he wrote it Towne was offered $125,000 to write a screenplay for The Great Gatsby. He refused the offer, modestly stating that he could not possibly improve on F. Scott Fitzgerald's novel. Instead, he accepted $25,000 to write a screenplay of his own. And Chinatown was it.
(L to R) Towne, Nicholson and Evans
attending the 1974 Oscars
Polanski and his leading lady Faye Dunaway did not hit it off on the set from the beginning. That was nothing unusual for either of them. Nobody expected they would. During one of their many heated altercations he even yanked some of her hair out! When she persisted on asking Polanski what her character's motivation was, he lost his temper and exploded in front of the cast and crew. 'Just say the fucking words', he screamed. 'Your salary is your motivation.' Faye was not the kind of actress to meekly wear such abuse and their relationship went downhill from there.
Faye Dunaway in Chinatown
Their differences aside, Faye's prima donna behavior on the sets of her movies was scarcely a secret. Crew-members on Chinatown said she even refused to flush her own toilet, insisting it was her assistants' job to do so. During the filming of one particular scene that took place in a car, she advised Polanski that she needed to be allowed out of the vehicle for a toilet break. He refused her request, insisting she wait until the scene was completed. Rumor has it that she promptly urinated in a plastic cup and threw it in his face! It was not always smooth sailing between Polanski and Nicholson either, although most of their arguments revolved around Jack delaying shooting in order to watch his beloved L.A. Lakers' basketball games on TV.
Towne actually wrote the Jake Gittes character specifically with Nicholson in mind. Chinatown was intended to be the first leg in a trilogy. It would be followed by The Two Jakes and then Gittes vs. Gittes. The second leg was released in 1990 and was directed by Jack himself, but it was a critical and commercial flop, so the third in the trilogy never eventuated.
Polanski actually gave himself a role in the movie, that of a hoodlum with a switch-blade. One of the picture's iconic moments has Gittes being apprehended by two bad guys and having his nose slit open by the one played by Polanski. A specially hinged blade was wielded by the director come actor, and the sequence took quite a while to shoot because of the complex nature of the trick blade. Both men became tired of being asked how the scene was accomplished so convincingly, so they started to tell everyone that Jack's nose really was sliced open. It wasn't, of course.
Dunaway is one of those actresses whose performances range from superb (an Oscar for the 1976 movie Network), and abyssmal (two worst actress Razzies – The Temp (1993) and 1981's Mommie Dearest). She received two other Oscar nominations (for Bonnie & Clyde (1967) and Chinatown), yet she also landed another six Razzie nominations! She felt that the reception to Mommie Dearest ruined her career to some extent, but others say her histrionics and petulant behavior did more in that regard than anything else. Andrew Lloyd Webber's decision to fire her from the Broadway production of 'Sunset Boulevard' (because her voice was not good enough) was another nail in her career coffin.
Faye and Marcello
Her private life has brought with it undesirable comment on occasion as well. From 1968 until 1970 she lived with the already married Marcello Mastroianni, but she eventually ended their relationship when he refused to divorce his estranged wife to marry her. Her marriage to the lead singer of the J. Geils Band, Peter Wolf, lasted about five years. By then she had a serious drug problem that continued through most of her thirties.
As far as her difficulties with Polanski on the set of Chinatown were concerned, she had this to say: 'Roman was very much an autocrat, always forcing things. It ranged from the physical to the mental. He was very domineering and abrasive and made it clear he wanted to manipulate the performance. That approach has never worked with me.' Polanski has been quoted many times on his opinion of Miss Dunaway: 'She was a gigantic pain in the ass', he told all who asked, adding; 'She demonstrated certifiable proof of insanity.' Judge for yourself who was in the right. Should the director be totally in command, or should his leading lady have some say in her performance?
As so often happens when movies are cast, she acquired the Evelyn Mulwray role pretty much by default. It was initially intended for Ali MacGraw, the wife of producer Robert Evans, but she blew it when she went off to make The Getaway (1972) with Steve McQueen and ended up marrying him. Evans never forgave her and offered the role to Jane Fonda instead, but it was Polanski (surprisingly) who insisted on using Dunaway, because her face was more suitable to the pencil eyebrows and Cupid's bow lipstick her character was required to wear. His real-life mother wore similar make-up, he said, and he wanted the character to be a tribute to her.
Ali MacGraw and husband Robert Evans
Chinatown is a fine fictional drama. It is not a docudrama, even though many people still believe it depicts how Los Angeles, historically, got its water. Mention is made during the movie of the 'Van Der Lip Dam' disaster. Almost certainly this is an oblique reference to the real-life collapse of the Saint Francis Dam in 1928, a tragedy that claimed the lives of between 450 and 600 people, 42 of whom were school-children. It was the single worst man-made disaster in the history of California. The movie, however, is set in the thirties, nearly a decade later.