Cleopatra is not a bad movie per se. It is just a bad movie for the amount of money spent making it. We hear differing amounts relating to the production and distribution outlay, but it appears to have cost in the vicinity of 44 million 1963 dollars, the equivalent of around $344 million in today's money. That is an awful lot of lucre spent on something that is flawed in so many ways. And flawed it certainly is. It took until 1973 for the film to recoup its costs and break even. Fox immediately 'closed the books' on it. Any future profits were kept secret for the sole purpose of avoiding payments to anyone who may have been promised a percentage of the net profits. Creative accounting – kind of.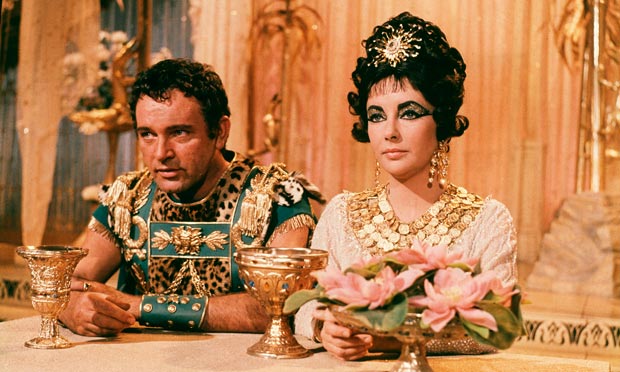 Richard Burton & Elizabeth Taylor
One of the biggest problems with Cleopatra as a spectacle is its length. I have a Blu-ray copy of the 'Anniversary Edition' and it runs for 249 minutes! Most movie-goers (myself included) start to get a little restless after about two hours. At three hours they are either looking at their watches every half minute or so – or falling asleep. At four hours they are starting to climb the walls. Acutely aware of this, some executive heads at 20th Century Fox wanted to turn it into two movies of about 180 minutes each, one to be called 'Caesar and Cleopatra' and the other 'Antony and Cleopatra'. Darryl F. Zanuck disagreed. The paying public had become obsessed with the Taylor-Burton off-screen romance, he quickly pointed out, and Burton's character would not appear until the second movie. No-one would bother going to see the first one, he argued.  As we now know, two hours were hacked off the original to make just one feature. The missing hours are out there somewhere.
I have no doubt there are actors and actresses throughout Hollywood history with the talent and charisma to carry a four-hour picture, but Liz Taylor and Richard Burton are, in my opinion, not among them. Liz had acting ability and she was undoubtedly beautiful, but that diabolical voice of hers…! It is bearable if she does not get into an argument, but the instant she starts screeching it is time to head for the exit. Burton, on the other hand, has quite a good voice for movies. Unfortunately, he also has a delivery style that involves breaking every sentence into bits, each piece preceded by an unnatural, irritating pause for dramatic effect – or something. It is almost as painstakingly annoying as Hugh Grant's lamentable stammering and stuttering, but at least Hugh's movies don't drag on for four hours or more.
Rex Harrison as Caesar
I have sat through Cleopatra three times in my life. There will not be a fourth. The first time was at the movies. I staggered out with a numb backside, vowing never to watch the thing again. About 20 years later I happened to see it on television in the comfort of my lounge-room. Several cups of coffee and a snack enabled my backside to get through intact. Then, a few years ago, I purchased the Blu-ray (cheap) and gave it one more try. It looked good; but even the Blu-ray format could not help Liz or Dick's performances or turn four hours into two and a half.  All three times the same thing became apparent: The first half was entertaining enough, thanks to Rex Harrison's portrayal of Julius Caesar. The second half was totally stolen by Roddy McDowall's Octavian. Liz was as dull as dishwater, a complete waste of time, money and energy. I mean to say, Cleopatra was supposed to have been an extraordinary woman who almost ruined the Holy Roman Empire. Liz, on the other hand, came across as just a pretty girl with a temper. Burton's Antony was, to put it plainly, a 'sook'.
Roddy McDowall as Octavian
Poor Roddy McDowall almost certainly missed out on an Academy Award nomination when Fox messed up the nominations form. By the time they realized their error it was too late because the AA nomination lists were by then at the printers. Most critics thought his Octavian would win. Harrison did manage to garner a nomination in the Best Actor category, however, but was unsuccessful. Neither Liz nor Burton was deemed worthy of recognition. And rightly so.
A considerable portion of the picture was shot in Egypt and that posed a problem. For a short time anyway. The Egyptian Government refused Liz admission because she was Jewish, but eventually changed their minds after realizing just how much money would be generated throughout the period of shooting. What a pity more stupid religious differences could not be settled with a big, fat slab of greasy money.
Producer Walter Wanger
When Liz signed on for a million dollars with Fox it was front page news. Back in '59, producer Walter Wanger had called her to ask if she would play the lead. Her then husband, Eddie Fisher, had answered the phone. 'Tell him I'll do it for a million dollars', she called from the background. To her astonishment (and delight) Wanger and 20th Century Fox quickly agreed. Years later she admitted that her 'million dollars' crack was meant to be a joke.
A million dollars was an obscene amount of money at that time for just one picture. In fact, it was the first million dollar contract for a movie role ever – male or female. What's more, after lawsuits and counter lawsuits, Miss Taylor's final payment for Cleopatra would settle at a cool $7 million, the equivalent of about $55 million today! And even then she wasn't satisfied, insisting that the movie be shot in Todd-AO, the format created by her late husband – a system that she now owned. Liz really liked money.
Spyros Skouras
Spyros Skouras, 1959's new president at 20th Century Fox, originally ordered the picture to be made over 4 months on a $300,000 budget! And only Fox contracted actresses were to be considered for the title role. Walter Wanger came on board as producer in mid-1959 and he had bigger plans. Much bigger. He arranged for Oscar-winning production designer John DeCuir (1956's The King and I) to present to the Fox executives a series of superb set drawings for a lavish production. They took one look at his presentation and began envisaging much larger profits. It was swiftly agreed to elevate the production out of B – movie status and into the $2 million budget category. It would star Joan Collins. Later still, it was universally agreed to look outside Fox for their Cleopatra. Susan Hayward, Audrey Hepburn and Sophia Loren were initially considered before Wanger settled on Liz. By the time the board voted to pay her half the revised $2 million budget for her services, cost estimates had already begun to escalate alarmingly.
Wasting money during the film's production was commonplace – almost epidemic. For instance, Nunnally Johnson was paid $140,000 to 'polish' the original script. The original director Rouben Mamoulian, however, rejected his help altogether, and would not permit him to touch it. Johnson gleefully cashed his cheque and left. Shooting costs in Rome ran at $70,000 a day – and it took two and a half years to complete the shoot! It was reported that millions of dollars' worth of props, equipment and artifacts were stolen by extras and crew along the way. The massive Alexandria set was rebuilt no fewer than three times at enormous cost. When the production shifted from London to Rome all the sets had to be rebuilt. On top of these issues was the relentless prima donna behavior of Miss Taylor which cost Fox a fortune. Her fragile health, coupled with the insurance companies' refusal to insure her, placed Liz in a position of power that was unprecedented. And she milked it like a dairymaid on speed. The picture could only be completed if she remained healthy.
writer Nunnally Johnson
The runaway production costs for this extravaganza almost sent the studio broke. By the time Marilyn Monroe's starring vehicle Something's Got to Give was started in 1962, Fox was hanging over a financial precipice. Something had to go. And it simply could not be Cleopatra. They were in too deep. So Marilyn and her picture went to the block. Something's Got to Give was canned and her services terminated – because of her 'unprofessional conduct', she was told. The canning was temporary, however. Her co-star Dean Martin reminded Fox that his contract guaranteed him the choice of co-star – and he insisted on them retaining Marilyn. So back she came. Sadly, soon afterwards her corpse was discovered at her home and the movie died with her.
Marilyn in Something's Got To Give' (1962)
It was not greatly publicized at the time, but prior to shooting Cleopatra's triumphant entry into Rome, Liz's life was threatened when the Pope's denounced her scandalous relationship with Burton (both were wed to others at the time). Barriers, guarded by armed soldiers, were constructed to keep the thousands of extras at bay, but the crowd burst through them and swarmed towards Liz as she rode the massive float. Fears of a possible assassination were soon forgotten as the crowd screamed, 'Boccia, Liz! Boccia, Liz!' She broke with character and blew kisses as she wept unashamedly. The whole sequence had to be re-shot. More expense.
Cleopatra's entry into Rome
During the early days of shooting at Pinewood Studios in England the weather was particularly harsh. A rather fragile Liz contracted pneumonia and very nearly died. At one point she was given an hour to live, until an emergency tracheotomy was performed at the hospital and her life was saved. The lengthy delay caused actors Stephen Boyd and Peter Finch to withdraw from the production because of prior commitments. A few months later the shoot was shifted to the warmer climate of Rome. It would drag on there for an eternity. Cast and crew became fed up with the whole thing. In fact, both Roddy McDowall and Burton chose to break the monotony of being involved in the filming by accepting cameos in The Longest Day (1962).
Cleopatra was finally completed and released in mid – 1963. In time it would break even and slowly crawl into 'the black'. Although it came within an ace of sinking 20th Century Fox, just two years later the studio's savior emerged – a little musical opus, titled The Sound of Music (1965). It went on to become one of the all-time biggest money-spinners in Hollywood history.