As far as film noirs go, The Blue Gardenia rests somewhere near the middle of the genre. It has its moments, but the hurried ending detracts from its overall effectiveness. Indeed, if we didn't know better, we could be forgiven for thinking that the production suddenly ran out of money, causing director Fritz Lang to suddenly yell, 'Cut! That's a wrap.' A pity really because, generally speaking, it is a well-acted, well-scripted murder-mystery until then.
George Reeves as Captain Haynes          his most famous role
Made around the time that George Reeves was picked up by television to play Superman in an up-coming series called The Adventures of Superman, this picture demonstrates George's true acting ability. In it he plays the investigating Police Captain Haynes and, as usual, he is pretty good. He had been in the business a long time (having played one of the Tarleton twins as far back as 1939 in Gone with the Wind), so he knew his way around a movie set. Unfortunately for George (and a host of others), studios were running scared of the arrival of television and were ceasing to renew contracts for all but the very biggest stars. His movie roles were rapidly coming to an end. So was his life. In 1959 he was found shot to death in his bedroom. Debates still ensue on whether his death was suicide or murder.
Conte, Nat 'King' Cole, and Baxter           Conte as Don Emilio Barzini 'The Godfather'
Richard Conte portrays the reporter in The Blue Gardenia. He was a singing waiter when discovered by Elia Kazan and John Garfield back in the thirties, and it was Kazan who helped the youngster obtain a scholarship to study acting at the Neighborhood Playhouse on the eve of World War Two. 20th Century Fox picked him up and Conte made the most of his opportunities while most of Hollywood's big names were away getting shot at by Germans, Japanese and the occasional Italian.
Ruth Storey (Mrs. Richard Conte)
After the war he settled into a number of film noir roles, among them Call Northside 777 (1948), Thieves' Highway (1949), The Blue Gardenia and the classic of the genre, 1955's The Big Combo. By then film noir had run its race, but Conte would have one more moment in the sun, playing Don Barzini, Don Corleone's arch rival, in The Godfather in 1972. Incidentally, Conte's wife, Ruth Storey, makes her screen debut as Rose Miller in The Blue Gardenia. She was already 40 years old and would only make six movies in the next 28 years before exiting the industry.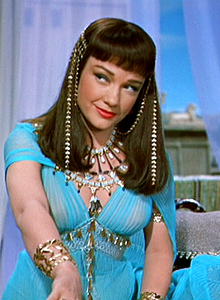 Anne Baxter                                                        as Nefretiri in The Ten Commandments
The Blue Gardenia was Anne Baxter's movie all the way. She hailed from Michigan City, Indiana and was the grand-daughter of world-renowned architect Frank Lloyd Wright. Two years after the family moved to New York City in 1934, Anne appeared on stage and garnered rave reviews from the Broadway critics. She was only 13! At 14 she was called in to test with a youthful new-comer named Montgomery Clift, but his acne was so bad that David O. Selznick changed his mind and cancelled the test.
an Oscar for The Razor's Edge
Another four years of stage acting gave Anne the experience she needed to try her luck in Hollywood. 20th Century Fox signed her at 17 and promptly loaned her out to MGM to make 20 Mule Team in 1940. She met her first husband, John Hodiak, when they co-starred in Sunday Dinner for a Soldier (1944). Her performance as Sophie MacDonald in The Razor's Edge (1946) won her the Best Supporting Actress Oscar, the high-point in a career that incorporated more 'downs' than 'ups', in my opinion.
Anne & Bette – All About Eve
When All about Eve came along in 1950 it was originally intended for Claudette Colbert to play Margo Channing and, because Anne looked a lot like her, the intention was for her character (Eve Harrington) to gradually transform into her idol over the course of the film. Unfortunately, Claudette ruptured a disc in her back while making Three Came Home (1950) and was replaced by 42 year-old Bette Davis who looked nothing at all like Anne. It is interesting to note that Miss Baxter pressured the studio to include her in the Best Actress category for the Academy Awards, rather than in the Supporting Actress group. Of course, this meant that she and Bette shared votes and the statuette ultimately went to Judy Holliday for Born Yesterday. Bette was not amused, but Anne was well within her rights. After all, her character's name was in the title. The picture was not called All about Margo. Speaking of her portrayal of Eve Harrington, Anne had this to say: 'I patterned Eve after the understudy I had in a Broadway play when I was 13. She actually threatened to finish me off. She was the bitchiest person I ever saw.'
Anne strongly supported the Republican Party all her adult life, campaigning at one time or another for Dewey, Eisenhower, Nixon and Reagan. She was also outspoken, rarely being circumspect in interviews. If she felt strongly about an issue she expressed her views openly. In today's world she would probably be labeled a homophile for offering an interviewer the following opinion: 'You can always tell gay actors', she said. 'They're the ones who have the plain or ugly wives. Or live with an ugly girl. Besides, most of the gays in Hollywood are good-looking. They don't let themselves go to pot or fat, like Chevy Chase or Dan Aykroyd. Gay actors prize their looks, and so do their easily fooled public!'
Jean Peters in Niagara                          and, of course, Marilyn
In 1953 Anne turned down the role of Polly Cutler in Niagara. Jean Peters was chosen to replace her and the picture was then re-hashed into a starring vehicle for Marilyn Monroe. Consequently, Miss Peters' role was reduced to a minor character, more or less a tiny cameo. Anne also declined the opportunity to portray Diana Barrymore in the 1958, highly fictionalized 'life story' of John's erratic daughter titled Too Much Too Soon. The role eventually went to Dorothy Malone, an actress perfectly suited to melodrama.
Mr. & Mrs. John Hodiak                          Mr. & Mrs. Randolph Galt
Anne was filming Summer of the Seventeenth Doll in Australia in 1960 when she met the American owner of a nearby cattle station, a man named Randolph Galt. They married, lived in Australia for a time, then in New Mexico, before finally moving to his home state of Hawaii. The marriage ended in 1969. In 1977, she married for a third and final time, this time to a stockbroker, but he died suddenly a few months later. Anne was hailing a taxi on Madison Avenue, New York in December 1985 when she was felled by a ruptured brain aneurysm. The 62 year-old actress remained on life support for another eight days until her family agreed that she could never regain consciousness. Reluctantly, they gave permission to switch off the machine.