Released in the closing years of World War Two, Cover Girl was an ordinary musical comedy featuring Gene Kelly and Rita Hayworth, supported by Phil Silvers, Otto Kruger and Eve Arden. With the singular exception of 'Long Ago and Far Away' the tunes are dull and mostly tuneless. The choreography, too, is routine and un-memorable, despite Kelly's presence. In fact, the picture has just one saving grace. It features the breath-takingly beautiful Rita at the peak of her powers. Indeed, it was during filming that she and Orson Welles eloped, coincidentally on the very day the picture's wedding scene was shot.
   'Cover Girl' (1944)
Gene Kelly, Rita, Phil Silvers
In keeping with the title, cover girls from nearly all the major magazines appeared on screen, among them America's highest paid model at the time, Anita Colby. In her memoirs, Lauren Bacall mentioned being asked to appear as the Harper's Bazaar cover girl in the movie, having featured as such in the March 1943 edition, but she opted instead to make To Have and Have Not with Humphrey Bogart at Warner Bros. Not only did that picture start her screen career with a jolt, but it also introduced her to Bogie who became her first husband soon after its completion.
Model Lauren Bacall 1943
The comic relief in Cover Girl (such as it was), was supplied by Phil Silvers. He enjoyed a long and prosperous screen career, but will almost certainly be solely remembered for playing Ernie Bilko, the scheming master-sergeant, in The Phil Silvers Show on television in 1955. It is probably less well known that it was he who wrote the lyrics to 'Nancy with the Laughing Face' for his pal Frank Sinatra on the birth of his daughter Nancy. Silvers' own company, incidentally, co-produced the very successful TV series Gilligan's Island in 1964.
Phil Silvers as 'Bilko'           Jo-Carroll Dennison
His eyesight for most of his life was dangerously poor. In fact, during his vaudeville days he was in constant fear of falling into the orchestra pit whilst performing on stage. Cataract surgery late in life resulted in him wearing contact lenses, but he continued to don his spectacles, just the frames, because they were his trademark and part of his comedic persona. Phil was also a gambling addict all his life. He would often complain of being flat broke, while simultaneously sporting a bulging wallet. 'That's my gambling money', he would say. 'It doesn't count.' In spite of his plain looks he managed to make Jo-Carroll Dennison his first wife. She was Miss America 1942, so his eyesight wasn't quite that bad.
Eduardo & Rita Cansino         Rita with her first husband Edward Judson
Eduardo Cansino was a Spanish dancer and a miserable human being. He was the father of Rita Cansino who would one day evolve into Rita Hayworth. Even at age 12, Rita was quite a stunner and looked considerably older than her years, so her father soon had her dancing in his stage act. According to Rita's biographer, Barbara Leaming, in her 1989 book titled: 'If This Was Happiness: A Biography of Rita Hayworth', Eduardo Cansino sexually abused his beautiful daughter from a very early age. Rita confided this to one of her husbands, Orson Welles, who later commented: 'If this was happiness, imagine what the rest of her life had been.' Her life-long search for happiness, all the destructive marriages and affairs, even her eventual reputation for being a neglectful mother, may well have stemmed from the abuse she suffered at the hands of her abominable father whilst she was growing up.
Shirley Temple (L) & Jane Withers in 'Bright Eyes'       Jane today
Almost without exception, those who came in contact with Rita Hayworth, up until the ravages of her drinking and the emergence of her much-documented battle with Alzheimer's disease altered her personality, considered her to be a gentle, kind and very shy person. Even at the height of her fame she remained unaffected and friendly to all. Her shyness was genuine, as actress Jane Withers recalled when, as an 8 year-old in 1935, she visited the nearby set of Charlie Chan in Egypt and spotted 16 year-old Rita dancing ballroom with her partner. 'I was only eight but I felt so strongly about this girl – she was just dynamite. I asked to meet her. Her name was Rita Cansino. She was painfully shy.' Before filming started the little girl and the teenager held hands and prayed together. It was the start of a life-long friendship. Indeed, it was Jane Withers who would deliver the eulogy at Rita's funeral in 1987.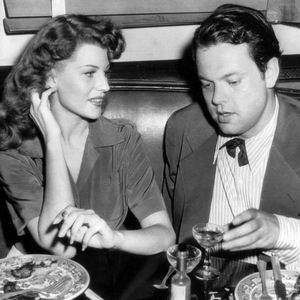 Rita & Orson                                    Rita's WW2  pin-up
Rita's quest for love and happiness resulted in five disastrous marriages and numerous equally damaging romances. As she famously confided to writer Virginia Van Upp, 'Every man I have ever known has fallen in love with Gilda and awakened with me.' She was, of course, referring to arguably her most famous role, that of the seductive, man-eater Gilda in the 1946 film of the same name. Away from the screen she simply was not that kind of person at all. Rita probably hit the nail squarely on the head when she said, 'Basically, I am a good, gentle person, but I'm attracted to mean personalities.'
Rita as Gilda
One of those 'mean personalities' was her fifth and final husband (1958-61), writer James Hill. He was one third of Hecht-Hill-Lancaster Productions, a company he formed with agent, Harold Hecht and actor Burt Lancaster. Charlton Heston and his wife Lydia dined with Hill and Rita in a Spanish restaurant one evening in 1960, along with director George Marshall and actor Rex Harrison who was Rita's co-star in The Happy Thieves being made at the time. Heston wrote in his memoir of what he described as, 'the single most embarrassing evening of my life.' Hill proceeded to heap 'obscene abuse' on the hapless Rita until she was, in Heston's own words, 'reduced to a helpless flood of tears, her face buried in her hands.' The actor admitted he resisted an urge to physically intervene. Instead, he and his wife simply stood up and left. 'I'm ashamed of walking away from Miss Hayworth's humiliation', he added. 'I never saw her again. Her marriage ended soon afterwards.
with Prince Aly Khan                      and Dick Haymes          and James Hill
When asked who was Hollywood's first real-life princess, most people would probably say, Grace Kelly, yet that is not so. Rita wed Prince Aly Khan in May 1949, almost seven years before Grace became Princess Grace of Monaco. Between three and five years seemed to be the length of Rita's attempts at marital bliss, and this one was no exception. Aly was a notorious womanizer who had no intention of ever remaining true to one lover, even if that lover happened to be a screen goddess most other men would die for.
Another of her husbands was the afore-mentioned Mr. Welles. He and Rita just managed to make their fifth anniversary before calling it a day. 'I can't take his genius anymore', she explained to reporters. Orson was seeing other women anyway. Lots of them. Her very first husband, Edward Judson, used her as a commodity to improve his own lifestyle. It appears he, like her father, abused her sexually and hawked her body about when the opportunity arose. Husband number four was singer Dick Haymes, a man thoroughly disliked by nearly everyone, and prone to beating her whenever the mood took him. And that was often. 'I stood by him as long as he was in trouble', Rita said later, 'but I can't take it anymore.' The truth was she prejudiced her own career by going in to bat for the ungrateful Haynes. And was then beaten up for her trouble.
Rita in her final years
In her final years Rita drank far too much, became overweight and inevitably lost her looks. She had tried all her life to find love, real and lasting love, but she kept on meeting the wrong men. Perhaps, she had been spoilt by the good life and became used to looking in all the wrong places. For years her colleagues and friends were convinced that her erratic behaviour was driven by her alcohol consumption, but we now know that she was also in the grip of the horror disease, Alzheimer's. It claimed her at 68. In her heyday she was truly one of the screen's great beauties. She was no less a victim of her upbringing than another iconic beauty, Marilyn Monroe, yet it is Marilyn who is afforded all the sympathy. Rita scarcely gets a look-in. At least we still have Cover Girl to remind us of just how enchanting she was. I think it would be fair to say – they don't make 'em like Rita Hayworth anymore.