It is nearly 105 years since Edgar Rice Burroughs published his first Tarzan book – Tarzan the Ape-man (1912). Over that period of time there have been no fewer than 50 Tarzan movies pumped out – 45 live action and 5 animated features. Nineteen players have portrayed the ape-man, starting with Elmo Lincoln in 1918 and the latest, Alexander Skarsgard, in 2016. There have been five animated Tarzan features (1998, 1999, 2002, 2005 and 2014).
Edgar Rice Burroughs
Hollywood first took an interest in Tarzan halfway through the First World War when the National Film Corporation bought the rights from Edgar. It was a great deal (for 1916), as far as the writer was concerned. He was paid $5,000 advanced royalties, given $50,000 worth of company stock and 5% of the upcoming movie's gross receipts.
Elmo Lincoln
Elmo Lincoln & Enid Markey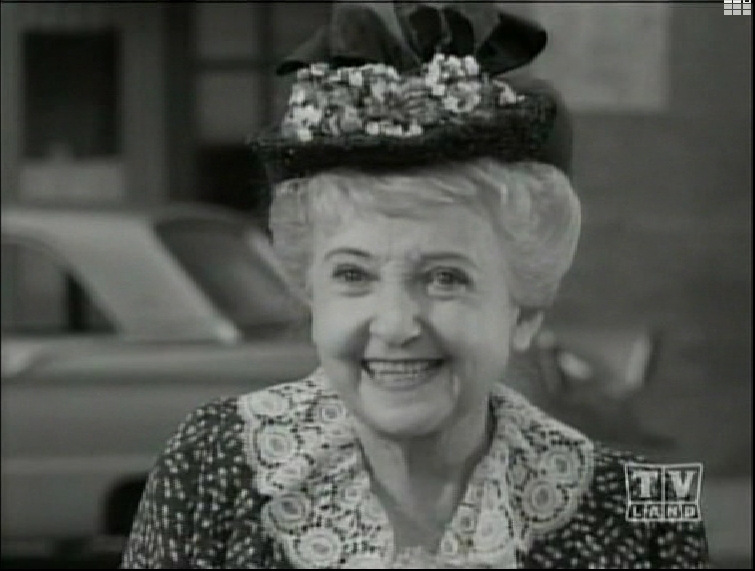 Enid as Mrs. Mendlebright
Tarzan of the Apes, the first of two movies to feature Elmo Lincoln in the title role, was released in 1918. He only got the gig because the original choice, Stellan Windrow, signed up to go fight the Germans in Europe just after he had shot the vine-swinging sequences. This proved fortuitous for chubby Elmo who found swinging through the trees to be a physical impossibility, so Stellan's efforts were substituted in the final print. Pretty Enid Markey made her mark in cinematic history by becoming the first Jane Porter, although she quickly tired of 'simply making faces' in the movies and left to learn 'real acting' in the theatre. Fans of the 1960's TV series The Andy Griffith Show might recall her recurring role as Mrs. Mendlebright.
Louise Lorraine 1922
Elmo's other crack at playing the ape-man occurred in 1921 with the abyssmal The Adventures of Tarzan. It is astronomically bad! The lovely WAMPAS Baby Star Louise Lorraine plays Jane, but even she can't save Elmo's ludicrous performance. No wonder he did not continue in the role. NOTE: For some reason movie-makers have chosen, from time to time, to change Jane's surname from Porter to Parker and back again. I have no idea why.
Gene Pollar & Karla Schramm
Sandwiched between Elmo's two rather pitiful portrayals of Tarzan were two more efforts, both released in 1920. Not much is known of Gene Pollar's The Revenge of Tarzan because all prints have since disappeared, although we know that former child piano prodigy Karla Schramm played Jane in both pictures. Pollar was a 28 year-old New York City fireman when Numa Pictures chose him for this movie based entirely on his impressive physique. He was paid $100 a week plus expenses and, to most people's surprise, he was pretty good and the picture was a box-office success. Universal jumped in and offered him a two-year contract at $350 a week, but Numa refused to let him go. Bitterly disappointed, he gave up acting and went back to his job as a fireman.
Kamuela C. Searle
The second production, The Son of Tarzan, may have seen Kamuela C. Searle, who played the lead, seriously injured by an elephant during filming. Other sources say his injuries were slight. One thing we know for sure is that cancer claimed him at the age of 33 in 1924. The Hawaiian-born Searle had been discovered on Waikiki Beach by Cecil B. DeMille back in 1915.
James Pierce
Tarzan and the Golden Lion (1927) was the fifth treatment of Burroughs' classic tale. It was so bad that it made Elmo's efforts almost watchable. James Pierce (surprisingly) was offered the lead in Wings (1927), but was convinced by his father-in-law, none other than Edgar Rice Burroughs himself, to play the ape-man instead. Consequently, newcomer Gary Cooper took the Wings role and it made him a star. Poor James' tilt at Tarzan was so awful that he was typecast from that moment onward and starring opportunities dried up almost completely. One glance at the movie's poster says a lot. He is drawing a bow with his thumb and one finger – just as any five year-old would!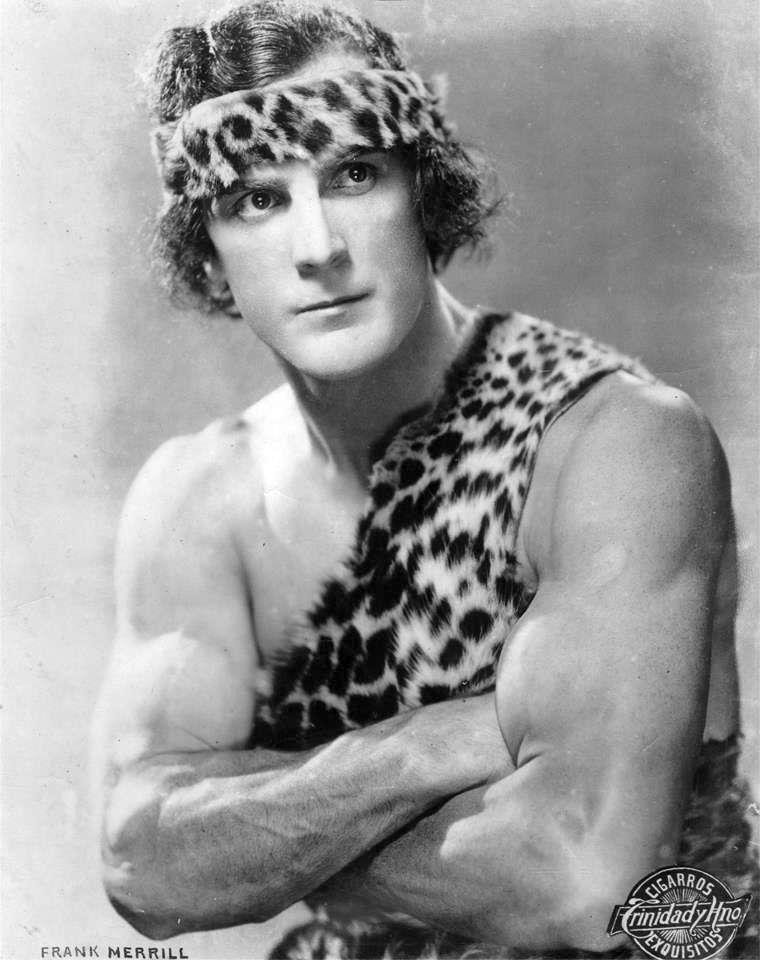 Frank Merrill
Frank Merrill was selected to make two Tarzan serials from which a couple of movies were compiled – Tarzan the Mighty (1928) and Tarzan the Tiger (1929). A former New Jersey cop, he was also national gymnastics champion from 1916 until 1918. Built like the proverbial brick outhouse, he 'doubled' for Elmo Lincoln in the first Tarzan pictures before becoming Tarzan number five in 1928. He developed the vine-swinging technique used in future pictures and even recorded the very first 'Tarzan yell'.
Frank & Natalie
Unfortunately for Frank, he could not make the transition to sound and he retired from the screen.  Natalie Kingston, another WAMPAS Baby Star, appeared in both of Frank's movies. She was a shipwrecked girl named Mary in the first, then came back as the fifth 'Jane' in the second. Her career also did not survive the coming of sound.
Johnny Weissmuller & Maureen             with Esther Williams at the aquacade
O'Sullivan
By far the most popular Tarzan (with the public anyway) was Johnny Weissmuller. Unfortunately, if we are to accept the reminiscences of both Maureen O'Sullivan and swimmer/actress Esther Williams, he was not popular with them at all. Weissmuller's appalling habit of exposing himself to them underwater and on dry land was written about by Esther in her autobiography and confirmed by Maureen. The man truly believed he was irresistible to the opposite sex and seemingly at liberty to sexually harass them whenever he felt the inclination, which seemed to be most of the time. When Esther asked Maureen if she had experienced Weissmuller's obsession with waving his genitals in her face and, if so, what had she done about it, her reply was accompanied by a shrug of her shoulders: 'I let him', she said rather matter-of-factly.
Esther at her peak                             Maureen & her daughter Mia Farrow
Esther was far less forgiving and could not wait to end her professional commitments with Weissmuller at an aquatic revue. 'Under the stage, he'd whip off his trunks…he'd try to get my suit off', she wrote. 'He would hold me and grope me and let me know that he had this lovely erection. Chasing me totally in the nude, he would splash and grunt like a lion…He was always right behind me, that big smile on his face, those groping hands – three shows a day (four on Saturday and Sunday), six days a week.' Needless to say, Miss Williams was never in a Tarzan picture with him or anyone else. She was too big a star for that anyway.
Johnny & his wife Lupe Velez
Weissmuller's Tarzan the Ape-man (1932) was the first of his even dozen Tarzan outings. Maureen O'Sullivan (the real-life mother of Mia Farrow) always maintained that the famous 'Tarzan call' we hear in every picture since then was created by Weissmuller himself. She starred as Jane in six 'Tarzans' with him, so it is reasonable to take her word for that, although others have said the call was electronically contrived. Johnny was born in Austria-Hungary in 1904, but always maintained he was a native of Pennsylvania so that he could compete for the US Olympic swimming team. And compete he certainly did. At 6'3" and 190 pounds, he was the undefeated winner of five Olympic gold medals from 1924-28, and the holder of every freestyle record from 100 yards to the half-mile.
Johnny the Olympian        with Brenda Joyce as Jane
As America's most famous Olympic champ, Johnny was quickly contracted by BVD to advertise their underwear. The company eventually reached an agreement with MGM, permitting him to wear a loincloth in the Tarzan films in exchange for BVD being allowed to run their swimsuit ads featuring MGM contract players such as Greta Garbo, Joan Crawford, Jean Harlow and even the elderly Marie Dressler! The studio was considering using the unknown Clark Gable for the role, but eventually opted for Weissmuller because he was famous. Johnny would become synonymous with the role from 1932 until 1948. Along the way he married the fiery Mexican actress Lupe Velez, although the marriage didn't last. Brenda Joyce would play Jane in Tarzan and the Amazons in 1945, plus his last three pictures as the ape-man, and would become the only 'talkies' actress to play Jane opposite two different Tarzans when she joined Lex Barker in Tarzan's Magic Fountain in 1949.
Part Two on March 8.