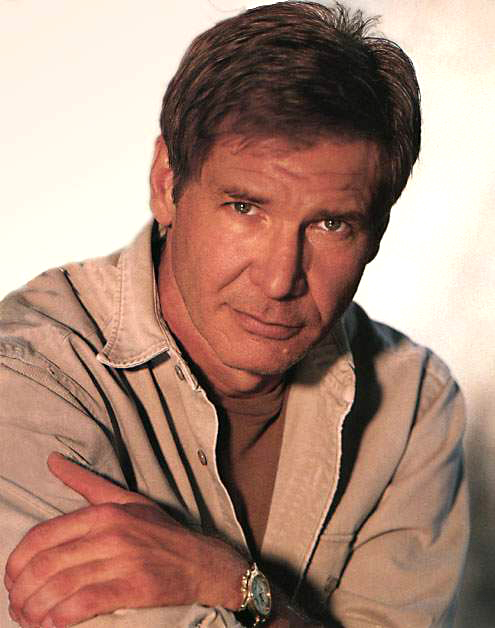 It remains debatable whether or not Carrie Fisher introduced Harrison Ford to marijuana or if he was already into it before they made Star Wars together in 1977, but there is no doubt that by the 1980s he was more or less an authority on the stuff. During a photo-shoot for GQ magazine he chose to give an interview to David Bailey while rolling and smoking joints throughout. Furthermore, he was happy to explain to those present that the particular strain he was smoking hailed from Humbolt County in Northern California. 'This is not Cannabis Indicta or Cannabis Setiva', he told them. 'This is Cannabis Rutica, a real strong dope.' When asked if he could work while on the stuff, he replied, 'Nope. I can't even admit it exists.' Speaking of the late Carrie, while making the Star Wars films it was necessary for her to stand on a box for her close-up scenes with him because she was a full foot shorter in stature, which made it impossible to get both their heads in the frame naturally.
Carrie & Harri
In 1988 Ford went to Paris to make Frantic with Polish director and convicted child rapist Roman Polanski. Back in 1978 the Pole had been found guilty of drugging and raping a 13 year-old girl who was under the impression she was about to undergo a photo-shoot. He fled the USA to avoid a prison term and has stayed away ever since. None of this appears to have bothered Harrison Ford in the slightest. He and Polanski became firm friends during the course of making Frantic, so much so that when Polanski won the Best Director Oscar for The Pianist (2002), it was Ford who flew to France five months later to present him with the award. Evidently, the fact that his 'friend' is a convicted child rapist never seems to arise with him. Then again, it wasn't Ford's daughter the man raped.
Delivering Polanski's Oscar
So far there have been four explanations given for the scar on Ford's chin. Three of them have surfaced in movie scripts, and the real one can be found in Imperfect Hero by Garry Jenkins. In 1988's Working Girl, Ford's character at first spins the yarn that he got the scar in a knife fight. Later, he owns up that he actually fainted during a piercing and hit his chin on a toilet seat. A year down the track and explanation number three crops up in Indiana Jones & the Last Crusade when a young Indy accidentally lashes himself the first time he uses a bullwhip. The reality, however, is less romantic. Back in 1968, he was attempting to put on his seatbelt whilst driving his Volvo around a corner in Laguna, lost control of the vehicle and collided with a telephone pole. A resident doctor did the stitching in an amateurish, inexperienced fashion, and the world's most famous facial scar was born. Ford also has a couple of false teeth. Back in his early television days he fell on a gun while performing a stunt, damaging several of his teeth. Two of them had to be removed and replaced with a plate.
The famous Ford scar
His second wife, Melissa Mathison, (1983-2004), wrote the screenplay for E.T. The Extra-Terrestrial (1982). Fifteen years later she wrote the screenplay for the Disney animated feature Kundun. Evidently it upset Chinese officials so much that she, Harrison and 48 other Disney officials connected with the film were banned from entering Tibet.
Harrison & Melissa
Ford is a pilot, qualified to fly single-engine fixed wing aircraft and helicopters. In July 2000 he used his Bell helicopter to rescue a 20 year-old dehydrated hiker named Sarah George from Table Mountain near his ranch at Jackson Hole in Wyoming. In 2001, he did it again, this time rescuing 13 year-old boy scout Cody Clawson. Ford owns several aircraft as well as the chopper. In 2001, not surprisingly, he was listed in that year's Guinness Book of Records as the richest male actor in the world. A quick glance at his movie credits explains why. Anyone who has starred in such stupendously successful movies as the Star Wars franchise, the Indiana Jones films, Apocalypse Now, Blade Runner, Witness, The Fugitive, Patriot Games, Clear and Present Danger and Cowboys and Aliens, just has to be loaded.
Cody Clawson
Being one of the world's top actors enables Ford to employ the very best stunt doubles, although he prefers to do his own stunts whenever possible. After seriously hurting his back making Indiana Jones & the Temple of Doom (1984), his main stuntman (he had three), a gentleman named Vic Armstrong, took over for a while. Armstrong bears a strong resemblance to Ford and was considered to be the world's very best stuntman for many years. He stood in for Harrison in the Indiana Jones pictures, for George Lazenby in On Her Majesty's Secret Service (1969), for Roger Moore in Live and Let Die (1973), and for Christopher Reeve in Superman II (1980). In the last of these films Armstrong (as Superman) had to fly upwards from a swimming pool and through the roof of Grand Central Station. This was accomplished by building the set upside down with the ceiling suspended over a pit and a net in the studio floor. The camera was placed upside down and Vic had to dive from the studio roof, through the ceiling piece, and into the catch rig. Later, the film was simply run in reverse.
with stuntman Vic Armstrong
While shooting Firewall in Vancouver, British Columbia, Harrison and his then girlfriend, Calista Flockhart, became enamoured with the region, so much so that he purchased a 13 million dollar waterfront property at her behest. They had been a couple for over eight years before Ford popped the question to her in 2009. They married in 2010.
with Calista
Just about every actor has stories of roles they turned down that they later wished they had accepted. Harrison Ford is no exception. He was offered the lead in Jurassic Park (1993), which later went to Sam Neill. To Ford's credit he refused the lead in Schindler's List in the same year, stating that he felt his stature as a major star might divert focus from the far more important subject matter. One of the few parts he really wished he had accepted was that of Bob Barnes in Syriana (2005).
Ford has always been strongly against the US invasion of Iraq as, indeed, most thinking people are. It is probably not common knowledge, however, that he was a conscientious objector during the Vietnam War. Eligible for the draft, he penned a letter of protest to the draft board. 'I developed a thesis and took the Biblical injunction to love thy neighbour as thyself as the central and most meaningful thing in my life', he recalled. 'I combined it all and typed for days and sent it off and never heard a word. Never got called in.'