On February 14, I posted the first part of this article, featuring a selection of non-Native Americans who have portrayed Amerindians in movies over the past 100 years or so. It was not a comprehensive list. In part two the focus shifts to the genuine Native Americans who now form part of the motion picture industry and who are, at long last, having the opportunity to portray members of their cultures with considerably more authenticity and respect than was ever afforded their peoples in the past. This list, too, is far from comprehensive.
Jay Silverheels                                          with Clayton Moore in
     The Lone Ranger
Born on Canada's Six Nation's Reserve in 1912, Jay Silverheels was a Mohawk who became a star lacrosse player and boxer before finding work as a stuntman in Hollywood movies. Today, he is primarily remembered for playing Tonto to Clayton Moore's Lone Ranger in the TV series of that name (1949-57). Fans of Key Largo (1948) might recall him playing Tom Osceola in that Bogart classic, one of his 102 screen credits.
Chief Yowlachie                                      with Walter Brennan in Red River
His real name was Daniel Simmons and he was a member of the Yakima tribe in Washington State. Chief Yowlachie was born in 1891 and, believe it or not, was an opera singer for many years until he drifted into films. In Red River (1948) he played Quo, the Indian who won the use of Walter Brennan's character's false teeth in a poker game.
Chief John Big Tree in Drums Along          the Indian Head nickel
the Mohawk (1939)
Chief John Big Tree was a Seneca who appeared in 64 westerns between 1915 and 1950, the most memorable being Drums Along the Mohawk (1939) and John Ford's She Wore a Yellow Ribbon in 1949, the year before the chief's death. In 1913 he was selected, along with Two Moons of the Cheyenne and Iron Tail of the Lakota Sioux, to be the models for the new 'Indian head nickel' or 'buffalo nickel', which was minted until 1938.
Chief Dan George in Little Big Man                    and in The Outlaw Josey Wales
Chief Dan George was born in 1899 as Geswanouth Slahoot, which was soon Anglicized and then altered altogether to the name he became known by. And who could blame him? Another Canadian (this time from the Burrard Indian Reserve No 3 near Vancouver), he did not start his movie career until he was in his sixties, yet managed to pick up an Oscar nomination for playing Old Lodge Skins in 1970's Little Big Man. He also featured opposite Clint Eastwood in The Outlaw Josey Wales in 1976.
Will Sampson in One Flew Over 
the Cuckoo's Nest
Will Sampson was a 6'7" Creek Indian who suddenly found fame when he was selected to play Chief Bromden in the 1975 sensation One Flew Over the Cuckoo's Nest. His 25 screen credits included The Outlaw Josey Wales a year later. It was Sampson who founded the American Indian Registry for the Performing Arts.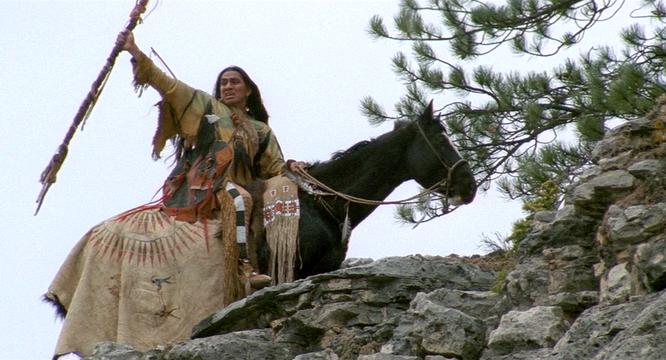 Rodney A. Grant in two shots from Dances with Wolves
There was a lot to like about Dances with Wolves (1990), but the performance that touched all but the coldest of hearts must surely have been Grant's portrayal of the Sioux warrior Wind In His Hair, especially in the final scene of the movie. An Omaha, he was raised on the Omaha Reservation in Nebraska and these days devotes much of his time to helping those in need, particularly Native American youths.
Graham Greene in                portrait of him as Kicking Bird
Dances with Wolves
Graham Greene was born an Oneida Indian in the Six Nations Reserve in Ontario, Canada in 1952. He shot to prominence with his Oscar-nominated performance as Kicking Bird in Kevin Costner's ground-breaking western Dances with Wolves and has not been short of work since. Joe Pesci's foul-mouthed gangster in Goodfellas took out the Oscar. Greene was better.
Russell Means – A.I.M. activist                     as Chingachgook
To Native Americans the name Russell Means needs no introduction. He only graced the screen three dozen times, but away from it he was the first National Director of the American Indian Movement (AIM), and as such he headed the 1973 standoff with the US Government at Wounded Knee. His movie debut was The Last of the Mohicans (1992), in which he memorably played Chingachgook.
Wes Studi as Magua                                                       as Geronimo
A Cherokee from Oklahoma, Wes Studi is undoubtedly the most well-known Native American actor in America today. Or ever, for that matter. A former US soldier who served 12 months in the Mekong Delta in 1967, his impressive list of screen credits include, Dances with Wolves, The Last of the Mohicans, Avatar and Geronimo: An American Legend. I thought he deserved an Oscar nomination for his sinister portrayal of Magua in The Last of the Mohicans (1992), but it was not to be.
Steve Reevis in Last of the Dogmen (1995)        and in Geronimo: An American Legend
A Blackfoot from Montana, Steve Reevis landed the role of Chato in Geronimo: An American Legend in 1993. He also played Shep Proudfoot in the acclaimed 1996 Coen film Fargo and Yellow Wolf in Last of the Dogmen in 1995. His screen credits as of 2015 total 36.
Karina Lombard in Legends of the Fall                      and in The Firm
Karina Lombard was born in Tahiti and raised in Spain. Her father is a Swiss-Russian, her mother's name is Nupuree Lightfoot and is a Lakota Sioux medicine woman. Karina played Isabel Two in the 1994 melodrama Legends of the Fall. Fans of The Firm, made a year earlier, (I am one of them), might recall her seducing Tom Cruise's character on the beach, a role she pipped Halle Berry for.
Adam Beach                                                 as Ira Hayes in Flags of our Fathers
A Salteaux Indian from Manitoba, Canada, Adam Beach has racked up over 60 movies by the age of 45, among them Windtalkers (2002), and Cowboys and Aliens (2011). He portrayed Ira Hayes in the 2006 Clint Eastwood war film Flags of our Fathers.
Rudy Youngblood – Apocalypto
A Native American of Comanche/Cree descent, Rudy Youngblood made his big screen debut as the star of Mel Gibson's 2006 film Apocalypto. His screen appearances have been few, but he was prominent in the 2015 horror film Wind Walkers.