LINA BASQUETTE (1907 – 1994)
Californian Lina Basquette was born Lena Baskette. Obviously, someone thought the French spelling gave her something that the American spelling didn't. Her screen career comprised just 48 credits, many of them when she was a child actress signed by Universal during the First World War. Her private life, however, was something else again. Six of her eight marriages ended in divorce. There were lawsuits, she was involved in stormy affairs, and there were suicide attempts as well. Her half-sister was the future dancing star Marge Champion.
Marge & Gower Champion in Showboat (1951)
A prima Russian ballerina offered to take Lina on as her protégé after seeing her in the Ziegfeld Follies in 1923, but the girl's pushy mother rejected the offer, preferring her daughter to earn the bigger bucks with Ziegfeld and in Texas Guinan's notorious speakeasy. Two years later Lina married one of the Warner Brothers (Sam). They seemed to be happy enough but he died suddenly on the eve of the premiere of his brainchild – the first ever 'talking movie' The Jazz Singer. His family fought Lina tooth and nail through the courts over his estate. She even lost custody of her daughter Lita in the process. Devastated, she attempted suicide for the first time.
Her second marriage did not last long and, after her third husband also died suddenly, she took up with singer Nelson Eddy and then heavyweight boxing champion Jack Dempsey. Their highly publicized break-up led to her second suicide attempt, after which she up and married his personal trainer Theodore Hayes. Unfortunately, he just happened to be married already. Oops! The union was annulled and then they took another shot at it in 1932. A child came along in 1933. They divorced in 1934.
For the remainder of the thirties Lina toured Australia, New Zealand and South Africa with stage plays before calling it a day in 1943. It was said she was Adolf Hitler's favorite actress during that time and was even invited to Germany to make films for the Third Reich. She declined the offer. In August of 1943 an American GI was sentenced to 20 years in the brig for assaulting and raping her. The remainder of Lina's life was devoted to raising and breeding Great Danes – and marrying and divorcing a few more husbands.
FLORA BRAMLEY (1904 – 93)
Very little is known about Flora Bramley as her entire screen career spanned just four films between 1926 and 1930. London-born Flora probably expected big things once she was named a WAMPAS Baby Star in 1928, but by then she was already sliding down the credits. Her 1926 debut as the female lead in The Dude Cowboy was inauspicious, as was her second outing, another silent feature titled College, whose only saving grace was the presence of Buster Keaton. We Americans (1928) and The Flirting Widow (1930) saw Flora near the bottom of the cast list and oblivion bound. United Artists had signed her after learning of her stage and musical reviews in Britain, but she failed to click with American audiences. Some sources give her date of birth as 1909. From 1930 until her death at her home in Moline, Illinois in 1993, little is known.
SUE CAROL (1906 – 82)
Although she appeared in 26 movies (none of them particularly memorable) between 1927 and 1937, Sue Carol was smart enough to realize that being an agent promised more, so she ceased acting and focused on a new career.
Sue & Alan Ladd at home 1943
In 1942 she married one of her clients, actor Alan Ladd, a union that survived 22 years until his death in 1964. They had two children, David and Alana Ladd. She was also married to minor actor Nick Stuart, the second of her four husbands. Their daughter, Carol Lee Ladd, (another actress), was briefly married to actor Richard Anderson. A heart attack claimed Sue in 1982.
ANN CHRISTY (1905 – 87)
Diminutive Ann Christy; she was just 5 feet tall (1.52m), caught the eye of Harold Lloyd (a lot of pretty girls did), and he starred her in his hit comedy Speedy in 1928. However, after vacationing in New York, she returned to Hollywood to find that she was all but forgotten. The future had looked extremely rosy for Ann, so it was strange her career went nowhere after Speedy. Ultimately, she wound up in poverty row pics and Mack Sennett shorts. By 1932 she was all washed up.
JUNE COLLYER (1904 – 68)
June Collyer started her screen career with East Side, West Side in 1927, reeled off eleven silent pictures, and then successfully made the transition to sound at a time when many of her contemporaries could not do so. From 1930 until 1936 she made nineteen talkies before taking a hiatus from the screen throughout the forties. We are still unsure if this break was voluntary or forced through lack of opportunity.
Stu & June in The Stu Erwin Show
After marrying Stu Erwin she starred opposite him in his TV series The Stu Erwin Show, also known as Trouble with Father, between 1950 and 1955. Soon after that she retired from the screen forever. She died in March 1968, just four months after Stu passed away in December 1967.
ALICE DAY (1906 – 95)
Alice Day was born Jacquiline Newlin in Colorado in 1906. For around ten years (1923-32) she appeared in nearly 70 movies, starting out (like so many pretty girls) as a Mack Sennett Bathing Beauty. Her sister Marceline was also an actress. Alice married a wealthy broker in 1930, had two children to him, but the union ended in a lengthy court battle over custody and property ownership. She wed again later in life and passed away at the age of 89.
SALLY EILERS (1908 – 78)
Another former Mack Sennett Bathing Beauty, Sally Eilers was a drama school classmate of Jane Peters. Jane would later change her name to Carole Lombard. Sally made a lot of westerns opposite several B-stars, among them Hoot Gibson whom she would ultimately marry. In fact, she seemed to have a 'thing' for marrying men whose Christian names began with 'H' – Hoot, Harry Joe Brown, Howard Barney and Hollingsworth Morse. She never really hit the big time but she enjoyed one fine moment in the 1931 melodrama Bad Girl. It was the best performance of her career.
AUDREY FERRIS (1909-90)
Audrey Ferris hailed from Detroit, Michigan and started on stage as a dancer and violinist before moving to Hollywood in 1926. By 1927 she was in the movies. She even landed an uncredited spot in the first ever talking picture The Jazz Singer. Fame and fortune, however, were not destined to embrace Audrey. Not for very long anyway. Not even after she drew equal top billing with Myrna Loy in Fancy Baggage in 1931. Not even after starring opposite megastar Rin Tin Tin. Why? Because, just like nine out of every ten girls who started out as silent stars, she was 'done in' by the talkies.  By 1935 the dream was over and Audrey was left to drift into obscurity. Her death in 1990 was not even reported until eight years later.
DOROTHY GULLIVER (1908 – 97)
Universal ran a beauty contest in Salt Lake City, Utah and Dorothy Gulliver won it. During the 1930s she became a popular heroine of Saturday matinee 'cliffhangers', acting alongside western stars such as Tim McCoy, Wild Bill Elliott and even John Wayne before he hit the big time. Dorothy survived the transition to talkies, but as her looks faded so did her opportunities. Nevertheless, she plugged on, often in uncredited bit parts, until 1976.
GWEN LEE (1904 – 61)
Gwen Lee was born Gwendolyn Lepinski in Hastings, Nebraska and began her teenage working days as a department store model. Director Monta Bell discovered her and signed the young beauty to an MGM contract in 1925. She made her film debut that same year in a Norma Shearer picture called Lady of the Night. The following year she made movies with Zasu Pitts, Billie Dove and Clara Bow, and in 1929 she played Marjory in Untamed, a film that starred Joan Crawford and Robert Montgomery. Unfortunately, a major synchronization flaw in the film resulted in Gwen mouthing the dialogue of her partner and vice versa. Both were laughed off the screen and irreparable harm done to their careers. Throughout the Roaring Twenties she had epitomized the Jazz Age flapper, but as the genre died so did her career. She retired from the screen in 1938 and died, all but forgotten, in Reno, Nevada at 56.
MOLLY O'DAY (1911 – 98)
Molly O'Day's mother was a Metropolitan Opera singer from New Jersey. After their father's death, Molly and her two sisters moved to Hollywood where they all became actresses. One sister acted under the name of Sally O'Neill and was named as a WAMPAS Baby Star in 1926. Two years later Molly would join her. At 15 she landed a role in Laurel and Hardy's 45 Minutes from Hollywood.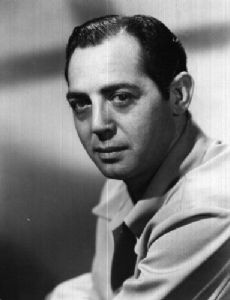 Molly's husband Jack Durant
She beat out 2,000 contenders to win the role of a tough heroine in The Patent Leather Kid, a 1927 prize-fighter picture, but within a year she was having huge weight issues that were responsible for acting opportunities drying up overnight. As a last, desperate resort, she underwent surgery that removed several pounds of flesh from her hips and legs, but it had little effect. She wed comedian Jack Durant in 1934 and retired from movies the following year.
RUTH TAYLOR (1908 -84)
Ruth (R) in Gentlemen Prefer Blondes
Buck Henry wrote the screenplays for The Graduate, To Die For, Catch – 22, The Owl and the Pussycat and What's up Doc? Ruth Taylor was his mother. She started out (surprise, surprise) as a Mack Sennett Bathing Beauty, but her big acting claim to fame was her portrayal of Lorelei Lee in the 1928 version of Gentlemen Prefer Blondes, the same role that went to Marilyn Monroe in the 1953 version.
LUPE VELEZ (1908 – 44)
Lupe Velez was born in Mexico and was sent at 13 to live in a Texan convent. In Hollywood she made a series of 'Mexican Spitfire' movies that the public loved, but it was her stormy private life that dominated any talk about her. Her five-year marriage to Johnny Weissmuller was punctuated by highly publicized brawls. Her tempestuous affair with Gary Cooper (he liked the sex but had no intention of marrying her) hurt her deeply when he ended it.
Lupe & Johnny Weissmuller    and with Gary Cooper
She comfortably handled the transition from silent to talkies and could have enjoyed a long career. But it was not to be. By 1934 she was far too dependent on booze and drugs. At 36 she became pregnant to Austrian actor Harald Maresch and he had no intention of marrying her either. A devout Catholic, Lupe despaired over giving birth out of wedlock and chose to take her own life instead. More than 4,000 people filed past her casket at her funeral.