#10 WHERE EAGLES DARE
Ingrid Pitt as Heidi                                            Schloss Werfen in the background
Alistair MacLean wrote this screenplay in six weeks – and then he wrote the novel! The next time you watch The Sound of Music, look for the castle in the background during the 'Do Re Me' number. It is the Schloss Werfen, the same castle used in Where Eagles Dare. The small role of Heidi is played by the Hammer Pictures Horror Queen Ingrid Pitt. She was born in Poland and survived three years in a Nazi concentration camp during the Second World War. After hostilities ceased she lived in East Berlin until a man helped her escape to the west. She later married the man.
#9  VILLA RIDES!
On the whole critics did not like Villa Rides! Evidently, they expected an historical account of the Mexican Revolution and got a 'shoot-em-up' western instead. So what? I went along to see an action picture (a 'shoot-em-up') and I got one. Unlike the critics, I quite liked Yul Brynner's performance (wig and all), but did get the impression that Robert Mitchum was in it entirely for the money. Sam Peckinpah wrote the original screenplay and was supposed to direct, but Brynner had his own naïve, idealistic conception of Pancho Villa and was opposed to Sam's script portraying the man as the ruthless 'shoot all prisoners' villain that he was. So, out went Sam and his screenplay! Yul was big enough in 1968 to toss his weight around and get his way. This movie is a western, not a historical documentary, and should be viewed as such. I thought Herbert Lom as General Huerta was excellent.
#8 HOUSE OF CARDS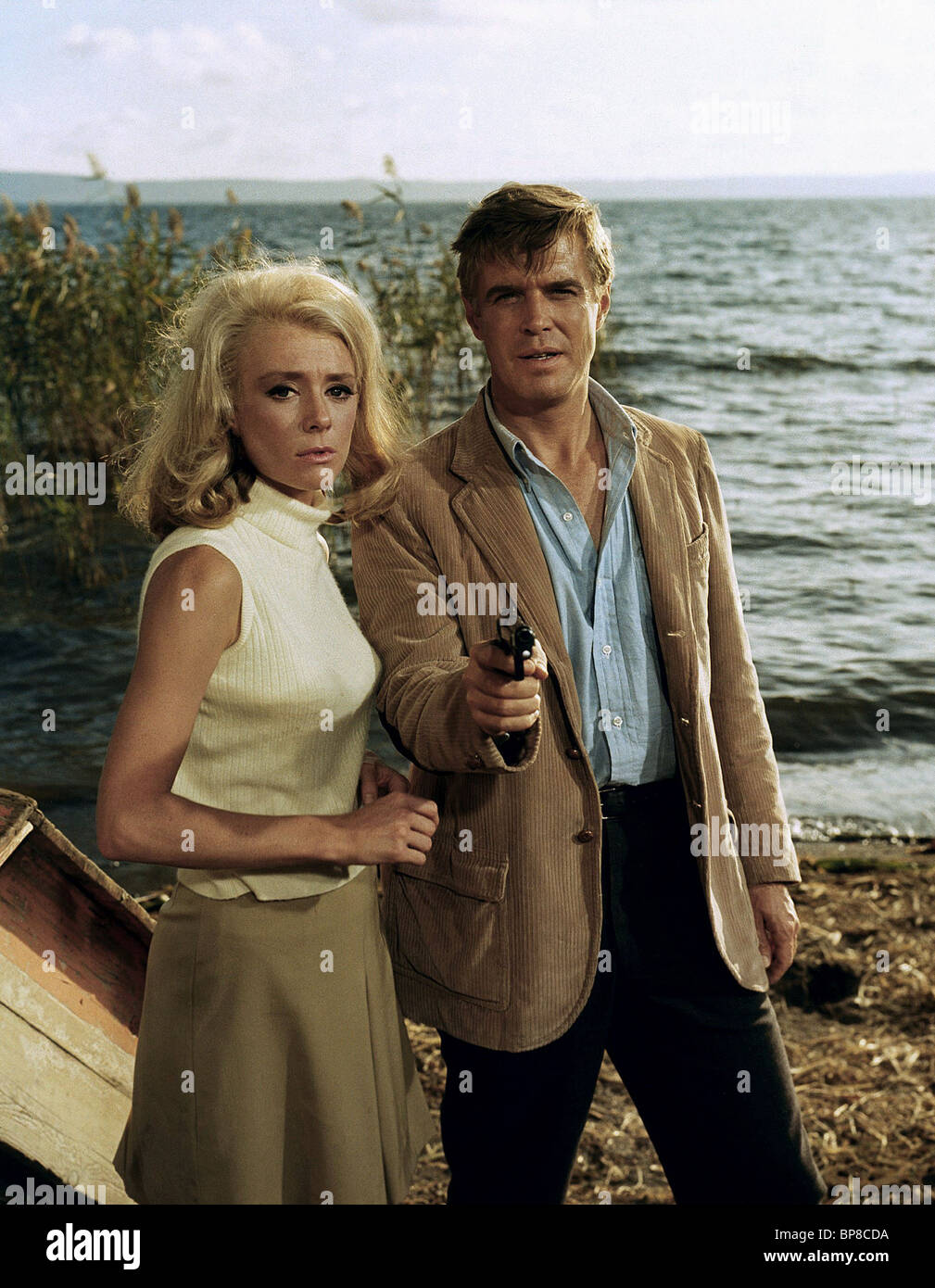 Inger Stevens & George Peppard
The critics did not think much of House of Cards either, probably because it starred George Peppard, for all I know. In fact, they never seemed to appreciate him in anything. I enjoyed The Blue Max (1966) – they didn't. Despite it being a 'soap', The Carpetbaggers saw George at his cynical, ruthless best – or so I thought – but the critics loathed both him and the movie. Since House of Cards has never been released in the USA on VHS or DVD, I wonder how many so-called experts even saw it, but I suppose they managed to somehow. I have a European copy. It is not a great movie or even a very good one, but it has enough intrigue and witty lines, plus sound performances from George and Inger Stevens, to see it scrape into my top ten for the year.
#7  WILL PENNY
Anthony Zerbe                                                         Bruce Dern
I have never enjoyed watching Charlton Heston in a movie. I thought he stole his Oscar for Ben-Hur and should not have even been nominated for a Golden Globe for The Ten Commandments. Having said that, I firmly believe he was unfairly overlooked for his excellent performance in Will Penny, an under-rated western if there ever was one. The picture also featured Bruce Dern, Donald Pleasance and Anthony Zerbe, all of them fine character actors. The screenplay and direction (both by Tom Gries) were first class as well. Incidentally, the little boy (Button) was played by the director's son Jon. The boy later told an interviewer that he had been genuinely afraid of Bruce Dern. Heston himself has stated that this was his best performance of his entire career.
#6  THE PRODUCERS
Zero Mostel and Gene Wilder
Mel Brooks' comedy is mostly infantile, but very occasionally he does something original and funny. The Producers (the 1968 version) is one such occasion. There are enough clever lines to make allowances for Gene Wilder's super annoying performance. Zero Mostel, Kenneth Mars and Dick Shawn are well worth watching, however. Most movie-goers loved Blazing Saddles (and it certainly had some good moments), but the rest of Mel's output is pretty juvenile. The Producers is easily the best of an ordinary lot.
# 5  NO WAY TO TREAT A LADY
Rod Steiger disguised as a woman
No Way to Treat a Lady is based on a 1964 novel by William Goldman. The movie varies considerably from the novel which did not please the author one bit. The detective (played by George Segal) is clearly the central character in the book, but not in the picture. Rod Steiger immediately realized that whoever portrayed the serial killer would walk away with the movie, so he rejected the role as the detective and turned in a terrific performance as the bad guy instead. Rod got to impersonate a priest, a hairdresser, a plumber and a policeman – even a woman – in a tour de force that is well worth seeing. A good murder/mystery.
#4  COOGAN'S BLUFF
This was the first of two Clint Eastwood films directed by Don Siegel. The second was Dirty Harry in 1971. Clint plays an Arizona cop (cowboy hat and all) arriving in New York City to collect a prisoner for extradition. Eastwood was just starting to make a name for himself after the rash of spaghetti westerns that brought him to the attention of the world's women. Screenwriter Dean Riesner witnessed first-hand the effect Clint had on women: 'I'd leave his suite, and I'd be going down the hall and there'd be some girl coming down the hall from the opposite direction and heading into Clint's room…Gals from the office, gals around the set, gals in the picture.' Coogan's Bluff was a big step towards making Eastwood a sex symbol of the sixties and seventies.
#3  THE LION IN WINTER
John Castle as Geoffrey                     Anthony Hopkins as Richard
The Lion in Winter is set in 1183 at Christmas time. King Henry II and his estranged wife Eleanor meet to discuss his successor; whether it will be Richard, Geoffrey or John. The film is one long 'domestic', but with dialogue to die for. Katharine Hepburn won an Oscar for her performance as Eleanor, James Goldman did likewise for his superb screenplay, and the wonderful John Barry for his original score. Peter O'Toole (Henry), was nominated but missed out – as usual. Anthony Hopkins and Timothy Dalton made their screen debuts and John Castle was terrific as 'the forgotten brother' Geoffrey. A fine movie.
#2  PLANET OF THE APES
Kim Hunter & Roddy McDowall in their ape make-up
Kim Hunter and Roddy McDowall sans make-up
I chose Planet of the Apes ahead of The Lion in Winter because it was a unique piece of movie-making at the time of its release. The ape make-up was nothing short of amazing for its day and even won an Honorary Academy Award for its creator John Chambers. Jerry Goldsmith's score was the first completely atonal score in a Hollywood movie, and writer Pierre Boulle's concept was unique. The acting was excellent – even Charlton Heston was acceptable. Kim Hunter, incidentally, won the role of Zira because Ingrid Bergman had turned it down, a decision the Swedish superstar would forever regret. Leading sci-fi screenwriter Rod Serling (The Twilight Zone) completed over 40 drafts before handing over to Michael G. Wilson for the final screenplay.
#1 BULLITT
Robert Vaughn                                                        Jacqueline Bisset
Bullitt was a 'slick' movie. It ticked all the boxes. Steve McQueen was perfect as the title character. Robert Vaughn appeared to be in his natural element portraying the ambitious district attorney with his eyes set on a future in politics. Jacqueline Bisset did not have a lot to do (yet again), but she added that touch of feminine class that every good movie craves. The script flowed along effortlessly, the direction was taut – and there was, of course, that legendary car chase. Personally, I detest car chases almost as much as I loathe laser fights, but this one is the best that ever was, so I shall cut it some slack. Bullitt is still one of my all-time favorite films.