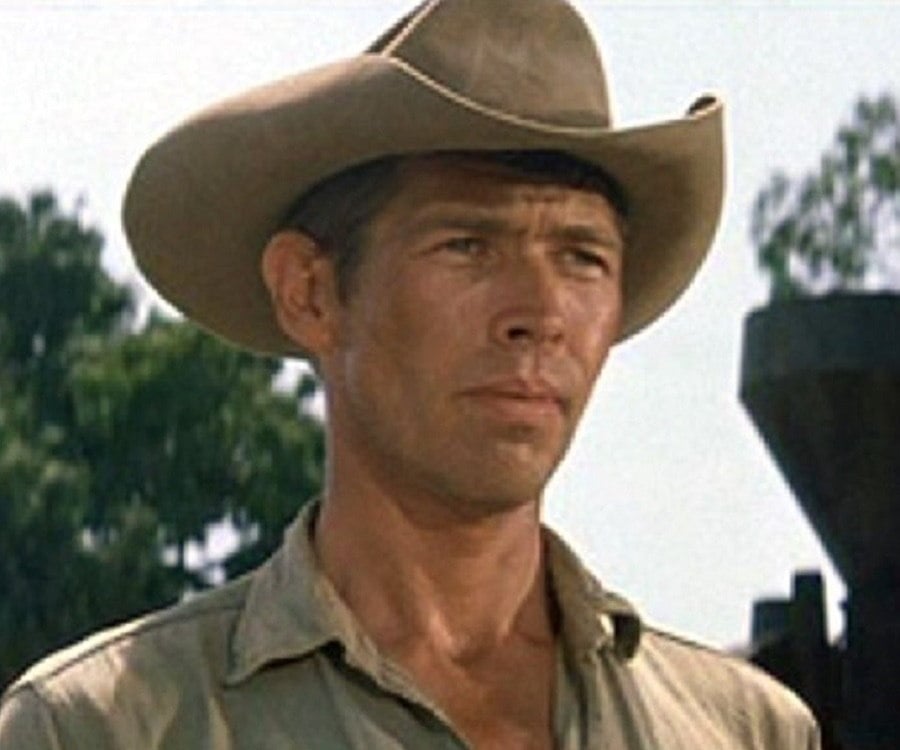 Fifty or more years after The Magnificent Seven first graced our screens in 1960, it is still the second-most repeated movie on American television. Only Casablanca is shown more. Actor James Coburn could thank a scheduled strike by the Screen Actors Guild for his opportunity to star in it. He could also thank his friend and fellow thespian Robert Vaughn.
Robert Vaughn in The Magnificent 7    James Coburn (L) with Horst Buchholz
When director John Sturges was placed in the unenviable position of casting his movie before the deadline for the strike, he contacted Vaughn and asked him if he would play the gunfighter named Lee. Without even seeing a script Vaughn said he would. When asked if he knew of anyone else that might be suitable, he thought of his friend Coburn. 'Last I heard he was shacked up with a coloured chick in Greenwich Village smoking dope', he informed Sturges. Vaughn tracked down Coburn and he accepted the role of Britt at once. It jump-started a movie career that proved to be long and distinguished, culminating in an Oscar for Affliction in 1999.
Douglas Fairbanks Jr and his wife, Joan Crawford
Douglas Fairbanks Junior's mother was not Mary Pickford, but a cotton heiress named Beth Sully. Mary was his stepmother. The first thing Doug did after marrying Joan Crawford in 1929 was to help MGM buy up every print of the porno films in which his new bride had starred during her early days. Try as they might they were unable to locate every existing print. It is believed that some are still around today in private collections.
Margaret Campbell,                    David Niven (top)
Duchess of Argyle                        Douglas Fairbanks Jr (below)
Mandy Rice-Davies 1964
Mandy Rice-Davies, one of the call girls involved in the celebrated Profumo Affair of the sixties, met Fairbanks in London and slept with him shortly afterwards. Then he arranged an interview for her at Shepparton Studios to help launch her film career. It quickly became obvious to Rice-Davies that the producer expected her to climb onto his 'casting couch' and demonstrate her gratitude for this once in a lifetime opportunity. She walked out of the interview. During the sensational 1963 divorce trial of Margaret Campbell, Duchess of Argyle, it was none other than Fairbanks who was identified as the man in several photos receiving oral sex from the duchess. It was also said that actor David Niven was another of her studs.
 Anthony Franciosa
Anthony Franciosa was a good actor whose short temper continually got the better of him. In 1957, the year he married actress Shelley Winters, he was Oscar-nominated for his excellent performance in A Hatful of Rain, but missed out on a statuette possibly because he had already alienated too many of his fellow actors. Shelley recalled the night in 1960 when she walked through their door brandishing her own Oscar for The Diary of Anne Frank. 'Tony took one look at it and I knew my marriage was over.' He was immature, short-tempered, jealous and petulant. They divorced that same year.
Shelley Winters                                Mr & Mrs Franciosa
At the end of 1961 he married a second time, this time to the daughter of the head of Paramount studios. The man detested Franciosa and used all his considerable power and influence to keep his new son-in-law from being offered any decent roles, more or less torpedoing his career throughout the sixties. The marriage concluded in 1970. He married again a few months later and that union lasted until his death in 2006. In his last years Tony acknowledged that his immaturity, inexperience and terrible temper had been stumbling blocks that curtailed what could have been a major screen career. It was a pity because he had serious acting talent. By a strange and tragic coincidence he and Shelley passed away within days of one another. She died on 14 January 2006, and on that same day Tony suffered a heart attack that claimed him five days later.
George Hamilton                             with Lynda Bird at the 1966 Oscars
At the height of his relationship with Lynda Bird, the daughter of former US President Lyndon Johnson, actor George Hamilton ordered 365 roses from the White House florist with instructions for one to be deposited each day on the young lady's pillow. What a smoothie! Their jet-setting romance lasted several months and the two are still friends.
As a boy his philosophy on life was simple: Why do anything yourself when you can pay somebody else to do it for you. 'I can't be bothered picking up my clothes', he told his equally energetic mother who wholeheartedly agreed with him. 'I can make money while those clothes are being picked up. I'll pay somebody to pick them up'. At any one time his wardrobe has been known to contain up to 350 suits (as many as 100 of these direct from Saville Row in London) and over 500 shirts. He manages to find time between sun-tanning sessions to swallow as many as 120 vitamin tablets daily.
George dances with Imelda Marcos                 Adnan Khashoggi
In 1990 he appeared as a star witness for the defence during the trial of his 'friend', former Philippines First Lady Imelda Marcos. Along with arms dealer Adnan Khashoggi, she was acquitted on charges of racketeering and fraud. Evidently, robbing one's country blind was not an indictable offence in those days and probably still isn't – well, not if you have powerful friends anyway.
 Silvana Mangano
When we speak about the great Italian screen beauties the name of Silvana Mangano seldom gets a mention, certainly not ahead of Sophia Loren, Gina Lollobrigida and Claudia Cardinale anyway, yet she was a real knockout. At 16 she triumphed in the Rome Beauty Contest of 1947. The 1949 Italian feature Bitter Rice presented her to the world, a captivating combination of innocence and earthiness that caught the attention of movie audiences around the globe. She also caught the attention of producer Dino De Laurentis. Within a year they were married.
Silvana & her husband Dino de Laurentis
Federico Fellini
Federico Fellini wanted to cast Silvana opposite Marcello Mastroianni in 1960's La Dolce Vita, but De Laurentis blocked the move. He was still jealous of the fact that his wife and Federico were once childhood sweethearts. For all her success in the movie business Silvana always said she would rather have been a ballet dancer. She gave her husband four children. When her son (named Federico, curiously), was killed in an Alaskan plane crash in 1981 she was devastated and retreated from the public eye. Two years later she and Dino divorced. Silvana was already aware she had lung cancer. It took her life in 1989 at the age of 59.
Marilyn Maxwell                           Marilyn and her long-time lover Bob Hope
She was born Marvel Marilyn Maxwell in 1921. When she ultimately arrived in Hollywood, LB Mayer soon told her to ditch her first name (why her folks would Christen their little girl 'Marvel' is anyone's guess), and go with just plain Marilyn Maxwell. She had already been singing up front with several renowned bands and orchestras since she was sixteen. Her movies included Champion (1949) opposite Kirk Douglas, The Lemon Drop Kid with Bob Hope in 1951, and Rock-A-Bye Baby (1958) with Jerry Lewis. She and Hope had a hit tune with their duet of the Christmas song 'Silver Bells'.
Bob & Delores Hope 1939                  still together in 1981
'bearding' for Rock Hudson
The curvaceous Marilyn toured with Bob Hope entertaining troops during WW2 and the Korean War. Her long affair with Hope was such an open secret in Hollywood that she was regularly referred to as 'Mrs/ Bob Hope'. His wife had to know about them because everyone else did. Marilyn also warmed Frank Sinatra's bed for a number of years. A close friend of Rock Hudson, Marilyn was his 'beard' on numerous dates, happily warding off journalist's questions about their 'relationship' with the usual, 'we're just good friends'. For once such a response was an accurate one. In 1972, her fifteen year-old son found Marilyn's lifeless body at home. She had succumbed to a heart attack at 50. Hope and Sinatra were honorary pallbearers at her funeral.