Frances DEE                                     Joel McCREA                       (1933 – 90)    his death
Frances & Joel in Wells Fargo (1937)
By all accounts Joel McCrea was one of the nicest men to ever become a big movie star. He had it all. He was tall, handsome, sincere, extremely affable and soft-spoken. And he had integrity. For instance, he would not play servicemen of any kind in a movie. 'If I'm too old to be called', he told a reporter, 'I was too old for that kind of show.' The grandson of a stagecoach driver who fought Apaches, Joel was an expert rider from the age of nine, the equal of any horseman in Hollywood with the possible exception of World Champion Rodeo star Ben Johnson. For 57 years (until his death) he was married to lovely Francis Dee. They met on the set of The Silver Cord in 1933, fell in love and married that year. Joel's clever investment in real estate saw their combined fortune stand at between 50 and 100 million dollars by the 1970s. Frances missed out on the role of Melanie Wilkes in Gone with the Wind because David O Selznick feared her beauty might overshadow that of newcomer Vivien Leigh.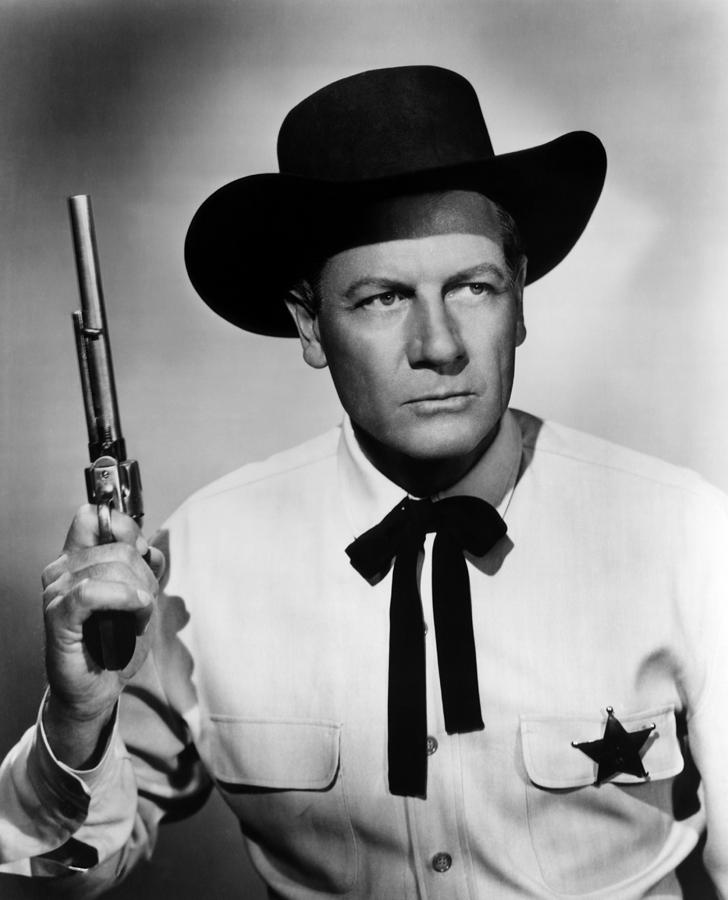 Frances truly was a stunner                         Joel in his favorite genre
Even marriages of 57 years' duration can have their rough spots. In 1935 Joel and Frances separated, but were quickly reconciled. Thirty-one years later Joel filed for divorce, charging his wife with cruelty, but they nevertheless continued together until his death in 1990. Frances passed away at 94 fourteen years later.
Gloria DEHAVEN                            John PAYNE                         (1944 – 51)    divorced
Their 1944 wedding day
Gloria DeHaven was tiny, just 5'1" (1.55m), beautiful and she could sing. She vocalized out front of the orchestras of Bob Crosby, Jan Savitt and Muzzy Marcellino before MGM snapped her up and signed her to a contract in 1940. Before long she was a popular pin-up for American G Is during WW2. Thirty-two year-old John Payne, fresh out of the USAAF in which he had been a pilot, met 18 year-old Gloria on the set of The Dolly Sisters (1945) and they wed soon afterwards.
Payne in Miracle on 34th Street (1947)
They had two children during their seven years together, but friction over Gloria's desire to continue her movie career ended the union. Should you ever watch Chaplin's 1936 classic Modern Times or his even bigger classic The Great Dictator (1940), you might glimpse Gloria as a child actress in both films. She is Paulette Goddard's eleven year-old sister in Modern Times.
Anne Shirley & John                                                            Jane Russell at her peak
His studio claimed that one of John Payne's ancestors, John Howard Payne, wrote the tune 'Home Sweet Home', but it was not true. His first marriage (in 1937) was to actress Anne Shirley, but it ended in 1943. His affair with Jane Russell during the war looked like culminating in marriage until she suddenly changed her mind and wed her old high school sweetheart in 1943. Most Payne fans recall his westerns and man of action roles, but he was also a Vegas singer for several years. A 1961 car accident resulted in severe injuries that kept him out of films from 1962 until 1968. In fact, he almost died. Gloria would outlive him by 27 years, dying in July 2016 at the age of 91.
Judi DENCH                                     Michael WILLIAMS            (1971 – 2001)            his death
Their wedding day 1971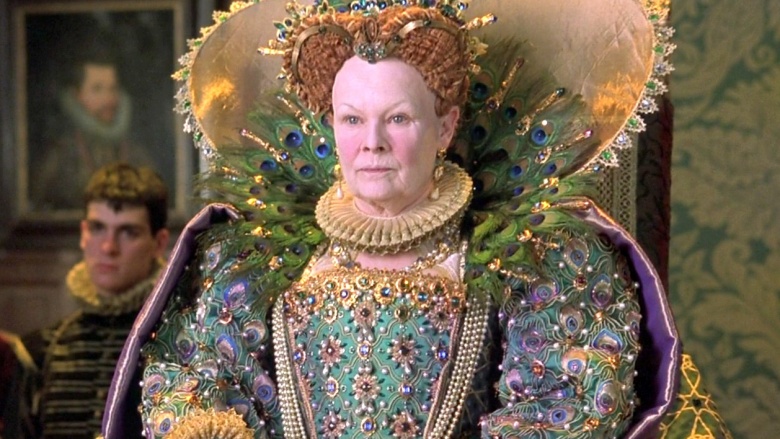 Michael & Michael Caine in Educating Rita        Judi in Shakespeare in Love
Diminutive Judi Dench (5'1" – 1.55m) has been Dame Judi Dench since 1988. She has won ten BAFTAS, including one for the 1981 series A Fine Romance in which she starred with her real-life husband, actor Michael Williams. They were married for 30 years until his death from cancer in 2001. He once had a brief part (as Brian) in the Julie Walters hit movie Educating Rita. Judi's 1999 Oscar for Shakespeare in Love was awarded for her work in just four scenes totaling six minutes of screen time.
Richard DENNING                          Evelyn ANKERS                   (1942 – 85)    her death
Evelyn & Richard
Whenever I think of Richard Denning (which I admit is not very often), I think of the 1954 cult classic Creature from the Black Lagoon. He also played the governor in the Hawaii Five-0 TV series for over a decade, but other than that his 112 screen credits are simply not memorable. Not that this worried Mr. Denning in the slightest. As he said many times, 'I'm very grateful for a career that wasn't spectacular, but always made a good living or filled in 'in-between'.'
Richard (L) & Richard Carlson in the                      Lon Chaney Jr & Evelyn in
classic Creature from the Black Lagoon                The Wolfman
His wife Evelyn Ankers was born in Valparaiso, Chile to English parents in 1918. The family moved back to London in the 1920s before moving again, this time to California, as war clouds began to gather over Europe. By war's end she had built a reputation and a career as 'The Queen of the Screamers' in B-horror movies. She had also become engaged to actor Glenn Ford, but broke it off when she met Denning. They were soon married and in 1946 co-starred in the major release Black Beauty. Evelyn worked several times with Lon Chaney Jr, but they did not like each other at all. She referred to him as 'a brute with bad breath', but added that, 'when he wasn't drinking, he could be one of the sweetest men in the world.' Evelyn died of ovarian cancer in 1985 in Hawaii.
Johnny DEPP                                    Amber HEARD                     (2015 – 16)    divorced
Their wedding day 2015
The Fiancees
Sherilyn                     Jennifer                    Winona                    Kate
Johnny & Vanessa Paradis                   Tasya Van Ree & Amber
Depp was a married, 20 year-old ballpoint pen salesman when he met Nicolas Cage who advised him to take up acting. He debuted in Nightmare on Elm Street (1984) as one of Freddy Krueger's victims, but it was the popular TV series 21 Jump Street (1987) that shot him to stardom. Although he has only been down the marital aisle twice, he has been engaged a further four times – to actresses Sherilyn Fenn, Jennifer Grey, Winona Ryder and Kate Moss. A long-term relationship with French singer Vanessa Paradis produced two children, but that ended when he met Amber Heard whom he wed in 2015. They had been in a relationship since 2013. The marriage was over within eighteen months. A physical altercation resulted in a restraining order being placed on Johnny in May 2016. Since their divorce Amber has confirmed her lesbian relationship with photographer Tasya Van Ree, which in all probability ignited the altercation.
Bruce DERN                                      Diane LADD                          (1960 – 69)    divorced
Bruce Dern, one of America's truly great character actors, has been adorning our screens for over half a century. Try as he may, however, he simply could not make it as a leading man unless it was as some kind of psycho (like in Tattoo in 1981). That picture flopped anyway and Dern's reputation took a beating when he claimed that he and actress Maude Adams had actually had sex on-screen. The Swedish-born ex-model hotly denied it.
Maude Adams & Bruce – Tattoo     Diane and daughter Laura Dern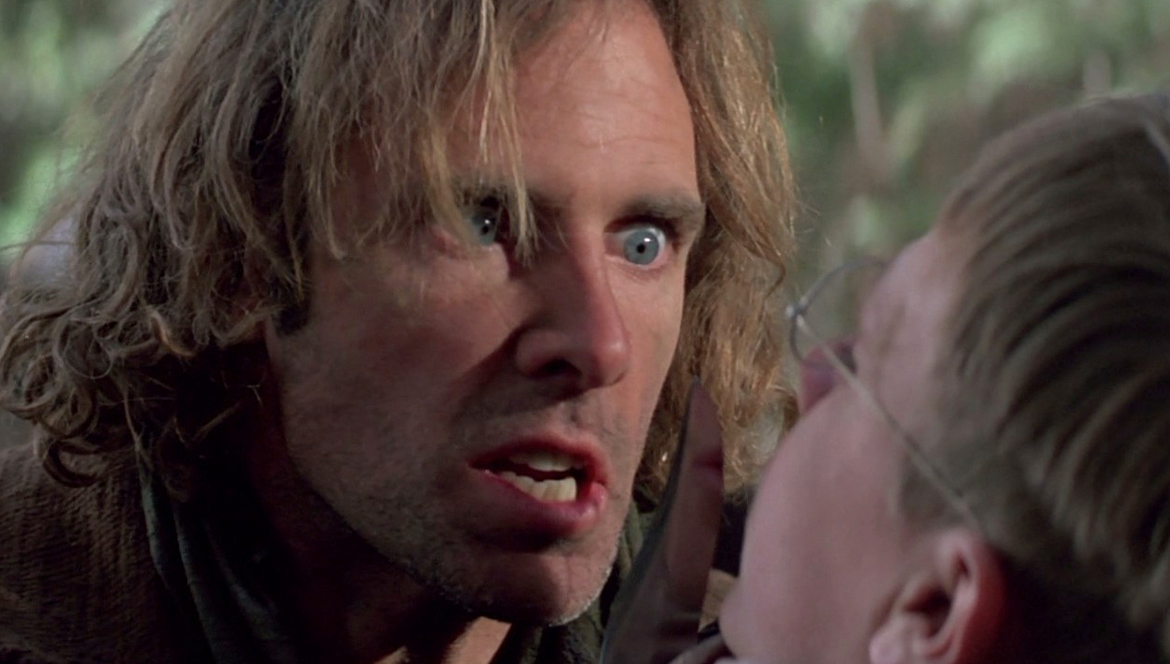 Bruce in The Cowboys                                              Laura in Jurassic Park
His most memorable role was as the rustler who gunned down John Wayne in The Cowboys (1972). The second of his three wives was the thrice Oscar-nominated Diane Ladd, the union lasting nine years and producing two children, one of whom is Laura Dern. She is a dual Oscar nominee herself, although best remembered for the first two Jurassic Park films. Their first daughter, Diane, tragically died at 17 months after falling into the family pool and striking her head.