The really neat thing about writing your own blog is that you can choose any subject you feel like choosing, and it doesn't really matter if nobody agrees with you. This article focuses on the ladies I have found to be the most attractive (to me) over the 57 years I have been watching television. As far as attractive males is concerned, I was unable to think of a single one, so I called upon my wife and her equally lusty best friend (Kim), to pool their combined opinions and come up with their all-time Top 15 'hunks'. Knowing them, I imagine they started with about a thousand names! That list will follow mine in a couple of days. I will be astonished if there is anyone on it that even remotely resembles either lady's husband. Here are my ladies:
15        ANNETTE FUNICELLO      Annette                                 The Mickey Mouse Club (1955-8)
From the time I was eight until I was 12, I was hopelessly in love with Annette, so she just had to make it into my top 15. I seriously believe I would have killed for her – as long as nobody got hurt. Annette was born in Utica, New York to Italian-American parents.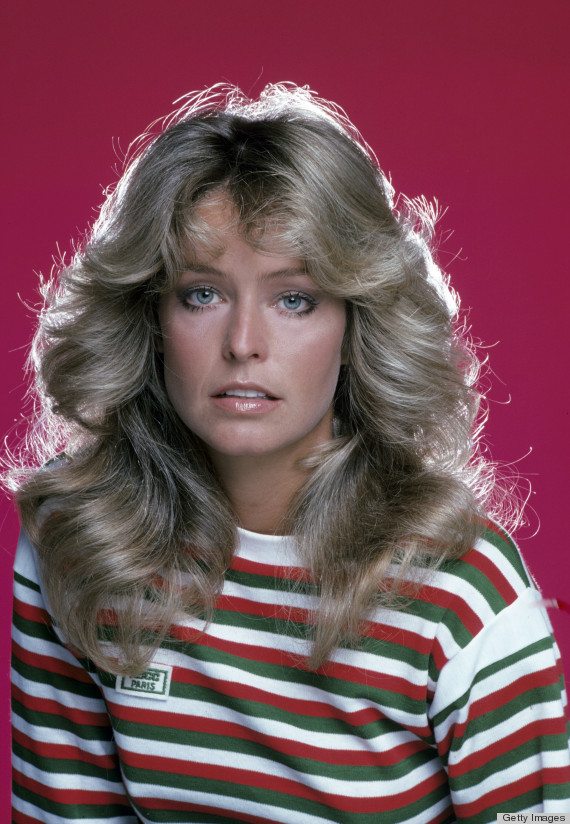 14       FARRAH FAWCETT           Jill Munroe                             Charlie's Angels (1976 – 81)
I was never a fan of this series, but there was no denying the beauty of the Angels. Farrah was 'the All-American Girl' at a time when that was the be-all and end-all of feminine beauty. Today, of course, we are able to see the most extraordinary looking women from around the globe, not just the USA. No nation, race or color has the monopoly on beauty. Farrah was born in Corpus Christi, Texas to American parents.
13        MORENA BACCARIN        Jessica Brady                          Homeland (2011-13)
I first saw Morena Baccarin in Homeland and I thought – wow! Not only was she gorgeous, she was also a fine actress, as demonstrated when she was nominated for an Emmy in 2013. Morena was born in Rio de Janeiro, Brazil and is of Italian descent.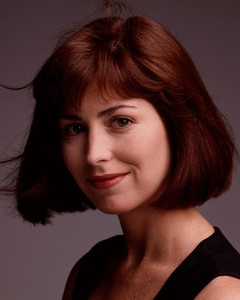 12        DANA DELANY                   Colleen McMurphy                 China Beach (1988 – 91)
There is something that appealed to me about Dana Delany the moment I saw her. I know she is outspoken (especially about sex), that she calls a spade a spade, and that she is a highly opinionated woman. But I don't care. I detest war (the ultimate evil), yet I found, when watching Dana in China Beach, that the thought of joining the services briefly crossed my fevered mind. Spunky lady. She was born in New York City of Irish and English descent.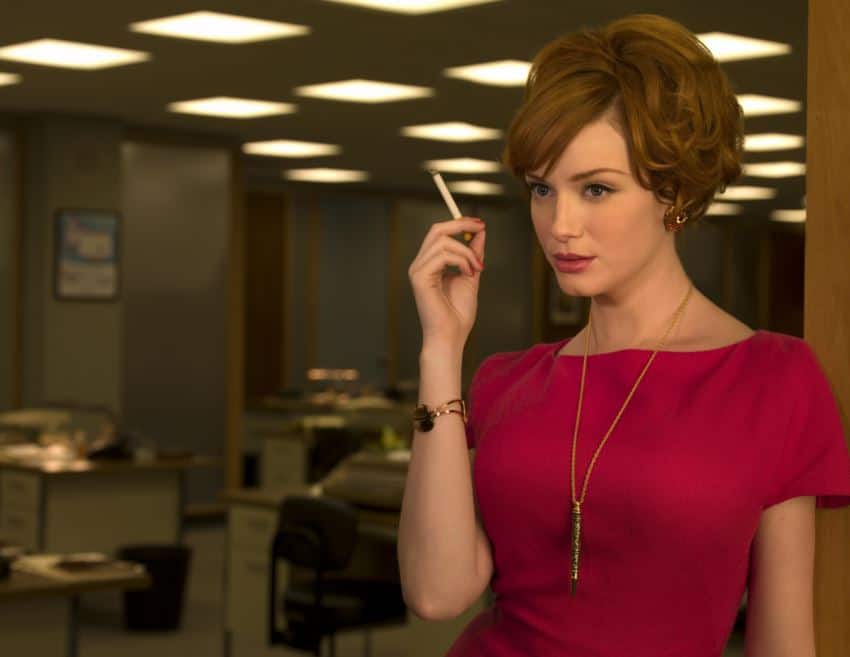 11        CHRISTINA HENDRICKS    Joan Harris                           Mad Men (2007 – 15) 
I really struggled to watch Mad Men. I didn't like any of the characters in it and all that conniving to succeed grated against my unambitious nature. The script bugged me too. But Christina was worth watching. Being a Marilyn Monroe fan, I was struck by her remarkable likeness to MM, as evidenced by the shot I inserted above. She hails from Knoxville, Tennessee; an American mother and an English father.      
10        CATRIONA BALFE            Claire Fraser                            Outlander (2014 -)
Catriona Balfe is one of those delightfully refreshing actresses who is capable of projecting her enormous beauty with or without the assistance of make-up. I loved the first season of Outlander, but found the second had descended into a procession of sexual scenarios and I tired of it. My only criticism of Catriona is that she tends to shed her clothes too much. I realize that the part demands it and that the chances of getting any role these days depends, to a great extent, on the applicant's willingness to do just that, but it has been done to death. Nudity has become tiresome, I'm sorry to say. Catriona was born in Dublin, Ireland, and speaks English, Gaelic and French.
9          CAROLINE CATZ                       Louisa Glasson                        Doc Martin (2004 -)
Caroline Catz would probably be the first to agree that she is not a beauty in the classical sense, but she is very cute. I get the feeling when watching Doc Martin that she would be someone really nice to know; smart, attractive and classy. Caroline hails from Manchester, England.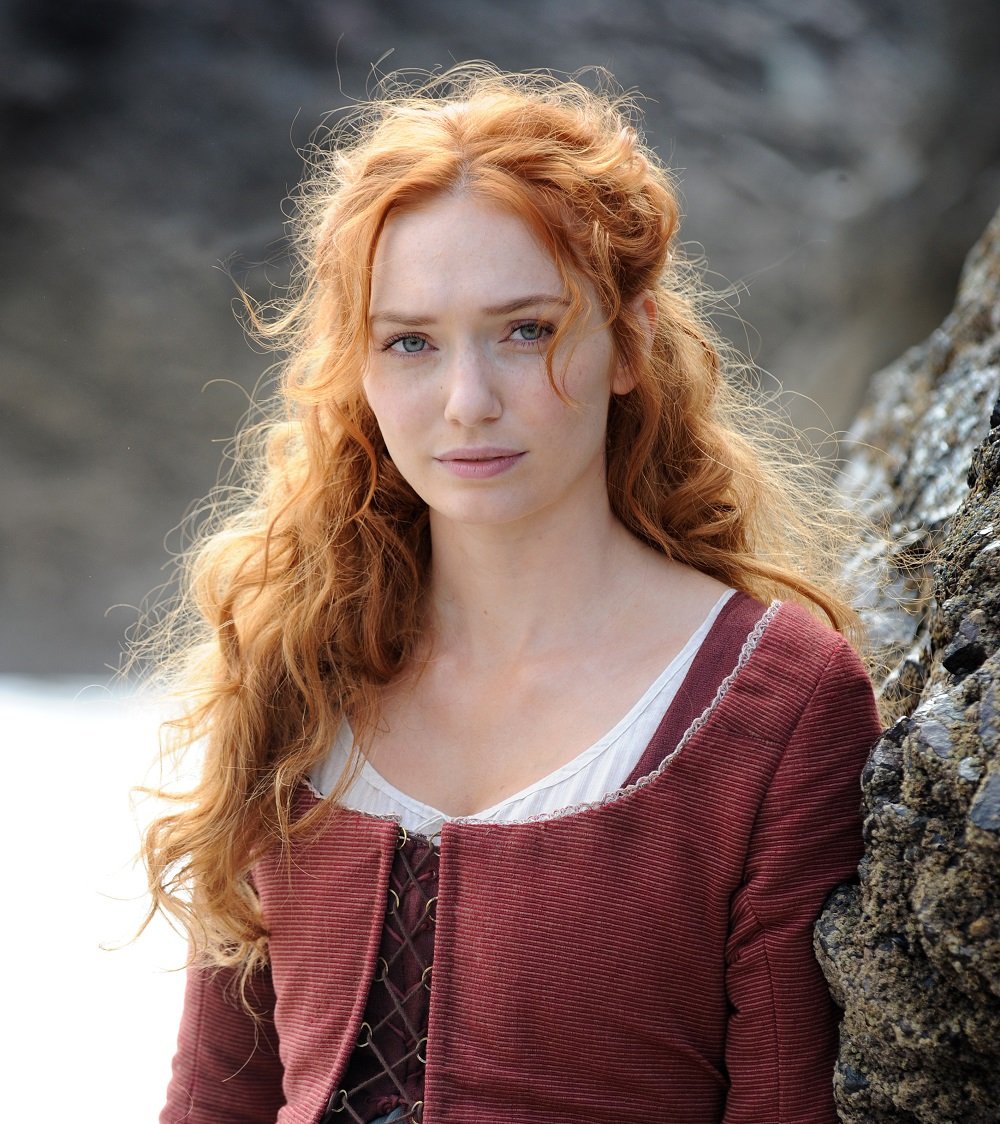 8          ELEANOR TOMLINSON               Demelza                            Poldark (2015 -)
At 24 years of age the beautiful redheaded Eleanor Tomlinson has the acting world at her feet. If she does not go on to greatness I will be most surprised. In my humble opinion she is the most exciting young talent of today – and drop dead gorgeous to boot. She is a Londoner born into an acting family.
7          STEFANIE POWERS          Jennifer Hart                           Hart to Hart (1979 – 84)
As you can see in the shot above Stefanie Powers was smothered in freckles, just as Joan Crawford was. And there the similarities end as far as I know. Stefanie has always been described by those who know her as 'class with a capital C'. And she is stunning. Born in Hollywood to a Polish mother. She refuses to talk about her father.
6          MELODY PATTERSON     Wrangler Jane                         F Troop (1965 – 7)
For some inexplicable reason there seem to be very few proper photographs of Melody Patterson. I adored her in F Troop back in the sixties, almost as much as I adored Annette in the fifties. I also thought F Troop was one of the truly great comedy series of all time. Melody succumbed to cancer in 2015 at 66. She was a Californian of American stock.
5          BARBARA EDEN                 Jeannie                                      I Dream of Jeannie (1965 – 70)
I would be very surprised if any red-blooded guy my age did not have 'Jeannie' on his list of great TV beauties. Barbara Eden was the girl of most non-gay men's dreams in the sixties. I saw a snapshot of her taken in Vienna in 2013 and she is still beautiful although in her eighties. Barbara was born in Tucson, Arizona to American parents.
4          JACLYN SMITH                  Kelly Garrett                             Charlie's Angels (1976 – 81)
The guys I hung around with in the seventies pretty much fell into one of two categories – those who thought Farrah Fawcett was the hottest 'Angel' and those who thought Jaclyn Smith was. For some reason the lovely Kate Jackson was not often mentioned. Being a great appreciator of feminie beauty, I thought all three were just fine, but Jaclyn was the best. She hailed from Houston, Texas. Another Texan.
3          HEATHER LOCKLEAR    Sammy Jo Carrington                       Dynasty (1981-9)
I picked Dynasty as Heather Locklear's most well-known series, but in all honesty I could have chosen Melrose Place or T.J. Hooker. Aaron Spelling took her under his wing and she appeared in eight of his productions when she was at the peak of her considerable popularity. She was born in Los Angeles.
2          AMANDA RIGHETTI         Grace Van Pelt                        The Mentalist (2008 – 15)
I enjoy The Mentalist, and must admit to liking everything Robin Tunney (Lisbon) does in the show. She's both pretty and a talented actress. But one look at Amanda Righetti and the series suddenly went to another level. What a knockout! Choosing between my top two was extremely difficult. It is disturbing to find that Amanda was born in St George, Utah, the town that was subjected to all that nuclear contamination from atomic tests carried out in the fifties.
1          VICTORIA PRINCIPAL     Pamela Barnes Ewing             Dallas (1978 – 87)
The greatest difficulty I had with Victoria Principal was settling on the best photograph to insert here. She was so incredibly photogenic there were scores of great ones to pick from. Victoria had it all. She was  very shapely and possessed of one of the extraordinarily beautiful faces ever to grace our screens. I have no idea what kind of a person she was – but she remains the ultimate dreamboat. Incidentally, she was born in Fukuoka, Japan while her American father was stationed there in the USAF.