Courteney Cox                               
The 'Dancing in the Dark' video clip that started it all for Courteney in 1984.
Hailing from an affluent family background in Birmingham, Alabama, Courteney Cox was first nationally noticed in the Bruce Springsteen video clip of his 1984 hit Dancing in the Dark. Looking about fourteen years old (she was twenty at the time), she is seen being whisked onto the stage to briefly dance with 'the Boss'. The 'surprised' look was scripted and she received $350 for her performance. She is best known for playing Monica Geller Bing in the TV series Friends from 1994-2004. Before marrying actor David Arquette in 1999 she was involved in a six-year relationship with actor Michael Keaton.
Nancy Gates  
In her last movie – Comanche Station 1960                     
It is surprising how many pretty actresses hail from Texas. Nancy Gates, a Dallas girl, is another one. She started in movies as a teenager, but could never quite crack the big time despite her looks and fetching figure. Throughout the fifties and sixties she was in constant demand as a guest star on numerous TV shows, especially westerns. Her last movie was Comanche Station (1960), with Randolph Scott and Claude Akins, after which she appeared in around 20 more television series before calling it a day in 1969, choosing instead to settle down to family life and raise her four children. Nancy's one marriage lasted 44 years until her husband's death in 1992. In February 2016 she turned 90 years of age
Janet Gaynor                              
Janet & Adrian 1939                                       Mary Martin
Off-screen MGM tried to pair newcomer Tyrone Power with Janet Gaynor but the combination fizzled. She wed her 'beard' instead, MGM costumer Gilbert Adrian. Bob Cummings once remarked on Janet's sexual preferences: 'Janet Gaynor's husband was Adrian, but her wife was Mary Martin.' Mary, of course, was a wonderful singer whose son was Larry Hagman, a man who would become a household name himself via TV's Dallas and I Dream of Jeannie.
Heather Graham                         
  with Heath Ledger      and Adam Ant                       Elijah Blue Allman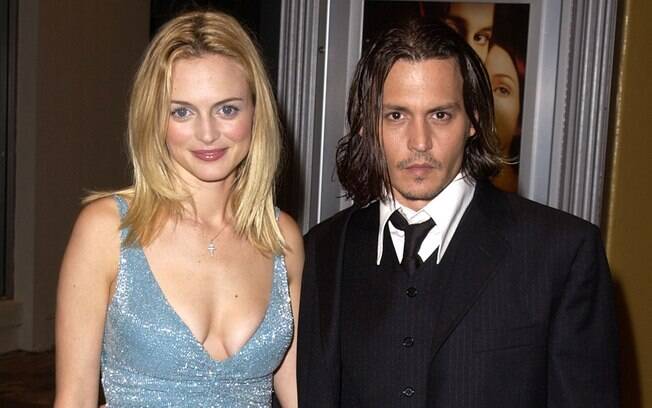 and James Woods                    and Johnny Depp
The daughter of an FBI agent, Heather Graham is estranged from her parents who ceased supporting her acting career when she ignored their demands to refrain from appearing in films involving sex. Off screen her lovers have included James Woods for a couple of years and former rock star Adam Ant, with whom she lived for a while. Another beau, Elijah Blue Allman, is the son of the late Gregg Allman and his former wife Cher. The late Heath Ledger was with her for a few months also. So was Johnny Depp.
Anjelica Huston & Jack             and with Ryan O'Neal              
Despite Jack Nicholson's countless infidelities, Anjelica Huston stayed with him (more or less) for seventeen years. There was a period, however, when the exasperated actress ran off with Ryan O'Neal, then moved back with Jack, then went back to O'Neal and so on, until inevitably she wound up with Jack again. Every once in a while she opens her mouth (usually to change feet) and makes some brainless statement. For example, she once made the following comments on drug use to Vanity Fair during a 1990 interview: 'Of course, drugs were fun. And that's what's so stupid about anti-drugs campaigns. They don't admit that'. One day she must explain to us what possible reason an anti-drug campaign would have for telling everybody that drugs are fun.
Ashley Judd                        
In her forthright memoir All that is Bitter and Sweet, Ashley relates how an un-named family member sexually abused her to the extent that she seriously considered suicide. 'I took to playing with mom's gun, trying to decide if it would be worth it to shoot myself,' she wrote. She also told of working as a model in Japan when she was just fifteen, and how a 'creepy Frenchman' offered her a lift home and then raped her. In her book Ashley pulls very few punches. Even her parents are targeted. 'Mom and pop were wildly sexually inappropriate in front of my sister and me', she wrote. '…a horrific reality for me was that when pop was around I would have to listen to a lot of loud sex in a house with thin walls…'
Jayne Mansfield                            Jayne & Mickey       
making an entrance                         Mariska Hargitay
Jayne Mansfield realized very early in her life that publicity was the key to kick-starting a career in the movies, especially when one had only the bare minimum of natural talent to work with. With that in mind she attended an Artists and Models Ball in the early fifties and had her boyfriend, muscleman Mickey Hargitay, carry her into the venue, holding her high above his head on the palm of his right hand. For added effect she wore a skimpy leopard-skin bikini. The snapshots made all the papers next morning. She would go on to marry Hargitay in 1958 and bear him three children, one of whom was actress Mariska Hargitay (Olivia Benson in Law & Order: Special Victims Unit.)
Lois Maxwell                                                            with Roger Moore in 'The Saint'
Moneypenny & 007
Roger Moore was a good friend of Canadian actress Lois Maxwell, the classy lady who played Miss Moneypenny in the first 14 Bond films. They first met at the Royal Academy of Dramatic Arts in London during World War Two. 'I always said I would have Roger for a husband, but Sean for a weekend lover', she quipped. In 2001 she visited her son Christian in Fremantle, Western Australia, and spent the rest of her life there. Sadly, she passed away from cancer in Fremantle in 2007 at the age of 80. Sir Roger Moore spoke highly of her, 'She was always fun and she was wonderful to be with', he said. 'I think it was a great disappointment to her that she had not been promoted to play 'M'. She would have been a wonderful 'M'.' Amen to that.
Kelly McGillis                
as an Amish woman in Witness        with Tom Cruise in Top Gun
She was working as a waitress in a Greenwich Village coffee-house called Jimmy Day's when director Peter Weir and Harrison Ford came to pick her up at her workplace and offer her the lead in a new film called Witness. She would play an Amish woman in this well put together murder-mystery. 'Harrison and Peter came to pick me up at my job and I never went back', she recalled. She also recalled, as did Sean Young, how distant her leading man was. She thought Ford was 'a cold fish', difficult to reach.
Kelly & Melanie tie the knot
In 1984, unbelievably, Kelly was fired from the movie Bachelor Party because the producers decided she was not sexy enough or beautiful enough! In 2009 she confirmed rumors that she was a lesbian. A year later she entered into a civil union with her partner, sales executive Melanie Leis.
Lilli Palmer                     
with husband Rex Harrison        and husband Carlos Thompson
Lilli Palmer's first stage success came in her native Germany in 1932 when she was eighteen years old. She was Jewish, however, and was soon forced to flee her homeland when the Nazis came to power. Noel Coward loathed her. 'I have never, with the possible exception of Claudette Colbert, worked with such a stupid bitch', he complained. Serial womaniser Rex Harrison married her in 1943. Her second husband was Argentine actor Carlos Thompson who died by his own hand in 1990 four years after Lilli passed away.
Christina Ricci
Christina Ricci grew up in a house in which her father practised his vocation as a psychiatrist specialising in 'shrieking therapy', would you believe? This idea of 'supervised screaming' was once considered a trendy way to release inhibitions and bad memories (or something). 'They expect me to go to school tomorrow, and they're going to scream until midnight', Christina complained in retrospect and with considerable justification. 'I never did drugs', she once told an interviewer. 'They made me feel awful, physically'. Yes, you did read that correctly. She never did them because they made her 'feel awful physically'. Hello?
Jill St John                                    
Jill & Sinatra                                            Jill & Kissinger
The beautiful Jill St John has an IQ of 162 (not that your average hot-blooded male would care a fig about that), and is renowned for having been accepted into the University of Southern California at the age of fourteen! Her lovers have included Frank Sinatra and former US Foreign Secretary Henry Kissinger. Two of her husbands were singer Jack Jones, and actor Robert Wagner, to whom she is still wed. Another was Lance Reventlow the sports car racer and son of Woolworth heiress Barbara Hutton.