BETTY (BETTE) ARLEN (1909-66)
Of all the WAMPAS Baby Stars down the years, Betty Arlen had one of the least significant acting careers of any. She actually appeared in a total of 24 movies, three of them in the Roaring Twenties and the rest between 1949 and 1956, but her name appeared only three times in the credits, and these were scarcely good parts. The first was in A Punch in the Nose (1926), the second time she was billed as one of the Cat women in the B feature Cat Women of the Moon (1953), and the third was in her final picture, The Lieutenant Wore Skirts in 1956, in which she was billed as a WAAC officer. Some sources say she was born in 1904, some say 1909, but it is generally believed that she was only 16 years old when she was chosen as a WAMPAS Baby Star in 1925.
VIOLET LA PLANTE (1908-84)
Violet and her sister Laura began in the movies around the same time and both were WAMPAS Baby Stars. Violet's entire career spanned just 10 screen appearances and two of them were 'shorts'. It began in 1924 and was over by 1928. Her sister's career was far more successful until she failed to make the transition to sound.
OLIVE BORDEN (1906-47)
Olive hailed from Richmond, Virginia and was considered to be one of the most beautiful girls in Hollywood during the twenties. Not surprisingly, the ever alert Mack Sennett signed her as one of his Bathing Beauties when she was barely 15. Within five years she was riding the crest of the wave and earning $1,500 a week at Fox Studios where she pumped out eleven movies in 1926 alone. Nicknamed 'The Joy Girl', she lived the high life – mansions, limousines, servants and a dozen fur coats.
George O'Brien
For a while she was engaged to star George O'Brien. She had it all until her career was shortened by the coming of sound and World War Two. After the war she was reduced to scrubbing floors to pay for her alcoholism. She spent her last year in a Los Angeles mission, dying from a stomach complaint at 41 – one of Hollywood's sadder stories.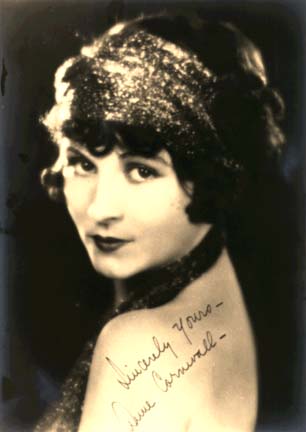 ANNE CORNWALL (1897 – 1980)
Like Clara Bow, Anne came out of Brooklyn. She began her movie career in 1918, but her most memorable performances came after she had turned 30. In 1927 she starred opposite Buster Keaton and two years later she co-starred with Laurel & Hardy as well. After 1930 she always appeared uncredited, right up until her final picture in 1959.
ENA GREGORY (1906-93)
Most unusually for a WAMPAS Baby Star, Ena Gregory hailed from Australia – Sydney, New South Wales, in fact. Her movie career began in 1920 and ended after 83 screen credits in 1931. Along the way she managed to marry and divorce a director named Albert S. Rogell. In her homeland she was known as a child wonder on the vaudeville stage before Universal signed her for ingénue roles in 1921. She also worked at Hal Roach Studios and First National Pictures and by 1924 she was the leading lady of Independent Pictures Corporation, yet real stardom eluded her.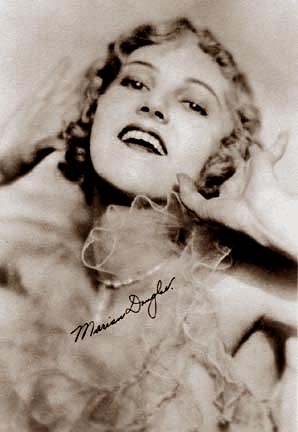 Ena as Marian Douglas
A Hollywood seer suggested a name change that combined elements of the world's greatest stars, Mary Pickford and Douglas Fairbanks, so she became Marian Douglas in 1928. A Californian attorney was named a co-respondent in a $150,000 lawsuit by her husband in 1934. Three years later she married a doctor, but that union also foundered inside 12 months. Ena (Marian) lived out the remainder of her life in California and never did return to Australia.
MADELINE HURLOCK (1899 – 1989)
Madeline was born in either 1897 or 1899, (depending on which source you wish to believe), in Federalsburg, Maryland. Her time on the silver screen was brief, just five years and 52 credits between 1923 and 1928, but for a while she was a Mack Sennett Bathing Beauty and, therefore, mildly famous in her own right, albeit fleetingly. For what it is worth, Mack called her 'the wittiest of the bathing beauties'. Unfortunately, Madeline's exotic looks were best suited to portraying vamps and when the fad ended so did her acting career.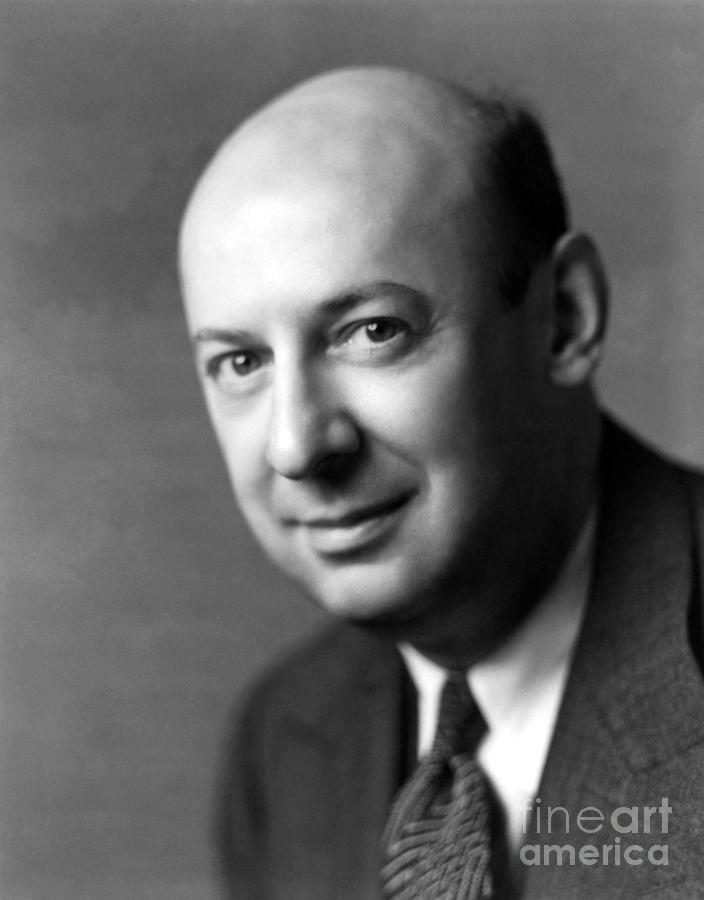 Marc Connelly                             Robert E. Sherwood
When she divorced playwright Marc Connelly to marry another playwright in Robert E. Sherwood, her ex-husband felt compelled to remark: 'Madeline is the only person I know who married two Pulitzer Prize playwrights.' No slouch in the screenplay writing department himself, Connelly was Oscar-nominated for Captains Courageous in 1937. Robert went on to not only write outstanding screenplays such as Rebecca and The Best Years of our Lives, but to also pen many of Franklin Delano Roosevelt's wartime speeches. He accumulated no fewer than four Pulitzer Prizes during his lifetime and was one of the founding members of the Algonquin Club. A natural wit, he once described director Eric von Stroheim as, 'A genius – badly in need of a stopwatch.' The brilliant Sherwood and Madeline were married for 20 years until his death in 1955. His widow lived a quiet life away from the spotlight until her death in 1989.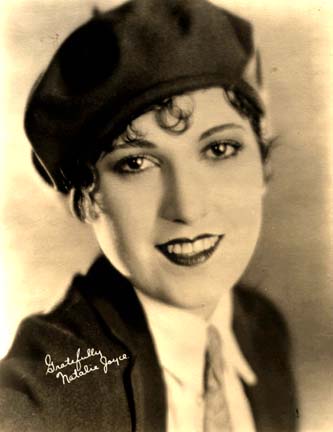 NATALIE JOYCE (1902-92)
Natalie's career barely lasted a decade. In 1927 she co-starred with Tom Mix in The Circus Ace for Fox Pictures. Even so, she has been quoted as saying, 'I'll never get anywhere in this business. I won't put out!' Director Howard Hawks told her she didn't have a future and should just get married. We do not know if the two comments were connected in any way, but she moved to Hawaii with her husband in the early thirties, where she opened up a beauty salon. Interestingly, in 1929 she provided important information to the LAPD regarding the death of 22 year-old dancer Delphine Walsh in May of that year. The woman had died, allegedly as the result of an illegal operation, and it was Natalie who helped police track down two physicians for questioning.
   as Miss Crabtree
JUNE MARLOWE (1903-84)
June was born Gisela Goetten, the oldest of five siblings, in St. Cloud, Minnesota in 1903. Fans of the 'Our Gang' shorts (assuming there are any still living) would remember her playing the kids' schoolteacher, Miss Crabtree. She was actually a brunette, but the producers had her don a blonde wig to match the hair of lead kid Jackie Cooper.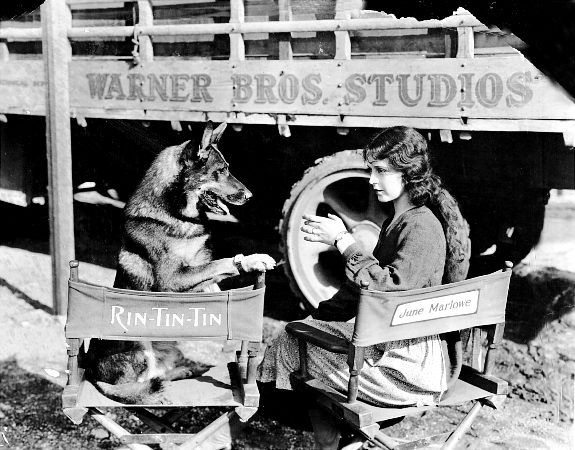 Co-stars – Rin Tin Tin & June Marlowe
The rather gorgeous June also starred opposite Warners' biggest star – Rin Tin Tin. After a few more features she left the industry, partially because of the introduction of sound, but also because she fell in love with a businessman who would remain her husband until his death 49 years later. Parkinson's disease claimed her two years later.
JOAN MEREDITH (1907-80)
Joan Meredith was yet another girl who found herself in Hollywood because she won a beauty contest in her hometown. In Joan's case that hometown was Hot Springs, Arkansas. Her entire screen career consisted of just six silent movies and two 'shorts', also silent, and by 1928 she had moved on to modeling work before settling in Los Angeles for the remainder of her life.
EVELYN PEIRCE (1908-60)
her sister Cornelia Thaw
Texan Evelyn Peirce moved to Hollywood as a professional dancer. She was immediately spotted by a talent scout and given an acting contract. Although she racked up sixteen screen appearances, only six were credited. Her sister, Cornelia Thaw, played one of Dracula's brides in the 1931 classic Dracula. There seems to be some confusion over the spelling of Evelyn's surname. In some sources it is spelt 'Pierce', but in most it is spelt 'Peirce'.
DOROTHY REVIER (1904- 93)
Dorothy was a screen vamp who stayed in the movie business for fifteen years chalking up 91 screen appearances along the way. She was nick-named 'The Queen of Poverty Row'. Starting out as Doris Velegra, she switched to Dorothy Revier after marrying director/producer Harry Revier, probably around 1921 when she was 17. Her most notable role was her Milady de Winter opposite Douglas Fairbanks in The Iron Mask (1929). She broke both her arms in a traffic accident in 1930. Her last picture was a Buck Jones oater called The Cowboy and the Kid in 1936.
DUANE THOMPSON (1903-70)
Throughout the roaring twenties the oddly named Duane Thompson starred in nearly forty films and appeared uncredited in nearly twenty more. Until 1929 she was in great demand before the introduction of sound saw roles dry up overnight for her. Eight years went by before she made a brief appearance (as herself) in Hollywood Hotel in 1937. And that was it. She immediately retired and settled down in Los Angeles.
LOLA TODD (1904-95)
Lola Todd was yet another young beauty who arrived in Hollywood full of dreams and hopes of screen stardom. And for the briefest of times she probably felt her dreams were coming to fruition. She starred in mostly shorts between 1923 and 1925, followed by a dozen features until 1928. Once again, like so many of her peers, the 'talkies' finished her career on the spot. Just like that – chocolates to boiled lollies; fame to total obscurity.