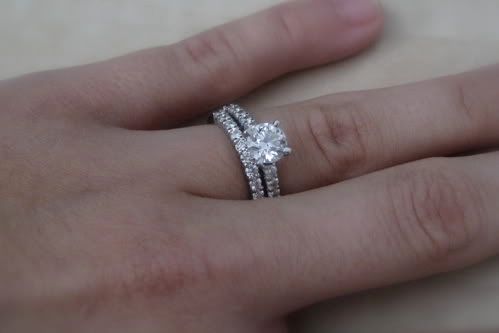 CROWE, Russell                              SPENCER, Danielle                         2003 –
New Zealand-born Russell met Australian actress Danielle when they co-starred in The Crossing in 1989. Their relationship endured despite their being apart for much of the time until they finally tied the knot in 2003. They have two children, the second of them arriving prematurely after Danielle slipped and fell while being chased down the street by four paparazzi in 2006. As of this writing (October 2016) the couple are separated.
CRUISE, Tom                                ROGERS, Mimi                                1987 – 90 (div.)
                                                            KIDMAN, Nicole                              1990 – 2001 (div.)
                                                            HOLMES, Katie                               2006 – 12 (div.)
Tom & Mimi
Tom & Nicole
Tom & Katie
It was Tom Cruise's first wife, Mimi Rogers, who introduced him to Scientology. The union did not last three years and he married Nicole Kidman the same year (1990) after they met on the set of Days of Thunder. They adopted two children during their 11 year marriage. Nicole was unknowingly pregnant when they split but lost the baby to a miscarriage. For three years Tom was seen with Penelope Cruz but the relationship foundered and he eventually moved on to actress Katie Holmes in 2005. A month after their meeting he embarrassingly jumped up and down on Oprah Winfrey's couch, declaring his unabashed love for Katie. In November 2006 they were joined in a Scientology ceremony, seven months after the birth of their daughter Suri.  Five and a half years later it was over. All three of Tom's wives are taller than him. He is 5'7" (1.70m). Mimi and Katie are nearly 5'9" (1.75m), and Nicole is a towering 5'11" (1.80).
CULKIN, Macaulay                         MINER, Rachel                                 1998 – 2000 (div.)
Macaulay in Home Alone Rachel as Meg in Supernatural
New York City – born Macaulay became the highest paid child actor in Hollywood history during the 1990s when his Home Alone films launched him into super-star status. Like most child movie phenomenon, however, it was over all too quickly once he reached maturity. In 1998 he married actress Rachel Miner, but they separated after two years and divorced in 2004. Rachel's main acting claim to fame has come from the popular TV series Supernatural. From 2009 until 2013 she played a demon and recurring antagonist named Meg Masters. When she announced that she was suffering from Multiple Sclerosis, which restricted her from handling more physical material, her character was killed off later in the season. Culkin later entered a relationship with actress Mila Kunis, but that ended in 2011. Since late 2013 he has been dating All My Children actress Jordan Lane Price.
CULP, Robert                                   NUYEN, France                                1967 – 70 (div.)
France as Liat in South Pacific
Culp as JFK in PT 109
France Nuyen met Robert Culp on the set of his TV series I Spy in 1965. When asked about their three-year marriage she had only this to say: 'That lasted about 18 hours – maybe a little longer.' She has remained single ever since. Culp recorded some monologues to accompany the I Spy DVDs, chats about his life in general. In them he speaks of his marriage to Nuyen, making it clear that he never got over her leaving him, and hinting at a betrayal by her that he declined to go into further.
CURTIS, Jamie Lee                          GUEST, Christopher                        1984 –
Jamie in True Lies
Christopher Guest in A Few Good Men
Jamie Lee is the daughter of Tony Curtis and Janet Leigh. Her father was a matinee idol, especially in the fifties, playing alongside Cary Grant in Operation Petticoat in 1959, Burt Lancaster in Sweet Smell of Success (1957), Sidney Poitier in The Defiant Ones (1958), and many, many other features. Jamie Lee's mother was positively stunning in Scaramouche opposite Stewart Granger in 1952, but will always be remembered as the unfortunate shower victim of Norman Bates in Hitchcock's 1960 thriller Psycho.
Jamie Lee starred in A Fish Called Wanda (1988), Trading Places (1983) and True Lies (1994). One of her nicknames, 'The Queen of Scream', hails from her performance in the 1978 slasher film Halloween. Her husband since 1984 is former actor (now director) Christopher Guest. Fans of A Few Good Men (1992), might recall him playing Dr Stone, testifying on the stand during the trial. Although born in New York City, Christopher was the son of a British UN diplomat and member of the House of Lords. On his father's death in 1996 he became the 5th Baron Haden-Guest of Saling in the County of Essex. Jamie lee is now Lady Haden-Guest.
CURTIS, Tony                               LEIGH, Janet                                    1951 – 62 (div.)
                                                            KAUFMANN, Christine                  1963 – 68 (div.)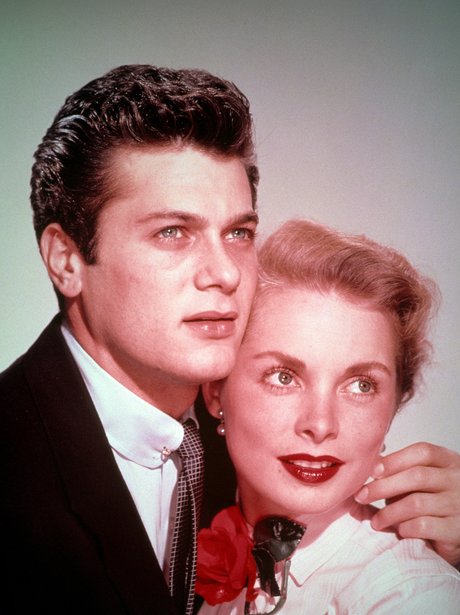 Tony & Janet
Tony & Christine
Tony & Jill Vandenberg
As mentioned above, Tony and Janet were stars of the fifties, a match made in heaven if you believe the movie magazines and the studio blurb of the day. Decades later Curtis revealed that he more or less wed the gorgeous Miss Leigh in order to advance both their careers. In other interviews he claimed he adored her and she broke his heart when they divorced, so it is left for you to decide which story you believe. He had divorce papers served on her on the set of The Manchurian Candidate (1962).
Tony in Operation Petticoat
As for Janet's marriages – well…At the age of 15 she lied about her age and wed 18 year-old John Carlisle in Reno, Nevada in 1942. It was annulled four months later. Her second marriage lasted from 1945 to 1949 and ended in divorce. Two years later she and Tony tied the knot in a union that produced two children and survived for eleven years. Janet's last husband was to a stockbroker in 1962 and lasted 42 years until her death in 2004.
Janet in Scaramouche
Tony married six times, Janet being the first. In 1963 the 38 year-old actor made Taras Bulba with 17 year-old Christine Kaufmann whom he wed that same year. They had two children and divorced in 1968. Christine then resumed her acting career and has admitted since then that she and Warren Beatty had an affair once she was single again. She has never remarried.
Tony marched four more women down the aisle, the last of them being Jill Vandenberg, a model 42 years his junior! He was 73 when they became husband and wife in 1998. 'The age gap doesn't bother us', he confided. 'We laugh a lot. My body is functioning and everything is good. She's the sexiest woman I've ever known. We don't think about time. I don't use Viagra either. There are 50 ways to please your lover.' He died in 2010 at the age of 85.