A few notes on Destry Rides Again (1939)
For years writers have been saying that the bar-room fight scene between Marlene Dietrich and Una Merkel in Destry Rides Again (1939) was real, that the two actresses went at it hammer and tong because they loathed each other. That is simply untrue. In fact, they had never even met until the day that sequence was filmed. Director George Marshall initially required them to start the tussle and then step aside and allow two stunt girls to handle all the rough stuff, but then he had a change of heart. 'Once you get started on this', he said, 'just keep going as long as you can; don't worry, the camera will follow you.' They agreed to give it a go. 'We did the whole thing, and we turned over our checks to the stunt girls', Una recalled. 'We did the whole battle, and then at the end Jimmy Stewart came over and dumped a pail of water over our heads. Then we had to do it again for close-ups, and do it for Life magazine.'
Marlene & Una between takes
Contrary to the rumour that Marlene and Una had chosen to consummate their long-standing feud in front of the cameras, a rumour that was probably deliberately spread for publicity purposes, they spent the entire scene whispering to each other, 'Are you all right?' 'Can you finish it?' 'Are you OK?' It was all done in one continuous shot and was most effective. 'I went to hospital after that picture', said Una. 'I finished it, but I was a mess of bruises, because I had little flat heels on, and Marlene had high spiked heels.'
Marlene & Jimmy dating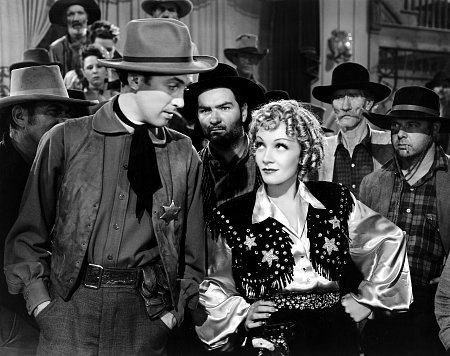 and in character
The next time you watch Destry Rides Again take special notice of the scene in which Jimmy Stewart shoots the knobs off a sign to demonstrate his gun skills. He is holding two six-shooters, but only fires one of them – and yet he shoots seven times without re-loading. No wonder he was such a successful gunfighter. His guns fired seven shots while everyone else's only fired six! Incidentally, Marlene told writer/director Peter Bogdanovich that she and Stewart not only had an affair while shooting the picture, but that she became pregnant to him and quietly aborted their child without informing him of her condition.
A few notes on Buffalo Bill (1944)
Any resemblance to the life of the real 'Buffalo Bill' Cody in this Hollywood biopic is purely accidental. After riding with the Pony Express at the age of 14 he served in the American Civil War before gaining employment shooting buffalo to feed the construction crews building the railways across America in 1867. In this 1944 movie, starring Joel McCrea as Bill and Maureen O'Hara as his wife Louisa, we are expected to swallow that he was dead against the wholesale slaughter of the herds. The fact that he personally shot (by his own count) 4,282 buffalo in just over a year and a half is not mentioned.
Joel McCrea as Bill                                       the real Buffalo Bill
He became the army's chief of scouts in the Indian Wars of the 1870s, and he did the job well enough to be awarded a Congressional Medal of Honor. This movie, however, paints him as a champion of the Redman, against war with the Indian and an admirer of their culture and way of life. Only four civilian scouts were ever awarded a Medal of Honor for their valour in the Indian Wars. In 1917, however, he was stripped of his on a technicality. He was a civilian scout working for the army when he won the medal, so that made him ineligible. It was restored, albeit well after his death, in 1989 by the Army Board for Correction of Military Records. He did indeed marry Louisa Frederici and she bore him four children during their long marriage. In Buffalo Bill she is played by Maureen OHara.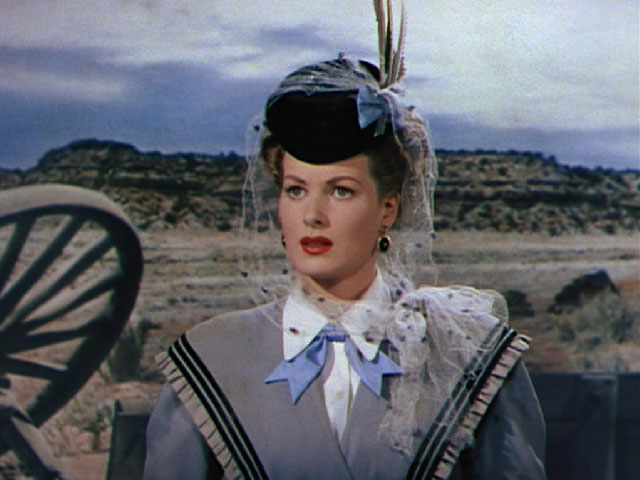 Louisa Frederici Cody         Maureen O'Hara as Louisa
Anthony Quinn as Yellow Hand,
about to fight BB to the death
Buffalo Bill has Cody fighting to the death his boyhood friend, a Cheyenne Chief named Yellow Hand (played by a young Anthony Quinn), at War Bonnet Creek on July 17, 1876, just three weeks after Custer had been wiped out at the Little Big Horn. The name of the warrior (he was not a chief at all) has been mistranslated for decades. It was Yellow Hair not Yellow Hand. And it was not hand-to-hand combat either. Cody shot the man with his Winchester carbine, then pulled out a Bowie Knife and took his opponent's scalp, reportedly crying out, 'First scalp for Custer!' as he did so. Yellow Hair, need I say it, was no former boyhood pal either. The so called Battle of War Bonnet Creek was anything but a major engagement. Six Cheyenne warriors deliberately rode into the army's trap in order to draw the 350 strong cavalry force away from the main body of warriors. A couple of the attackers were wounded, Yellow Hair was killed, and the troopers were unscathed. In the movie it is a full-scale, decisive engagement with severe casualties on both sides.
General Phil Sheridan
Another glaring error in a movie that is chockfull of errors sees one of the characters referring to 'General Sherman's famous saying: 'The only good Indian is a dead Indian'. Er…not quite. First of all, the actual expression (if it was ever said at all) was: 'The only good Indians I ever saw were dead.' And it was uttered by General Phil Sheridan, not General Sherman, in response to a Comanche chief supposedly saying to him in 1868:'Me, Tosawi; me good Injun'. For the record, Sheridan denied ever saying either. In all probability some journalist liked the sound of it and couldn't help himself. Cody may have softened his outlook on Native Americans in the twilight of his years, but his career as an Indian fighter certainly does not suggest he always felt an affinity towards them, if indeed he ever did.  In real life he surely championed the rights of women, yet this aspect of his nature was completely overlooked in his biopic. Perhaps, 1944 was the wrong time to be making movies promoting women's rights.
 A few notes on actor Ken Curtis – Gunsmoke's Festus Haggen           
Fans of TV's Gunsmoke are familiar with Curtis because of his portrayal of Festus Haggen, Matt Dillon's off-sider. Older movie-goers will recall him in character roles in a number of productions of the forties and fifties, top movies such as Rio Grande (1950), The Quiet Man (1952), Mister Roberts (1955), The Searchers (1956), The Horse Soldiers (1959) and The Alamo (1960). Western director John Ford used him several times. In 1952 Curtis actually married his sister Barbara, the union lasting until 1964. It may come as a surprise, however, to learn that before his acting career Ken was in demand as a vocalist. He sang up front for the prestigious Tommy Dorsey Orchestra, even standing in for Frank Sinatra at times. He was that good. Curtis also headed up the Sons of the Pioneers for a while, including a gig at Carnegie Hall no less.
Ken in his singing cowboy days serenading
Adelle Roberts
But it was Gunsmoke that brought him world-wide fame and recognition. Introduced in an episode in 1955 in which he was out to avenge the death of his twin brother, he clicked with the TV audience and suddenly found himself as one of the show's regular cast. His twin brother, incidentally, was never mentioned again. Fans were probably unaware that he was very comfortable in the role as Marshall Dillon's deputy because his own father was a sheriff back home in Las Animas, Colorado. Ken and the family, in fact, lived at the jailhouse; his mother cooking daily for the prisoners.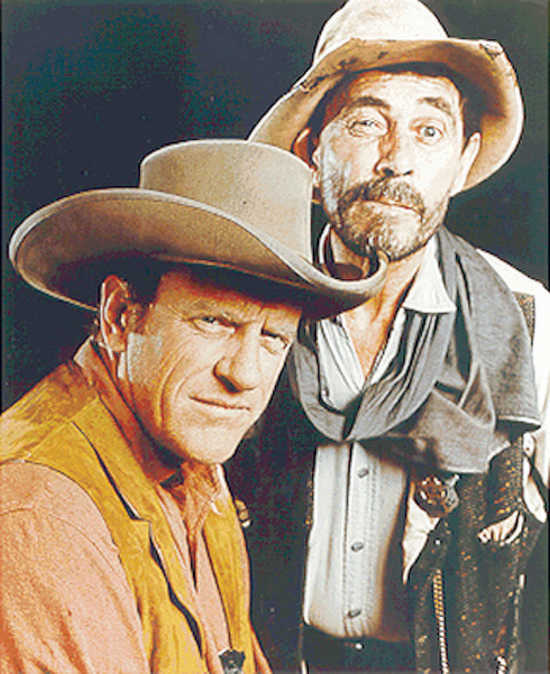 with his best friend James Arness
Even the character of Festus was borrowed from the actor's youth. An old eccentric named Cedar Jack lived a few miles out of town and often got drunk and spent time in the cells at the jailhouse. The nasally twang that became identifiable with Ken as Festus was something he thought up himself and used only in Gunsmoke. Off the set he spoke nothing like that. In private life his best friend was James Arness (Matt Dillon). Ken Curtis passed away in his sleep in 1991. He was 74.