I have often been flabbergasted or just plain disbelieving as the Academy ran out each year's list of Oscar nominees, especially the Best Picture nominees, and time after time exceptional pictures simply did not make the list. Consequently, I thought I might (starting with 1939, the year movies came of age), examine each year since then, by first listing the nominees and winner; then following it with my own personal Top 10 for that year – just for the hell of it.
Like me, I think you will be surprised at some of the nominees (not to mention the occasional, insane winner), especially in hindsight; but even more so by the absentees, great pictures entirely overlooked by the Academy. And it happened year after year after year. Of course, some years are better than others and some are just plain dreadful with scarcely a movie of note produced in the entire 12 months. But one cannot help but wonder how often studio politics or bribery and/or favoritism played a hand in determining which films were honored and which were not. Given the big studios' appalling record of manipulation and general skullduggery in most other aspects of the business, it is nigh on impossible to believe that, when it came to selecting titles for future immortality and immediate enhanced box-office returns for those who produced them, everything has always been above board.
You will, naturally enough, have your own favorites each year and will invariably disagree with my choices, but it should be fun to recall again those marvelous old movies we watched in our youth (or as re-runs in our dotage – or both), and compare them with those that the Academy members have deemed worthy of immortality. I expect that the Academy probably takes into account artistic and technical merit when it compiles its list each year, but does it consider 'entertainment value' to the same degree? Which takes precedence? Is popularity with the ticket-buying public taken into account at all? Probably not, I fear. And that in itself is disappointing because the movies should always be about entertaining first and art and technique last. What is the point of making a film that has perfect camera angles and the lighting is spot on – but nobody goes to see it because it is not entertaining? Should such a picture be acknowledged as an Oscar nominee?
Anyway, here is the first instalment of a series of articles I shall call 'The Best Pictures Year by Year'. You will notice that the nominees list consisted of ten titles in the early years, but was later reduced to five (in 1944).
1939    OSCAR:       GONE WITH THE WIND
Nominees:                Dark Victory
Goodbye Mr. Chips
Love Affair
Mr. Smith Goes to Washington
Ninotchka
Of Mice and Men
Stagecoach
The Wizard of Oz
Wuthering Heights
My Top 10 for 1939 – Dark print denotes 'not nominated'.
Beau Geste
Drums Along the Mohawk
Jesse James
Destry Rides Again
The Private Lives of Elizabeth & Essex
GONE WITH THE WIND*
Beau Geste
Goodbye Mr. Chips*
The Wizard of Oz*
Drums Along the Mohawk
Wuthering Heights*
Dark Victory*
Jesse James
Destry Rides Again
The Private Lives of Elizabeth and Essex
COMMENT: I am still at a loss to understand how Stagecoach or Ninotchka could possibly be nominated ahead of Beau Geste.
1940    OSCAR:       REBECCA
Nominees:                All This and Heaven Too
Foreign Correspondent
The Grapes of Wrath
The Great Dictator
Kitty Foyle
The Letter
The Long Voyage Home
Our Town
The Philadelphia Story
My Top 10 for 1940 – Dark print denotes 'not nominated.
Pride and Prejudice
The Mortal Storm
Waterloo Bridge
The Ghost Breakers
PRIDE AND PREJUDICE
The Mortal Storm
The Grapes of Wrath
The Philadelphia Story
Rebecca
The Great Dictator
The Letter
Foreign Correspondent
Waterloo Bridge
The Ghost Breakers
COMMENT: Again, I am at a loss to comprehend why the beautifully played Pride and Prejudice could not find its way into the ten nominations. The equally excellent The Mortal Storm also missed out, probably because it was anti-Nazi and the German market was huge prior to WW2.
1941    OSCAR:       HOW GREEN WAS MY VALLEY
Nominees:                Blossoms in the Dust
Citizen Kane
Here Cones Mr. Jordan
Hold Back the Dawn
The Little Foxes
The Maltese Falcon
One Foot in Heaven
Sergeant York
Suspicion
My Top 10 for 1941 – Dark print denotes 'not nominated'.
The Strawberry Blonde
High Sierra
They Died with Their Boots On
Sullivan's Travels
THE STRAWBERRY BLONDE
The Maltese Falcon
How Green was My Valley
Suspicion
Here Comes Mr. Jordan
Citizen Kane
Sergeant York
High Sierra
They Died with their Boots On
Sullivan's Travels
COMMENT: 1941 was a very ordinary year. Not much depth at all. Citizen Kane was never going to win given all the furor over it. The truth is (in my opinion) it was pretty much an over-rated non-event anyway. Jimmy Cagney's delightful The Strawberry Blonde was nominated just once (for its music) and even lost that. I watch it often (even today), whereas I have seen both Citizen Kane and Sergeant York just twice. And they are as dull as dishwater. How Green was My Valley was OK, but only OK.
1942    OSCAR:       MRS. MINIVER
Nominees:                49th Parallel
King's Row
The Magnificent Ambersons
The Pied Piper
The Pride of the Yankees
Random Harvest
The Talk of the Town
Wake Island
Yankee Doodle Dandy
My Top 10 for 1942 – Dark print denotes 'not nominated.
Gentleman Jim
For Me and My Gal
This Gun For Hire
The Man Who Came to Dinner
Road to Morocco
MRS. MINIVER
Gentleman Jim
Yankee Doodle Dandy
For Me and My Gal
This Gun For Hire
The Man Who Came to Dinner
Random Harvest
King's Row
The Pride of the Yankees
Road to Morocco
COMMENT: Despite a multitude of plot and logic flaws, Mrs. Miniver has the services of Greer Garson and Teresa Wright when both were at their peak; enough to make it the Best Picture of 1942, although the competition was nothing like other years.
1943    OSCAR:       CASABLANCA
Nominees:                For Whom the Bell Tolls
Heaven Can Wait
The Human Comedy
In Which We Serve
Madame Curie
The More the Merrier
The Ox-Bow Incident
The Song of Bernadette
Watch on the Rhine
My Top 10 for 1943 – Dark print denotes 'not nominated.
Jane Eyre
Lassie Come Home
CASABLANCA
The Ox-Bow Incident
Shadow of a Doubt
Madame Curie
Bataan
Destination Tokyo
Five Graves to Cairo
Jane Eyre
Heaven Can Wait
Lassie Come Home
COMMENT: My all-time favorite movie is Casablanca and it won that year, so all's right with the world. Bogart won for Best Actor too, and rightly so, but Ingrid Bergman was not even nominated for this film. Instead, she was gonged for the utterly boring so-called epic For Whom the Bell Tolls – and lost – also rightly so. It was a complete miscarriage of justice that Hitchcock's Shadow of a Doubt was also left out of the nominations.
1944    OSCAR:       GOING MY WAY
Nominees:                Double Indemnity
Gaslight
Since You Went Away
Wilson
My Top 10 for 1944 – Dark print denotes 'not nominated
Laura
To Have and Have Not
Meet Me in St. Louis
National Velvet
Cover Girl
Lifeboat
The Canterville Ghost
DOUBLE INDEMNITY
Since You Went Away
Laura
To Have and Have Not
Going My Way
Meet Me in St. Louis
National Velvet
Cover Girl
Lifeboat
The Canterville Ghost
COMMENT: There were THREE fabulous movies produced in 1944 and the Oscar-winner Going My Way was not one of them. Billy Wilder's brilliant Double Indemnity was infinitely superior in every way to the lightweight winner which also took out the Best Director gong. Since You Went Away and Laura were almost as good as Wilder's picture, yet the latter did not even get nominated. This was the year that the nominees list was halved from ten to five.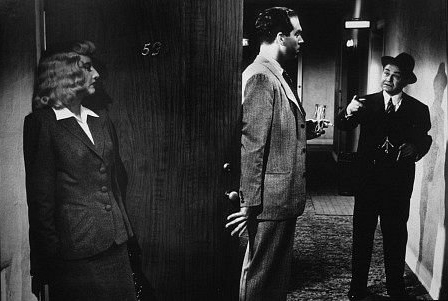 Double Indemnity
Since You Went Away
Double Indemnity's cast were robbed also. Barbara Stanwyck lost Best Actress to Ingrid Bergman for Gaslight, while both Fred MacMurray and Edward G. Robinson were not even nominated in the Best Actor and Best Supporting Actor categories. Bing Crosby, believe it or not, won the statuette for portraying a Catholic priest in Going My Way. Barry Fitzgerald was nominated in both categories for the same role and won the Supporting Oscar. A lot of Catholic members must have voted that year. Dana Andrews was not nominated for Laura; Clifton Webb was, but Fitzgerald knocked him off.