Kirk Douglas was born Issur Demsky in New York City to Jewish-Russian parents on 9 December 1916. Like Olivia de Havilland (in July) he will turn 100 in 2016. Back in 1958 his good friend Mike Todd asked him to fly to New York with him to celebrate Mike's film Around the World in 80 Days, but Kirk's wife Anne had forebodings about the flight and talked him out of going. The plane crashed and all aboard, including Todd, perished. Thirty three years later Douglas himself was in a helicopter crash that killed the other two occupants. He suffered severe back injuries but lived. In 1996 he had a stroke and survived that as well.
the ill-fated plane Douglas was almost 
aboard in 1958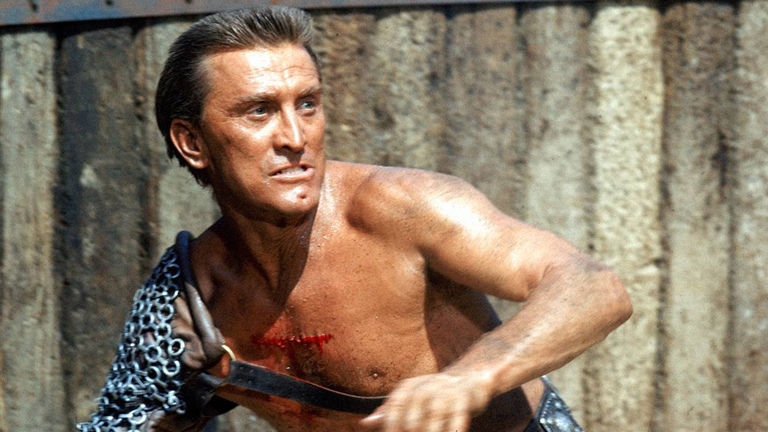 as Spartacus 1960
In 1960 Douglas hired black-listed writer Dalton Trumbo to pen the screenplay for Spartacus. Some historians have gone so far as to accredit him with single-handedly ridding Hollywood of the blacklisting stigma that had dogged the industry since the early fifties. But that was not so. He hired Trumbo because he was a fine writer who was available to work at any price. He was a bargain and Kirk knew it. Douglas also knew a good script when he saw one. In 1963 he purchased the rights to One Flew over the Cuckoo's Nest with the intention of producing and starring in the film. By the time that came to fruition, however, he was too old for the part. His son Michael took over, signed Jack Nicholson for the lead, and the rest is history.
Mike Douglas & Nicholson
One Flew Over the Cuckoo's Nest
Kirk never did win an acting Oscar. He was nominated three times – for Champion (1949), The Bad and the Beautiful (1952) and Lust for Life (1956) – but missed out each time. He should have been nominated thrice more – for the brilliant Paths of Glory (1957), Spartacus (1960) and Lonely are the Brave (1962) – but it was not to be. In 1996 he received an Honorary Academy Award. Not as good as the real thing but it was recognition for 50 years in the business.
Jean Spangler
16 year-old Natalie 1954
There have been sinister rumors bouncing around Hollywood for over half a century involving Douglas in his younger days. One of them connects him with the (possible) killing of a young bit player named Jean Spangler who went missing in October 1949. The other concerns the alleged multiple rape of 16 year-old Natalie Wood in 1954. As he approaches his 100th birthday there are said to be a number of people preparing to furnish details about both accusations the moment he shuffles off this mortal coil. These same people claim that his donations to several charities in his later years have all been part of a belated attempt to assuage his guilt over his sordid past. Be that as it may, the man must be given the benefit of some rather huge doubts, at least until someone comes up with proof about either charge. At this late date that, I imagine, will be nigh on impossible, but the rumors persist nevertheless. Natalie's outspoken sister Lana has already stated that she was written a letter naming 'the creep' who raped her sister, and it will be published after her death.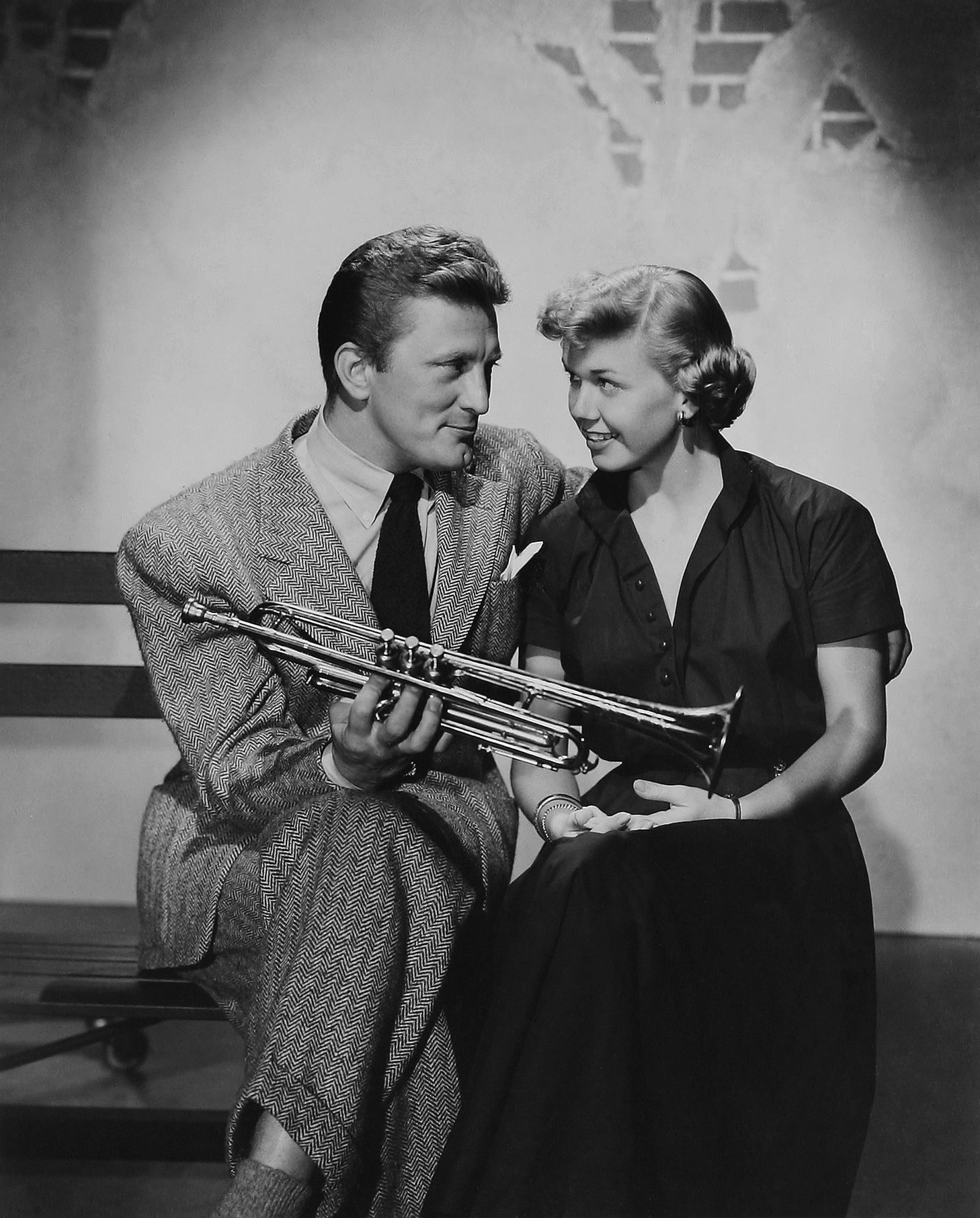 Kirk in Young Man with a Horn
with Doris Day
The rape story was given an injection of interest about four years ago when a blogger calling himself 'Himmmm' posted a detailed account of Kirk Douglas allegedly repeatedly raping 16 year-old Natalie Wood in a hotel room after she came to see him in search of a role in one of his films. The general understanding among Hollywood insiders at the time regarding Natalie was unflattering to say the least. In short, it was believed she would do just about anything for a role. According to 'Himmmm', Douglas took things one step further and assaulted her several times without waiting to be asked.
Robert Downey Jr.
Is he the blogger known as Himmmm?
The blogger (on a site called 'Crazy Days and Nights') later cryptically revealed himself as none other than actor Robert Downey Junior! In the blog he even offered up Natalie's daughter, Natasha's, unlisted phone number as verification, for what that is worth. RDJ has since denied that he is 'Himmmm', so we are no wiser really. But that is the story. RDJ played opposite Heather Graham and Natasha Gregson Wagner, the daughter of Natalie and British producer Richard Gregson, in a 1997 film titled Two Girls and a Guy, just as Himmmm said he did. But what does that prove? He became friendly with Natasha who, according to the blogger, confided in him details of the alleged rapes. The studio knew all about the 'incident', she said, but did nothing because Douglas was a big star, a money-making machine. As for Natalie, it would seem she placed her career first and did not go public for fear of damaging her chances with the studio.
Natasha Wagner and RDJ,
Heather Graham at right
Lana Wood today
Five years earlier, in 1949, actress Jean Spangler disappeared and Douglas has been linked to that tragedy as well.  On October 7, 1949 Jean kissed her 5-year-old daughter goodbye and, as far as the police are concerned, disappeared forever. The next day an employee at Griffith Park, Los Angeles reported finding her purse near the Fern Dell entrance to the enclosure. Inside the purse, written in Jean's hand, was a note that read: "Kirk – Can't wait any longer. Going to see Dr. Scott. It will work out best this way while mother is away." The 27-year-old B actress was reportedly three months pregnant and intended having an illegal abortion. Later, after exhaustive police enquiries, a young medical student named Dr. Scott, who reputedly performed several abortions for the Hollywood set, was mentioned here and there, but never found to interrogate. But the question on everyone's lips was – who was Kirk?
Robert Cummings
Actor Robert Cummings told police that Jean had been working on a film recently and had told him that her new romance 'wasn't serious, but she was having the time of her life'. Jean's mother said the only Kirk her daughter ever talked about was the actor, Kirk Douglas, on the set of her latest film Young Man with a Horn. Then something odd occurred. Douglas rang the police, from Palm Springs where he was vacationing, and advised them that he was not the Kirk mentioned in the note – before they had actually connected him to the case! When asked about the missing girl, he claimed he did not remember her. 'I told Detective Chief Thad Brown that I didn't remember the girl or the name until a friend recalled it was she who worked as an extra in a scene with me in my picture Young Man with a Horn'. Then I recalled that she was a tall girl in a green dress and that I talked and kidded with her a bit on the set, as I have done with many other people on a day of shooting. But I never saw her before or after that and I have never been out with her.' Given his known eye for beautiful women and given that Jean Spangler was quite a stunner, should we readily accept his statement? Why didn't the police ask cast and crew from the picture if any of them had seen any 'connection' between Douglas and Spangler over the duration of the shoot?
Police soon learned that Jean had been seen around with Davy Ogul, an associate of Mickey Cohen in Palm Springs, California. He was under indictment for conspiracy and had disappeared two days after she did, leading them to investigate the possibility that he had left to avoid prosecution and taken Jean with him. Her family, however, would not believe she would willingly abandon her daughter. So, we are left with at least three possible scenarios: First, could Dr. Scott have botched an illegal abortion that proved fatal, then disposed of the body? There is no evidence of this, but it exists as a possibility. Second, was Douglas a part of this scenario and had the studio helped him to avoid discovery because of his fame and the amount of money he generated through his pictures? Or three, did Jean's ex-husband, Dexter Benner, move to regain custody of his daughter Christine by eliminating the girl's mother? I offer this third alternative because he had already threatened Jean in the past, and because his current wife at the time, the former Lynn Lasky, was once married to Ely Lasky, a close colleague of Mickey Cohen. Could Lynn have provided her husband with an alibi and used her connection to Cohen to eliminate Jean as an obstacle to her husband regaining his daughter?
Dexter Benner
Mike Douglas and his father
As I stated earlier, there are a number of interested parties who say they are waiting until Douglas dies before revealing what they know about both issues. That would suggest to me that, whatever they have to say cannot be backed up by any tangible evidence, otherwise they would be laying official accusations at the actor's doorstep while he still lives. We can only wait and see, but I for one will be very surprised if these horrendous accusations become anything more than what they have been for over 60 years – unsubstantiated rumors.