Jennifer Connelly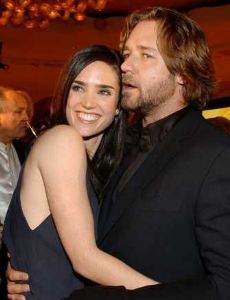 with Russell Crowe
with Josh Charles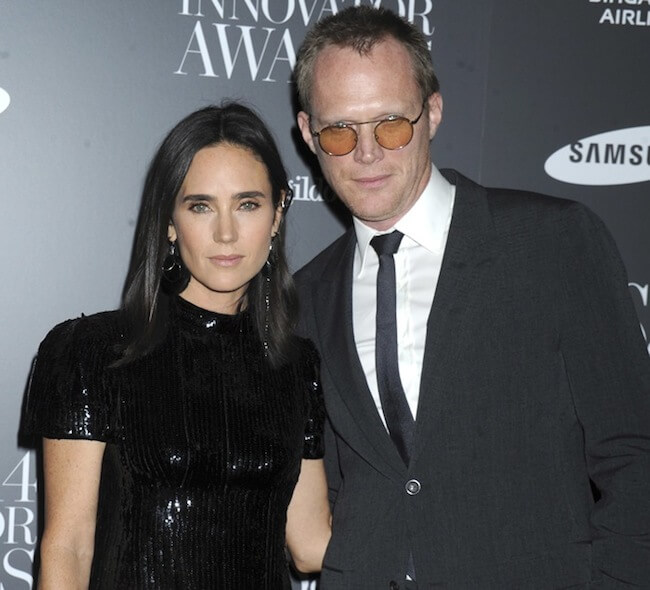 Jennifer and husband Paul Bettany
Reporters said Russell Crowe went after his co-star Jennifer Connelly on the set of this picture, much as he did when he would pursue Meg Ryan on the set of Proof of Life in 2000. He bought Ms. Connelly a car and diamond ear-rings which she wore to various awards shows. The couple were seen kissing and cuddling and sharing cigarettes at the Critic's Choice Awards for A Beautiful Mind. At the time Jennifer was still with her boyfriend Josh Charles and allegedly would not leave him for Russell, so the Australian moved on to ultimately marry his old flame Danielle Spencer. Ironically, Jennifer was later ditched by Charles and went on to marry another member of the A Beautiful Mind cast, Paul Bettany.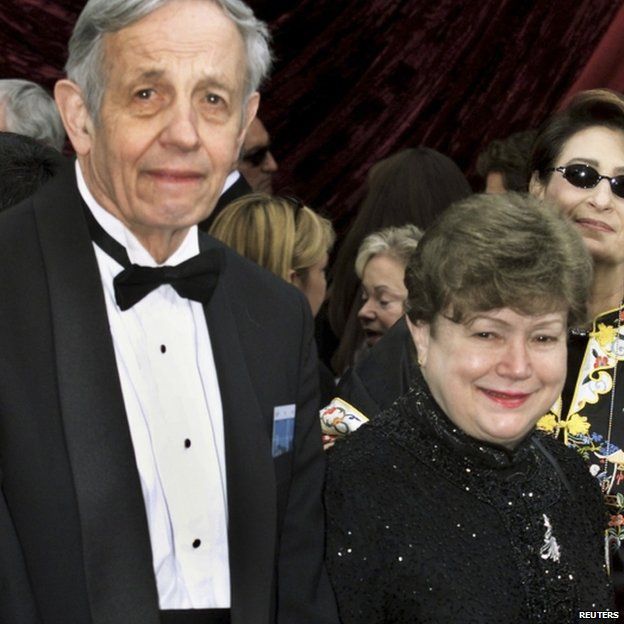 John & Alicia Nash
On a more tragic note, John and Alicia Nash, the leading characters in the picture were killed in an auto accident on 23 May 2015. The aged couple were passengers in a taxi travelling on the New Jersey Turnpike when the driver lost control and collided with a guard rail and another vehicle. The drivers of both cars suffered only minor injuries but 86 year-old John and 82 year-old Alicia were 'ejected from the cab and pronounced dead at the scene.'
 Winona Ryder
Winona Ryder is a natural blonde. Her hair was dyed black for the movie Lucas in 1986 and has remained so ever since. She has an interesting grounding in both sides of the religion issue. Her mother is a Buddhist and her father a confirmed atheist.
on her way to the hearing
There is no doubt that Winona shoplifted thousands of dollars' worth of clothes from Saks Fifth Avenue department store in Beverly Hills in 2001, but her prosecution by LA District Attorney Stephen Cooley reeked of overkill as he seemingly pursued his own agenda. Setting up a team of eight prosecutors he filed four felony charges and insisted on the trial being televised.
D.A. Steve Cooley
It seems certain that Winona would have embraced a chance to plead 'no-contest' on misdemeanour charges had she been afforded the opportunity, but the prosecutor made sure she was not. Prior to her prosecution, over 5,000 other defendants on similar charges had been given that option. At the conclusion of her very public trial she was found guilty of grand theft and vandalism, but cleared of the third charge of burglary. She received three years' probation, ordered to complete 480 hours of community service and was fined varying amounts. In 2004 the felonies were reduced to misdemeanours.
Mae West at her peak
Actress Sylvia Sidney had little time for Mae West. 'Mae West had a screw loose, and she also had a great publicist – herself!' she said. 'She always claimed she discovered Cary Grant, that he'd never appeared on the screen before she picked him, or that he'd done only nothing little parts in nothing little pictures. Her stories, like her wigs, varied. Here's the documented truth: Before Miss West got her turn with him, Cary co-starred with me – in Madame Butterfly – and with ladies like Marlene Dietrich and Tallulah Bankhead, and none of us is exactly chopped liver!'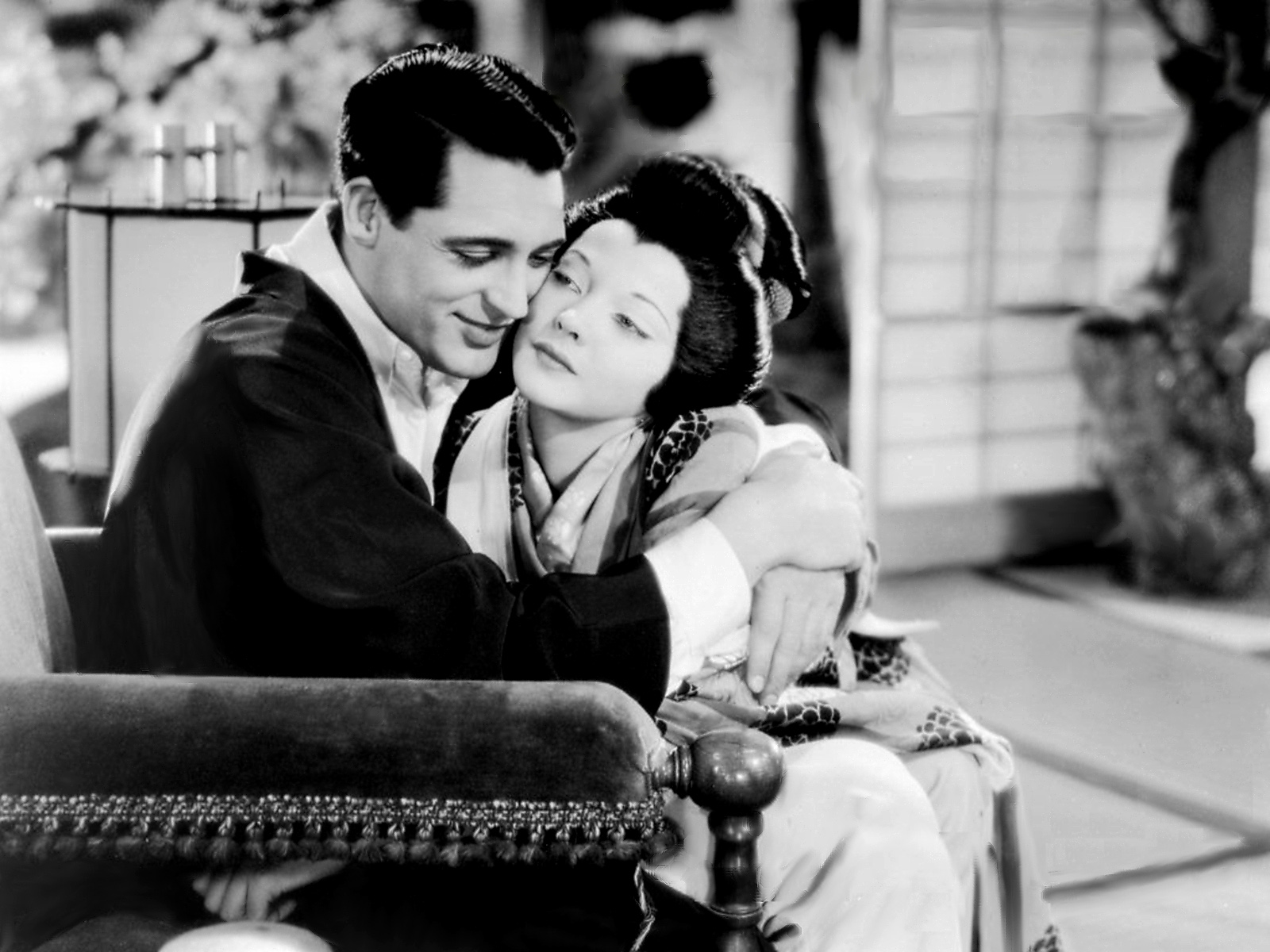 Cary & Sylvia in Madame Butterfly
George Raft was equally blunt about West. 'She generally hated all women except her mother…and she only thought men were good for one thing, and I don't mean drawing up contracts! Mae hated all her rival actresses, except Marilyn, and even then she didn't like her till she died…She used to call Dietrich 'the kraut cunt'. Eerily, Mae died on 22 November, 1980 and George shuffled off two days later on the 24th. Both bodies ended up in the same mortuary at the Forest Lawn-Hollywood Hills Cemetery; a last, posthumous reunion, albeit a brief one. Mae's body was then sent off to be interred in a cemetery in New York. George's remained in Los Angeles.
Mae & George
Rudy Vallee, who inexplicably had just about every unattached woman in Hollywood, speculated about Mae's long dresses. 'They said her long skirts covered a multitude of shins', he joked. 'Some people wondered if she had fat legs or scars, or even a wooden leg like Sarah Bernhardt did! Or if it was true that she was really a female impersonator and hid her legs to keep her secret'.
Rudy Vallee
The very gay Cecil Beaton made a comment about her that can be taken any number of ways. He said: 'Let me tell you something that Mae West said. She was asked about the men she was seen with in public. And she replied, 'It's not the men you see me with, it's the men you don't see me with…' Beaton then added, mysteriously: 'That is true of everybody in public life, especially the sexually uncommon…' There is probably a message in there somewhere, but I don't know what it is.
Mae in Myra Breckinridge (1970)
Surprisingly, Mae only made a dozen movies in her life and only ten of these were completed while she was at her peak in the thirties and early forties. A shrewd businesswoman, she parlayed a very modest career into a legend and a fortune. 'Hollywood has had only three geniuses', she was quoted as saying, 'Charlie Chaplin, and I'm the other two. I only love two kinds of men', she quipped, 'domestic and foreign'.
 E.T. – The Extra-terrestrial
Melissa and Harrison with her WGA
Award for the E.T. screenplay.
Harrison Ford's future second wife, the late screen-writer Melissa Mathison, was offered the role of Elliott's schoolteacher in the picture. Ford himself agreed to a small cameo as the school principal. Melissa wrote the screenplay and would ultimately be rewarded for it with an Oscar nomination, but she was no actress and she knew it. Her beautiful long hands, the same hands that artist Carlo Rambaldi used as the models for ET's hands, trembled violently in every take. Her crippling camera shyness was only worsened by being in the scenes with her famous boyfriend. In the end it was mutually decided (at her insistence) to leave her scenes on the cutting-room floor. Harrison's contribution to the picture landed there as well. He did not hold ET in the same awe as Spielberg and everyone else anyway, referring to their Alien hero as 'that ugly little fuck'. Spielberg, by all accounts, was deeply offended by his opinion.
Spielberg, Mathison & Ford in happier times
There was to be more aggravation over E.T. between the two men when Melissa sued MCA/Universal over the enormous merchandising business that had spun-off the success of the movie. She argued that the well-known features of the little alien were her creation and in March 1989 the Writer's Guild of America arbitrated and ruled in her favour. There were 43 companies producing over 500 E.T, items ranging from dolls to lunch-boxes. Suddenly, Melissa became entitled to between four and five percent of any merchandising bearing the little guy's likeness. And those entitlements had to be backdated. It was a mammoth windfall. One newspaperman wrote about Mr. and Mrs. Harrison Ford: 'If they ever get divorced, this could mean he gets a bigger alimony check than she does.'