Greer Garson
Mr & Mrs Richard Ney 1943
Teresa Wrioght & Richard Ney
in Mrs Miniver (1942)
The first of Greer Garson's three marriages did not last past the honeymoon in Austria in 1933. Her possessive husband virtually held her hostage the whole time. On their return to England she moved in with her mother. Her husband then went off to India and they divorced seven years later. Husband number two, actor Richard Ney, was eleven years her junior and actually played her sappy son in Mrs Miniver. They divorced after six years.
Greer and Walter Pidgeon in Mrs Miniver
L B Mayer and Greer at Oscars time
For a number of years the haughty Miss Garson reigned as Queen of the MGM lot. She became the personal favourite of L B Mayer who strained every sinew to get to know her better. Writers differ on how successful he was. One thing most agree on, however, was the undisputed air of superiority she exuded to just about everyone. Reporters, it was said, were never simply given interviews; they were granted audiences by Her Royal Highness Princess Greer. Her predecessor as 'Queen of the Lot', Joan Crawford, despised her from day one for obvious reasons. Later, when Mayer imported another British redhead, Deborah Kerr, and gave her several roles formerly earmarked for Garson, the shoe was suddenly transferred to the other foot. Garson left MGM in 1954 when her 'used by' date expired.
Linda Darnell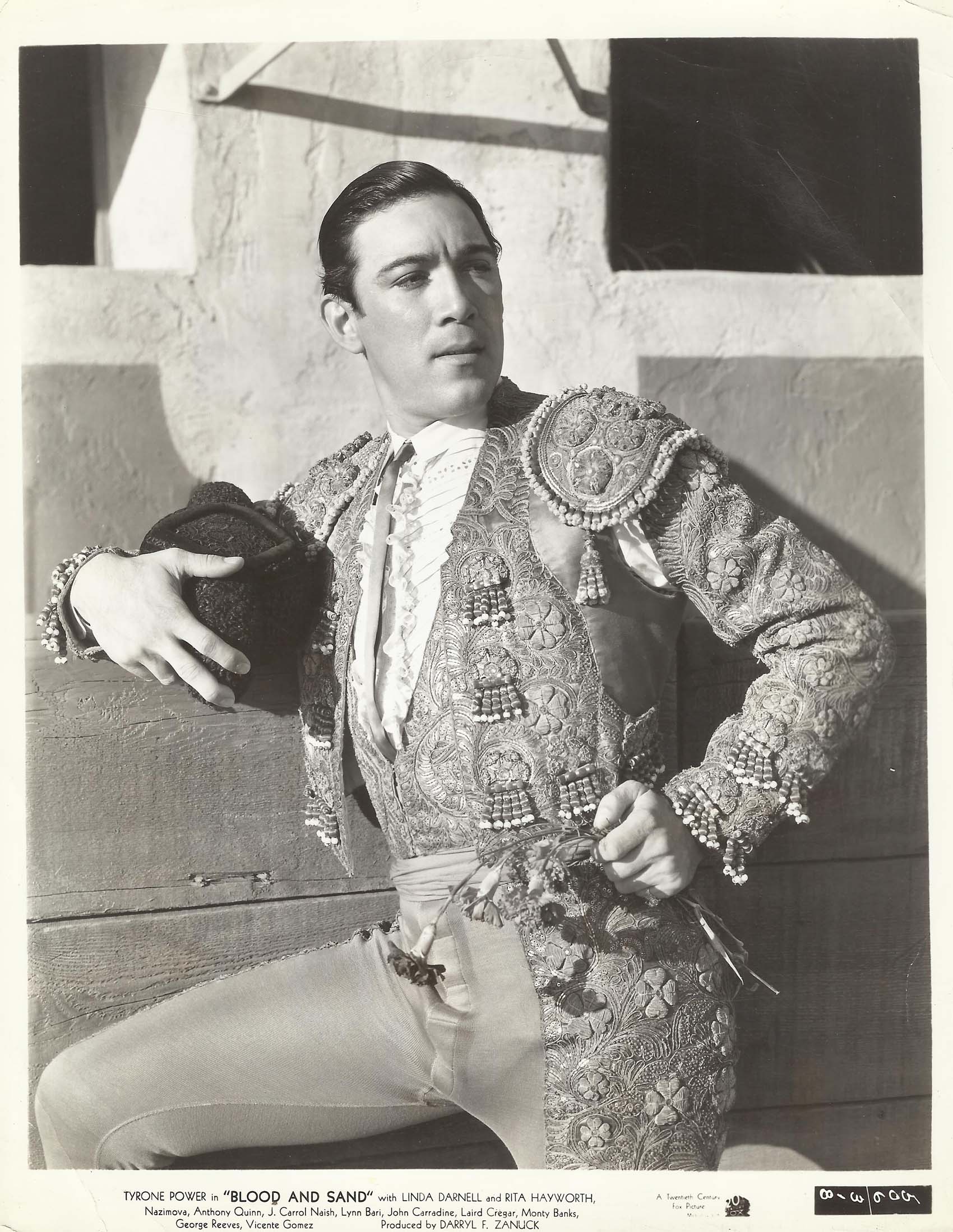 Anthony Quinn in Blood and Sand
For some reason Anthony Quinn did not take advantage of Blood and Sand's Linda Darnell. If Linda fancied a man she usually hurled herself at him, so she invited the Mexican star on a picnic and did just that. Quinn wrote of her writhing about on the grass opening her legs and touching herself in front of him. When he refused her invitation she angrily demanded to be taken home.
Darryl F Zanuck
Linda was a regular afternoon diversion for 20th Century Fox head Darryl F. Zanuck. One of his directors was particularly scathing of her, saying she was such a target for Zanuck and other executives that he thought she didn't even know who was on top of her most of the time. LB Mayer, Eddie Mannix, even the happily married Howard Strickling, all had her when the whim took them.
Clint as Harry Callahan
Clint with his 'beloved' cigar
Don't be fooled by the cheroot Clint Eastwood has hanging out of his mouth throughout each of his spaghetti westerns. He has always been a non-smoker and often quipped that, if he needed to get mean for the cameras, a few quick drags on his cheroot usually did the trick. He hated the things.
Clint and wife of 31 years, Maggie
Eastwood's long-time partner Frances Fisher plays Strawberry Alice in Unforgiven (1992). Fans of the 1997 version of Titanic will recognize her as Rose's mother Ruth. Eastwood has fathered nine children by six different women in his life. He has been married only twice. He has one child with actress Roxanne Tunis, two with his ex-wife Maggie Johnson, two with airline hostess Jacelyn Reeves, one with the then 18 year-old Rosina Mary Glen, one with his new wife Dina Ruiz, and one with Miss Fisher.
with Sondra Locke
In December 1953 he married college student Maggie Johnson and the couple moved to LA. Soon after that he was screen tested and signed to a Universal contract at $75 a week. Eighteen months went by before Universal fired him and the similarly struggling Burt Reynolds on the same day. Clint was informed that his Adam's apple stuck out too far. Burt was simply told he had no talent. 'You know, I can learn to act', he joked to Clint as they walked through the studio gates. 'But you're going to have a hell of a time getting that Adam's apple out of your throat'.
Frances Fisher
Eastwood preferred blondes of slight or small stature, women he referred to as 'squirts', 'shrimps' or 'spinners'. He also liked unknown beauties he would be unlikely to accidentally bump into later. Sondra Locke was slight and blonde but scarcely an overnight fling. Throughout their long 14-year relationship the married Clint accepted that the equally married Sondra would sleep over at her husband's residence from time to time. In fact, it was not uncommon for the trio to go out on dates together.
with second wife Dina Ruiz
Maggie knew of Locke and his countless other conquests. After putting up with his adulteries for decades she suddenly filed for divorce, some say because she at last realised that Miss Locke was not about to go away. Actually, she was. In the end Eastwood tired of her and moved on.
Maggie and Henry Wynberg
Wynberg and Liz Taylor
Later, Maggie surprised everyone by marrying America's most famous used car salesman, a low-life named Henry Wynberg. He hit the headlines in 1974 when he moved in with Elizabeth Taylor for 14 months. After Liz, he again made the news when he was convicted of statutory rape of a 16 year-old girl in 1977. He also admitted giving drugs to four high school girls in exchange for sex and was extremely fortunate to receive just a 90-day jail sentence. In spite of his appalling record he managed to entice Maggie and her $28 million divorce settlement down the aisle in 1985. They divorced in 1991. In 1990, true to form, he sold private pictures he had taken of Liz to European magazines. He was also charged with taking pictures 'of a sexual nature' of some more high school girls.
Lara Flynn Boyle
Ultra-thin Lara Flynn Boyle met Jack Nicholson in 1999 when she was twenty-nine and he sixty-two. They enjoyed an on-again, off-again relationship for a few years. According to inside sources she was in it 'for the parties and the notoriety that came with being seen with Jack at Lakers games'. Even so, when Jack's Mercedes collided with another vehicle in 1999, she fled the scene because she was in a relationship with Saturday Night Live comedian/writer David Spade at the time and did not want it publicly known that she was seeing old Jack.  Named for Julie Christie's character in Dr Zhivago, she claims her slender build was due to suffering from cysts on her ovaries when she was thirteen. Her hair turned prematurely grey at seventeen.
David Spade           Lara                            Jack
the famous pink tutu
In 2000 she made the top of the Worst Dressed List when she accompanied Jack to the Golden Globes dressed in a pink tutu! She fobbed off accusations of having destroyed Harrison Ford's marriage, denying any intimacy with him and imperiously adding: 'There are not too many stars I'd want to fuck'. Evidently, she thought the world really needed to know that. Shots of her and Ford canoodling appeared everywhere, however. In January 2005 she became extremely intoxicated aboard a British Airways passenger liner en route to London, stripped off her clothes and endeavoured to climb into a male passenger's bed. Later in the flight she flashed her breasts at airline staff as she headed towards the toilet. Movie fans probably remember her best as Serleena in Men in Black II in 2002.
Serleena in Men in Black II