Harrison Ford was born in Illinois about eight months after Pearl Harbor in 1942, yet this man who would feature in no fewer than seven of the most successful movies  of all time (up until 1994), did not really make a splash until 1977. In 1994, in Las Vegas, he was rightly honored as 'Box-Office Star of the Century' in front of hundreds of his contemporaries. Despite the staggering track records of the likes of Chaplin, Gable, Wayne, Monroe, Tracy, Hepburn, Brando, Crosby, Cruise et al, it was really no contest. The words 'box-office' said it all.
Harry & Mary in New York City
Harry Ford was anything but an overnight sensation. Occasionally, a star is unearthed via one dazzling performance, a chance encounter, a lucky break; but he worked hard for many years at his craft until the pieces began to fall into place. He owed a lot to his mentor William Fucik, a director at The Belfry Players who had given starts to future stars Paul Newman, Robert Stack and James Arness. He saw something in the young Ford and took him under his wing in 1964. That same year Harrison married Mary Marquardt, a girl he had known since high school. The union would last until 1979 and produce two children.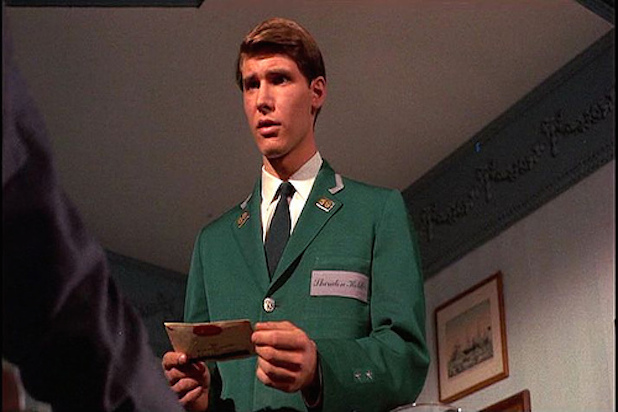 Dead Heat on a Merry-Go-Round (1966)
Ford's first film at 24
That same year saw Harrison signed to a $150 a week contract with Columbia, formerly the domain of the legendary Harry Cohn and known throughout the movie community as 'The Pine Tree Studio' (because it was 'full of Cohns'). The studio system was in its death throes and Ford detested the whole rigmarole associated with being on its bottom-most rung. In 1965 he was involved in a car accident that resulted in his now famous scar below his lower lip. It was courtesy of a bungled piece of stitching by a resident doctor.
Paul Winfield
His first movie role was in a James Coburn film called Dead Heat on a Merry Go Round in 1966, a tiny part as a hotel bell boy that gave Harrison his first (and only) line of dialogue: 'Paging Mr. Jones. Paging Mr. Jones'. His total screen time – 45 seconds. Scarcely an auspicious beginning. But he did make his first actor friend around that time, the talented, African-American Paul Winfield. 'Harrison was my only friend, the only man who took me at face value', he said years later.
Carpenter to the stars
For several years Ford struggled to make a name for himself but without success. His countless carpentering tasks on sets in theatres he worked at demonstrated a certain flair, however, and when stage and film work dried up completely he put food on the table by building furniture for people he knew in the movie business. Actress Sally Kellerman jokingly dubbed him 'carpenter to the Stars', and it wasn't all that far from the truth. He did woodwork for Francis Ford Coppola's sister Talia Shire to name but one of his clients.
The series he turned down
In 1970 he was offered the role of Mike Stivic, Archie Bunker's son-in-law in the new TV sitcom All in the Family. It was a huge opportunity to become a household name – yet he turned it down. Why? Because he could not abide the racism of the lead character and he flatly would not be a part of such a show for that reason. When offered an opportunity to make $30,000 doing commercials at around the same time – he again said 'no'. 'They won't take me seriously if I do commercials', he said. 'I have got to stay orthodox and pure and only do acting stuff.'
American Graffiti failed to launch his career
The breakthrough George Lucas hit American Graffiti in 1973 should have kick-started his career, yet it didn't, so he continued carpentering. A stint on Gunsmoke brought in a little money, but a riding accident during shooting resulted in him losing all his front teeth. The story of how he was employed doing some carpentry at George Lucas's home while auditions for Star Wars were being conducted has been told many times. As virtually a last resort for the role of Han Solo he was asked to audition.
but Han Solo in Star Wars did
Most of the cast and crew were convinced that Harrison and Carrie Fisher had an affair during the making of Star Wars in 1977. Carrie was already indulging in drugs, openly smoking marijuana when she was not required on the set. Whenever Ford was missing it was odds on that he could be found in her dressing room. It was common knowledge that she was totally smitten the first time she laid eyes on him, although their romance was over by the time shooting on the first of the Star Wars franchise was concluded. Later, there were also rumors of a romance with his British co-star, Lesley Anne-Down, on the set of Hanover Street in 1979.
with Lesley Anne-Down on Hanover Street
The Indiana Jones franchise was another enormous success for Ford, although he only acquired the lead by default. Spielberg and Lucas wanted Tom Selleck to play Indiana, but he had just completed a pilot for the Magnum PI television series with Universal and CBS. However, nobody seemed too keen on it and the option committing him to the series was about to lapse when the producers learned that the two hottest director/producers in the business wanted him. Consequently, they re-ran the Magnum tapes and suddenly had a change of heart. CBS signed him to the series (which ended up being very successful), just 10 days before the option expired. Lucas and Spielberg lost their star at the last minute, Selleck's big opportunity for a stellar movie career never happened, and Harrison Ford's good fortune continued.
Tom Selleck – almost Indy                   Ford as Indiana Jones
The collapse of Ford's marriage to Mary two years or so after he hit the big time as Solo has been attributed to several things depending on who is telling the tale. Hollywood insiders say it was simply a case of him 'going Hollywood', the old story of, 'now I'm famous I'll get a new wife', but those who knew Mary were convinced that they had simply grown apart after fifteen years of marriage. It was also common knowledge that Mary could never be part of the Hollywood scene. She had no time for it. The split, by all accounts, was amicable enough.
with wife #2 Melissa Mathison
with wife #3 Calista Flockhart
We know now that Harrison had been involved with a 27 year-old screenwriter named Melissa Mathison since 1977. Once he was free, that friendship developed into love and then into marriage in 1983. Melissa has acquired her own niche in movie history by writing the screenplay for ET – The Extraterrestrial in 1982. She and Harrison stayed together until 2004, having two children along the way, until they also divorced. Sadly, cancer claimed her in 2015. In 2010, he married Calista Flockhart, the former star of the TV hit show Ally McBeal. They also have a child.