CILENTO, Diane                              CONNERY, Sean                              1962 – 73 (div.)
Australian actress Diane Cilento is all but unknown today to international audiences. If not for her marriage to the first James Bond, Sean Connery, her career might be pretty much forgotten. Even her Oscar nomination for Best Supporting Actress in Tom Jones in 1963 was quickly overshadowed by the movie itself winning Best Picture and the emergence of Albert Finney as a leading man of consequence. Her chances of her nomination proving successful were always going to be slim at best because she was just one of three Best Supporting Actress nominations from the same film. Joyce Redman and Edith Evans were the other two. All three lost.
Joyce Redman            Diane Cilento          Edith Evans
all nominated for Tom Jones and all lost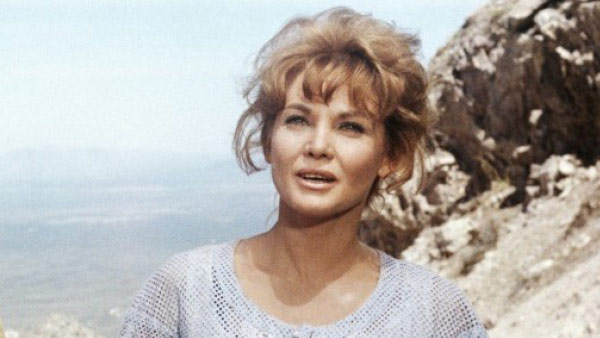 Diane in Hombre
Connery in Dr No
Jason as Robin of Sherwood
Diane possessed a deep, sexy voice that many men found extremely appealing. It also gave a world-weary air to the characters she portrayed, as seen to good effect in the Paul Newman western Hombre in 1967. Unfortunately for cinema-goers she was prepared to let her own career play second fiddle to her husband's after she wed Sean Connery in 1962. That was the year his first Bond film Dr No propelled him to super stardom. In the ensuing whirlwind Diane was left in the background. She became increasingly frustrated, she said, with his legendary meanness with money and with his army of hangers-on that seemed to be forever present. By 1973 she had had enough and sued for divorce. She and Sean are the parents of actor Jason Connery. Cancer claimed Diane in 2011 at the age of 78.
CLARK, Susan                                  KARRAS, Alex                                  1980 – 2012 (his death)
Canadian actress Susan Clark is one of those second-string stars whose faces we all know, but whose names sometimes elude us. Not someone who waits for things to happen, Susan went off to London and studied at the Royal Academy of Dramatic Arts in order to hone her skills. Then she did some TV work in Britain including a multiple role appearance on The Benny Hill Show, before setting out for Hollywood and the movies. The studio system was in its death throes when she landed a 10-year contract with Universal, one of the very last such contracts handed out. A lot of TV work followed before she scored the lead opposite Clint Eastwood in Coogan's Bluff in 1968. She played a street-wise parole officer, the kind of persona she perfected both on TV and in her movie roles. She was especially good in the James Garner classic Skin Game three years later.
with Eastwood in Coogan's Bluff
Alex as Mongo in Blazing Saddles
in Webster with Emmanuel Lewis
In 1975's Night Moves she was Gene Hackman's screen wife, but it was on the set of Babe that same year that she met Alex Karras, her future husband. Together they produced several commercially successful films. These included the huge hit Porky's in 1981. In it Susan played the hooker Cherry Forever and Alex handled the Sheriff Wallace role. Together they produced and starred in Webster, a series that featured the talents of the thoroughly precocious Emmanuel Lewis who managed to upstage them consistently for nearly seven years. Fans of Mel Brooks' Blazing Saddles will no doubt recognize Alex for his portrayal of Mongo, the mountain man who punches out a horse in the town's main street. Susan and Alex's marriage went the distance. When he passed away from kidney disease in 2012 they had been together for 32 years. Susan is now in her 76th year.
CLOONEY, Rosemary                     FERRER, Jose                                  1953 – 62 (div.)
                                                                                                                                1964 – 67 (div.)
George Clooney's real life aunt was a wonderfully talented singer who could also act. She only made a half dozen or so films, but one of them has become a perennial yuletide offering throughout the western world ever since it was made back in 1954. I refer to White Christmas, the famous Bing Crosby vehicle that saw her perform alongside him, Danny Kaye and Vera-Ellen. Her hit singles included Come on a My House, Hey There, This Ole House, Half as Much and Mambo Italiano.
Ferrer in Lawrence of Arabia
Bing, Rosemary, Danny & Vera in White Christmas
Rosemary married three times in her life; two of those marriages to actor Jose Ferrer, the other to a dancer named Dante DiPaolo whom she first met in the forties but wed around 50 years later. She and Jose had five children, one of them being actor Miguel Ferrer. Her second divorce from Jose caused her nervous breakdown in 1968. Ferrer won an Oscar in 1951 for his portrayal of the title character in Cyrano de Bergerac, but by all accounts he was a difficult man to live with. Devotees of 1962's Lawrence of Arabia will recall him playing the homosexual Governor of Deraa, a performance he later claims was his best ever. Incidentally, he only accepted the part on the conditions that he receive $25,000 and a factory made Porsche. Peter O'Toole and Omar Sharif did not get that much between them for the picture. Ferrer died in 1992, Rosemary a decade later.
COLLINS, Joan                                REED, Maxwell                                1952 – 57 (div.)
                                                                NEWLEY, Anthony                        1963 – 71 (div.)
Joan circa 1955
Maxwell Reed & Joan – wedding day
Mr & Mrs Anthony Newley
Eighty-three year old Joan Collins was born in London in 1933 and has married five times. Two of those marriages have been to actors. At the tender age of 16 she was courted by the future JR of Dallas fame Larry Hagman who was 19 at the time. Her lovers since then have been numerous, her promiscuity earning her the unflattering nickname of 'The British Open'. She became engaged to Warren Beatty and aborted his baby before they broke up. Maxwell Reed, her first husband, is vaguely remembered for playing the lead in a TV series called Captain David Grief that ran from 1957 until 1960. The 1956 costumer Helen of Troy saw him play Ajax, but all in all his acting career was a non-event. Seven months into his marriage to Joan he attempted to sell her to an Arab sheik for ten thousand pounds! Not surprisingly the unhappy couple separated permanently by Joan's 21st birthday. Reed died from cancer in 1974.
Joan and Beatty
Joan as Alexis in Dynasty
Her second husband was actor/songwriter Anthony Newley. His most popular film roles were in 1955's The Cockleshell Heroes and in Doctor Doolittle (1967), but he left quite a mark through his songwriting with Leslie Bricusse. In 1966 they wrote the show, Stop the World: I Want to Get Off , featuring the classic tune What Kind of Fool am I? His marriage to Joan did not end amicably. 'To the unwashed public, Joan Collins is a star', he told a reporter, 'But to those who know her, she's a commodity who would sell her own bowel movement.' No wonder the union failed. Newley would also succumb to cancer – at 67 in 1999. Joan, meanwhile, just keeps on trucking.