CARREY, Jim                                   HOLLY, Lauren                               1996 – 97 (div.)
Canadian-born Carrey has been a naturalized American since 2004. It comes as no surprise to learn that he has always been an incurable extrovert since he was a child. Even at junior high he was granted permission to deliver a few minutes of his stand-up routine at the end of each school day, apparently on the condition that he would refrain from doing so throughout the day. As a 10 year-old he sent his resume to The Carol Burnett Show. When he ultimately made his way to Los Angeles he impressed Rodney Dangerfield at The Comedy Store and was on his way. He married a waitress in 1987 and, eight years later, divorced her to wed actress Lauren Holly. This second union lasted all of ten months.
Carrey in The Mask
with Renee Zellweger
with Jenny McCarthy
Many comedians of the 'old school' are unimpressed by his shtick, particularly his rather gross 'speaking out of his derriere' routine. Personally, I thought he was very funny in The Mask way back in 1994 and super-annoying in everything else, but then I am definitely 'old school' myself. Nevertheless, in 1996 he became the first actor in history to crack the #20 million mark for a movie (The Cable Guy). In 2000 he looked set to marry another actress, Renee Zellweger, when he suddenly changed his mind and broke their engagement. From 2006 until 2010 he was in a relationship with actress and former Playmate of the Year Jenny McCarthy, but that also ended abruptly. Australian actress Nicole Kidman has referred to Carrey as 'her best male friend'.
Lauren & Kelsey Grammer in
Down Periscope
as Jenny Shepard in NCIS
Beautiful Lauren Holly has 88 film and TV credits on her resume and has acted alongside some of the biggest names in the business, Jim Carrey among them. They starred together in 1994's Dumb & Dumber and were married two years later. But not for long. She landed the role of Greg Kinnear's fiancé in 1995's Sabrina and was the only female member of the crew in Kelsey Grammer's comedy Down Periscope a year later. She also appeared as Jenny Shepard in 69 episodes of NCIS between 2005 and 2015.
CARROLL, Diahann                        DAMONE, Vic                                  1987 – 96 (div.)
The 1954 movie Carmen Jones saw Diahann Carroll ably support Dorothy Dandridge and Pear Bailey. Before long she was in demand for television guest spots with Steve Allen, Jack Parr, Carol Burnett, Andy Williams and others. Her excellent voice and outstanding beauty were evident to all. In the 1960s she played the title character in a popular TV series called Julia, and became engaged to Sidney Poitier for a while. The seventies saw her engaged again, this time to British TV interviewer David Frost but that, too, eventually fizzled out. In 1974 she was Oscar-nominated for her lead performance in Claudine.
at the peak of her beauty
with Sidney Poitier
with David Frost
She became the fourth wife of singer Vic Damone in 1987, whose first wife had been the ill-fated actress Pier Angeli. The union lasting almost a decade. Damone started out at Columbia, but moved to Capitol Records as a replacement for Frank Sinatra who had departed to form the Reprise label. He turned down the Johnny Fontane role in 1972's The Godfather, allegedly because he did not want to upset Frank or the Mob. Al Martino gratefully accepted the role in his place. In Vic's 2015 autobiography he admitted that he was once dangled from a New York City hotel window by a thug who threatened to kill him. Only the intervention of Mob boss Frank Costella casting a deciding vote saved his life. Damone had been engaged to a mobster's daughter but had called it off after an argument. The mobster felt his family had been insulted.
CARTER, Jim                                   STAUNTON, Imelda                        1983 –
If not for the popularity of the British TV series Downton Abbey (2010), most movie fans would be unfamiliar with the name Jim Carter. After landing a small role in Shakespeare in Love in 1998 ('I was a pirate, now I'm a nurse. That's funny'.), it would be more than a decade before his face would become familiar to the world as Carson the butler at Downton Abbey. If you were to attend a meeting of the Hampstead Cricket Club in England you would more than likely meet him. He has been its Chairman since 1910.
in Shakespeare in Love as Mr. Carson – Downton Abbey
Imelda aka Dolores Umbridge
His wife of 33 years, Imelda Staunton, is a highly accomplished actress as well as a fine singer, as she so aptly demonstrated in the 1992 film Peter's Friends. Harry Potter devotees will know her as Dolores Umbridge in Harry Potter and the Order of the Phoenix (2007).
CARUSO, David                               TICOTIN, Rachel                             1984 – 87 (div.)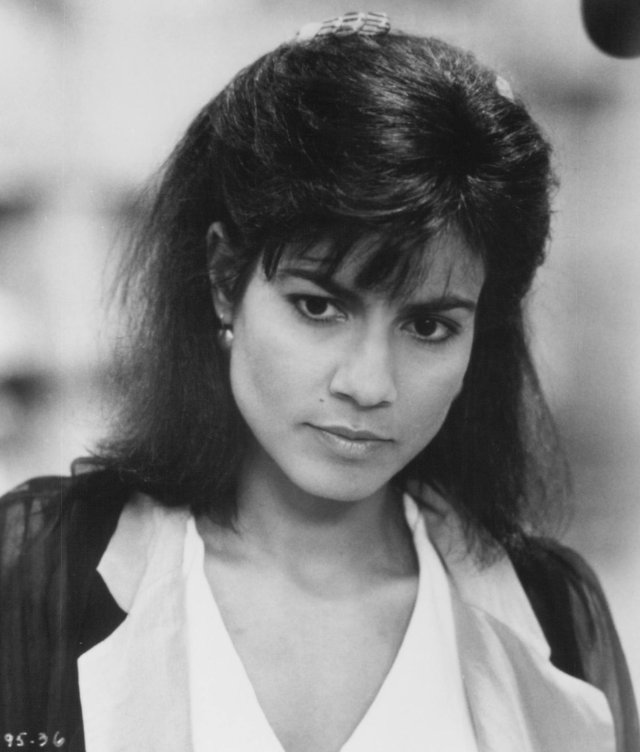 Caruso                                                         Rachel Ticotin
Red-headed, gangly David Caruso is one of those actors who fell victim to his own ego and almost shot his entire career in the foot. Not handsome enough or charismatic enough to carry a major picture himself, he nevertheless became convinced that his popularity playing Detective John Kelly in the acclaimed TV series NYPD Blue in 1993 would automatically carry over to the movies. So, just four episodes into his second season on the series he pulled the pin and went in search of fame and success on the big screen, famously saying that the series 'will not be successful when I leave.' He was quite wrong about the series and neither was fame forthcoming. Not by a long shot. It was said that he left NYPD Blue after an unsuccessful pay dispute, although he had also become extremely big-headed and difficult to work with. Perhaps, it was a combination of both. He ably supported Russell Crowe in the under-rated Proof of Life in 2000, but it was not until he landed the part of Lt. Horatio Caine in CSI: Miami in 2002 that he regained his former standing, albeit back on the small screen.
with Russell Crowe in Proof of Life
Rachel and Peter Strauss
He has strolled down the aisle three times so far, the second of which was to actress Rachel Ticotin. That was back in 1984, long before he hit the big time (either time), and they only lasted three years together. They met on the set of a pilot for the short-lived series For Love and Honor in 1983. Fans of the 1990 sci-fi blockbuster Total Recall will recall her having a rather memorable fistfight with Sharon Stone. She was a prison guard in Con Air (1997), and year later wed actor Peter Strauss.
CASSAVETES, John                        ROWLANDS, Gena                          1954 – 89 (his death)
Cassavetes as Franko in The Dirty Dozen
Gena and Jim Garner in The Notebook
The average fan of the sixties would more than likely think of Private Victor Franko in The Dirty Dozen (1967) if asked what the name of John Cassavetes conjures up, possibly unaware that he was also a director of note who was responsible for Rosemary's Baby the following year. Although married to actress Gena Rowlands for 35 years and making ten movies with her, he was the first to say they agreed on almost nothing artistically. He used his close friends Ben Gazzara and Peter Falk in five or six of his movies each and was considered to be an innovative and original director. John died from cirrhosis of the liver in 1989. Fifteen years later Gena starred alongside James Garner in The Notebook which was directed by their son Nick Cassavetes.