A couple of nights ago, around midnight, Foxtel showed the Cole Porter biopic Night and Day. I had seen bits and pieces of it over the years, but never the lot. Why? Because it is bloody awful, that's why! Nevertheless, I happen to think that Cole Porter is the best writer of popular songs in history, so I sat down to listen to a few of them again. His tunes and lyrics were as wonderful as ever – but the movie was, quite simply, a diabolical load of tripe. And that's being kind. What could possibly have possessed Warner Brothers to make a movie about his life in the first place? Great music aside, the man's life was devoid of all the ingredients necessary for a decent biopic. He was born into money; never had to struggle a day in his life. He was an ugly, gnome-like individual not unlike Rumpelstiltskin to look at – and he never ever had a girlfriend because he was as gay as twenty men! Most of his songs and shows were instant hits and his accomplishments were lauded and acknowledged all his life. If Warners were going to make a movie about him they would have to 'tizzie it up' a bit. A lot actually. So they did.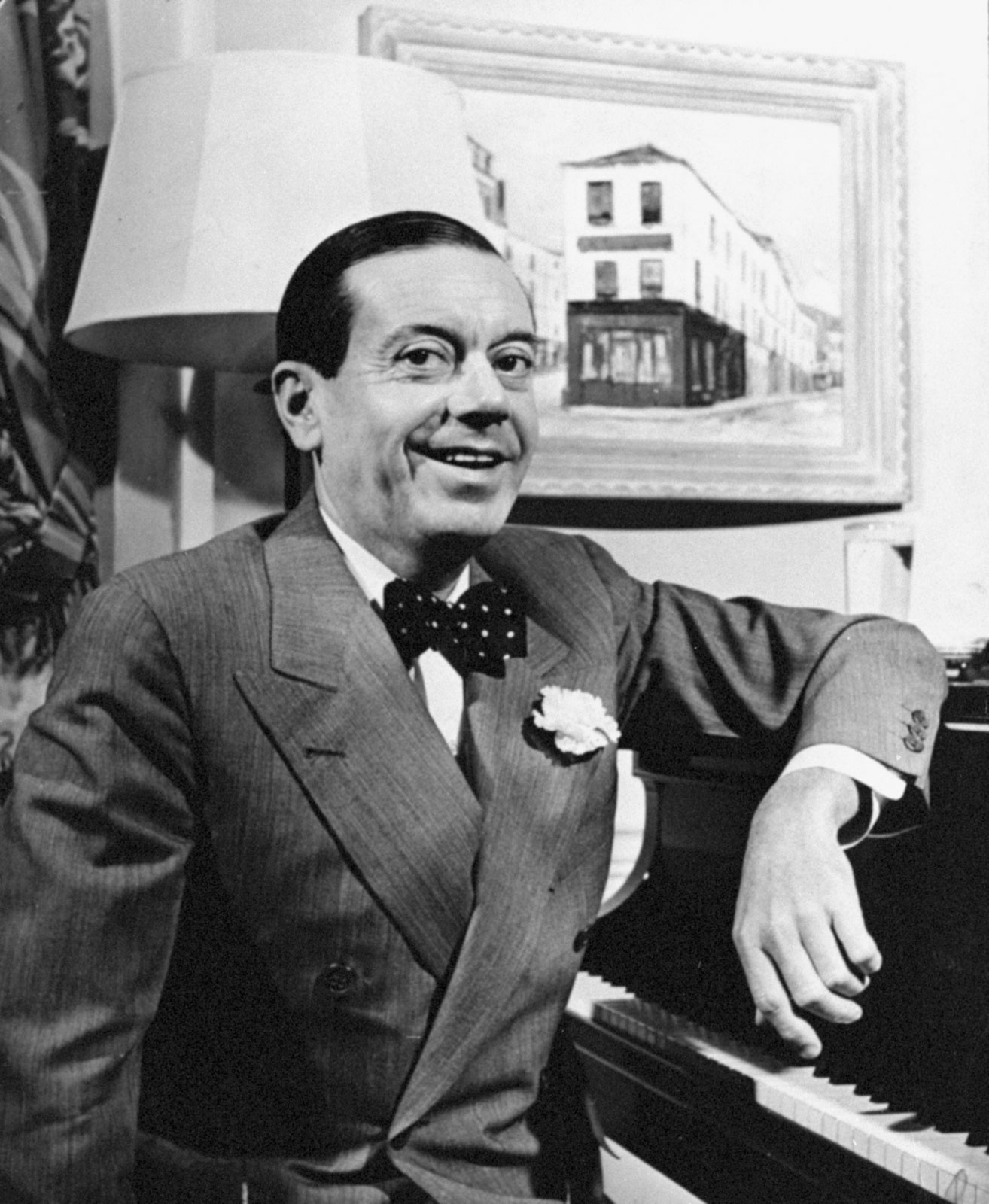 Cole Porter                           Cary Grant as Cole
The first thing Jack Warner did was to get Cary Grant to play him. Cary Grant! The number one matinee idol in the world would portray little, unattractive Cole. The Porter family was loaded (the richest family in Indiana) and the boy was indulged from an early age. His mother had him learn the violin at six, the piano at eight, and he wrote his first operetta (with Mum's help) at ten. This was far too boring for the Night and Day writers, so they had him embroiled in a family dispute with his grandfather who wanted him to study law. True, old grandfather Cole would rather he study law, but there was no feud. Cole went to Yale alright, but he majored in English, minored in music, and studied French. He also wrote over 300 songs while he was there! After graduating in 1913, 22 year-old Cole enrolled at Harvard Law School and promptly switched to the music faculty. His first song on Broadway, Esmerelda, was a hit, but his first Broadway production, See America First, opened in 1916 and closed inside two weeks. And that was where the screenwriters for his biopic started to er…bend the truth a little.
1916 His first Broadway Show
In Night and Day, they decided there had to be a reason for his first Broadway show's failure, so they came up with a doozie. On opening night, while the first tune, You Do Something to Me, was going along just fine,  almost the entire audience suddenly stand up and walk out as word begins to spread of a major catastrophe. It was 1916, you see, and they had just learned that those pesky Germans had sunk the Lusitania off the coast of Ireland, killing over a thousand neutral American citizens. Evidently, just about everyone in audience knew someone on the ship, hence the walk-out. Unfortunately, the screenwriters had overlooked (or ignored) one tiny detail history. The ship was actually sunk in May 1915 – a year earlier! Ah well, it is Hollywood, after all. Close enough is good enough for those idiots buying tickets! Equally mystifying – in the movie the show closed that night because of it. Why? It was not as if the Lusitania was going to be torpedoed every night, so why not go on with the show? And it's not as if every potential patron rushed off to enlist. It would be 1917 before America entered the war anyway. According to the movie, this one setback made Cole an instant failure and sent him broke, so there was only one thing for it. He would join the French Foreign Legion, rush off to France, and kill the Boche!
In 1917 our hero did indeed go to Paris to live but, according to his biographer Stephen Citron, there is no record anywhere of him joining the Legion or any other branch of the military. The screenwriters, of course, were having none of that. There is a thoroughly cringe-worthy scene in Night and Day where Cole is sitting around with a bunch of his African Zouave buddies after a hard day shooting Germans, watching them tapping away on their bongos! And these are big bongos. Presumably, they lugged the things around with them throughout the war. And Hollywood is nothing if not predictable. The moment someone writes a scene involving black people, out comes drums or watermelons – or both. But it's all for a good cause. As Cole sits there watching them play he whips out pen and paper, writes the words 'Begin the Beguine', and starts to compose a classic. Simple. Simple-minded more likely.
Cole (Cary) and Linda (Alexis)
find love in a French military hospital
Anyway, a shell lands amongst the group and Cole's legs are badly injured. He is carted off to a French hospital where, as luck would have it, the nurse happens to be his old girlfriend Linda (played by Alexis Smith). Love is rekindled. The writers by now have discarded fact entirely for fiction. The real Cole never had a girlfriend in his life (old or new). His love life revolved strictly around a lot of gay orgies and multiple male lovers such as actor Monty Woolley, to name but one. Having established that, it is no secret that he and Linda married each other in 1917, anyway. He was 26 and she 34 at the time. Linda wanted a husband with theatrical connections and Cole needed a wife to divert attention from his homosexuality. The couple remained good friends for the rest of their lives, but it was never a romantic situation. There were 'hiccups', of course. In 1935 they moved to Hollywood, but Linda quickly tired of her husband's homosexual peccadillos which he barely tried to hide anymore, so she moved back to Paris alone. His horse-riding accident in 1937 brought them back together again, but Night and Day's romantic theme that runs throughout the picture is just so much Hollywood hogwash.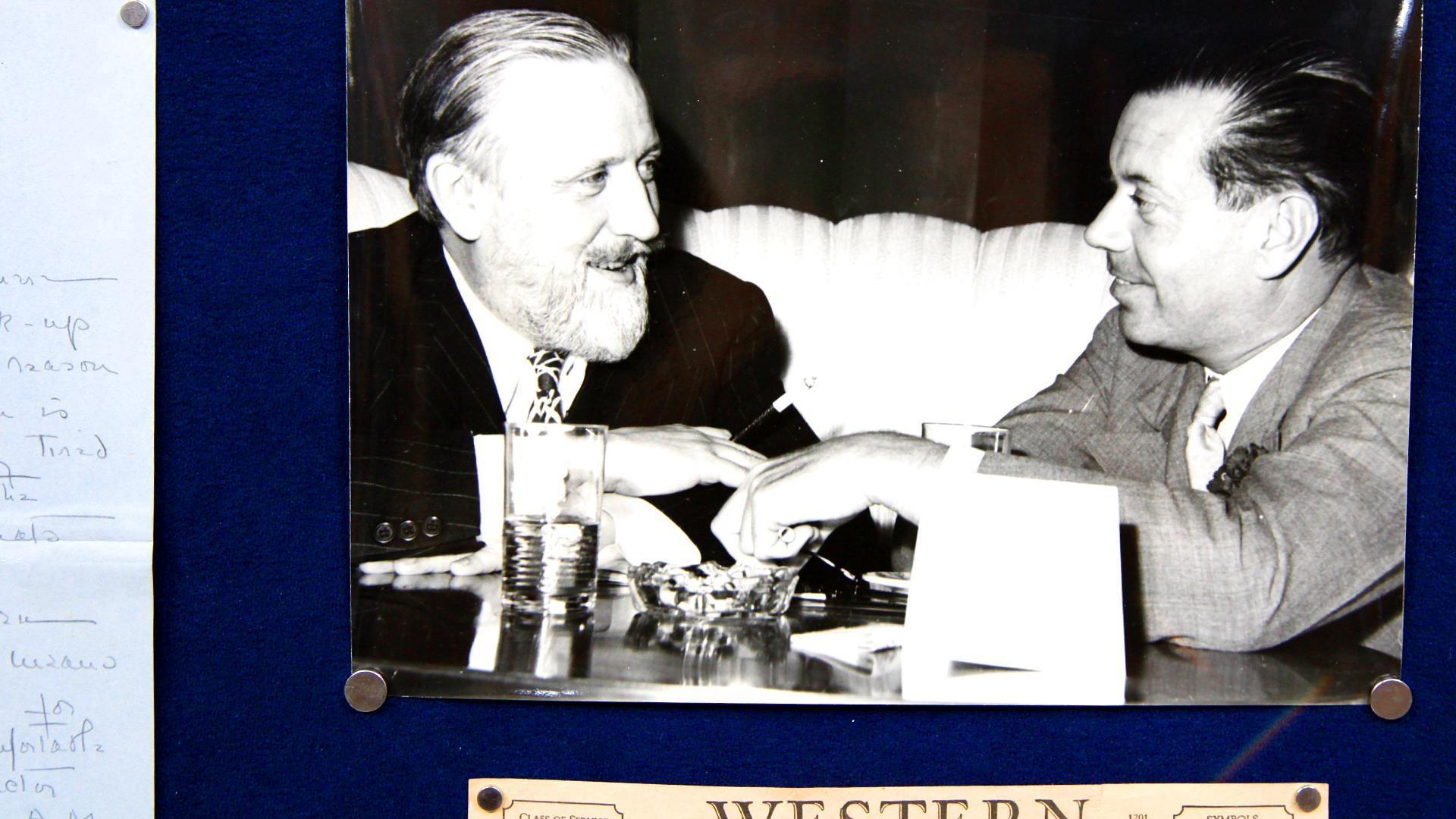 Woolley and Porter
Woolley and Grant (Jane Wyman at the rear)
When this movie was concocted Monty Woolley was 58 years old and Cole was 55. They had been best friends and occasional lovers since their college days, but just to confuse the issue, Warners chose to use the real Monty to play himself alongside Grant. So, we have Woolley playing an elderly 'professor-type' mentor and friend to Cary who is playing the young Cole at college before and during the First World War! The movie has another former girlfriend of Cole's, played by Jane Wyman, introducing her friend Mary Martin to him during rehearsals for his new production Leave it to Me! In real life Mary did hit it big with Porter's song, My Heart Belongs to Daddy, from that show, so this sequence is reasonably accurate, although Wyman's character turning down the chance to get out of the chorus line to sing her own number is a bit rich! Mary, as you probably know, was the real life mother of actor Larry Hagman, JR in TV's Dallas.
The one and only Mary Martin
There is another interesting singer in Night and Day that, I am ashamed to admit, I had never seen or heard of before I watched this movie. Her name is Ginny Simms. She was beautiful and a terrific singer who gets to perform several of Cole's hits here, including I've Got You under My Skin, You're the Top, Just One of Those Things and I Get a Kick out of You. Yet she only made 12 films. For a few years she was the featured singer with Kay Kyser's Orchestra and became romantically involved with him. Later, she decided to go solo at RKO and then at MGM. When LB Mayer divorced his first wife in 1947, Ginny was seen regularly seen on his arm (she was 34 and he 63), and by all accounts he was stuck on her. Come to think of it, she looked a lot like Ann Miller the dancer, and LB was crazy about her as well. The age difference proved too much for Ginny, however, and she turned down his proposal of marriage. LB was not the kind of guy to take 'no' for an answer. He vowed to end her career – and he did. She made just one more movie after Night and Day and was gone from the industry by 1951. Her recording career evaporated too. All was not lost, however, for her first husband was a guy named Hyatt Dehn, the man who started the Hyatt hotel chain. Ah, it's a tough world.
Ginny Simms                                            Ann Miller
Kiss Me Kate (1953) – 'From This Moment On',
my all-time favourite song.
Cole Porter wrote about 60 terrific songs – and he wrote both the music and the lyrics. If I were to name my favorite 100 songs of all time I would probably include a dozen or more of his in the list. His versatility ranged from Begin the Beguine to the country and western standard Don't Fence Me In. He won the first ever Tony Award (in 1949) for his brilliant musical Kiss Me Kate. For High Society he pumped out True Love, Well, Did you Evah and Who Wants to be a Millionaire? I could go on and name thirty more wonderful tunes. There have been many great songwriters down the years, but none compare to him, in my opinion. As for great movies – well, if I were to name my favorite 200,000 pictures, Night and Day would still miss out. It is that bad. In fact, Porter himself went to the premiere when he was very ill. On walking out he was heard to say, 'If I could survive that, I can survive anything.' My sentiments exactly.