BRUCE, Virginia                              GILBERT, John                                1932-4 (div.)
Virginia Bruce may have started out as one of the original 20 Goldwyn girls, along with Betty Grable, Paulette Goddard and Ann Sothern, but she soon showed she had talent. In all she chalked up 82 screen credits between 1929 and 1960. In 1932 she married former screen legend John Gilbert who was already in the process of drinking himself to death. The union lasted two years. Gilbert lasted just two more. This was the first of her four marriages, albeit two of them being to the same man, for she wed Turkish director/producer/writer, businessman and eventual jailbird Ali Iptar in 1946 and again in 1952. In fairness to both, Turkish law forbid men married to foreigners accepting a commission in the army, so when he began his compulsory service he and Virginia opted to divorce. They remarried sixteen months later.
Virginia at her peak
Virginia's biggest roles were probably in The Great Ziegfeld in 1936, and as Jenny Lind in 1934's The Mighty Barnum. Her promising career as an A-Grade MGM star was cut short with the death of Irving Thalberg and she suddenly found herself relegated to B-features. It would be fair to say, however, that she was not overly ambitious, nor did she promote herself the way her best friend Joan Crawford did so efficiently. 'My chief purpose in life is to fall in love', Virginia was content to say. 'I don't know why I want to, but I do.'             
BRYNNER, Yul                                GILMORE, Virginia                        1944 – 60 (div.)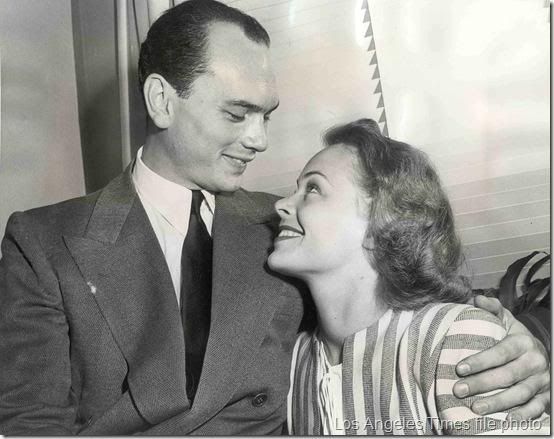 Most fans are probably unaware that Yul Brynner's first wife was quite an accomplished stage and screen actress. Virginia Gilmore played the love interest of both Randolph Scott and Robert Young in the 1941 feature Western Union. Mostly, however, she played the 'other woman' in a few A-features before being relegated to B- graders. She preferred the stage in any case. When she met Brynner he was waiting tables and singing gypsy songs in clubs. As we know, his career soon far outstripped hers, his most remembered starring roles being in The King and I (1956) and The Magnificent Seven (1960). Virginia also encountered problems with alcohol late in life, becoming a major spokesperson for Alcoholics Anonymous. Their marriage produced a son and it was a stormy one. Brynner would marry three more times in his life. Two of his wives dabbled briefly in the movies. He died on 10 October 1985, the very same day Orson Welles breathed his last.
With Robert Young in Western Union
Brynner with Deborah Kerr in The King and I
BURTON, Richard                           TAYLOR, Elizabeth                         1964 – 74 (div.)
                                                                                                                                1975 – 76 (div.)
In Cleopatra
It would be accurate to say that, of all the marriages in Hollywood history, the Burton-Taylor unions (both of them) would have to be the most well-known, for at the peak of their fame these two headliners were undoubtedly the most famous couple on Earth. They met on the set of Cleopatra in 1963. Their romance fueled the press corps' fires for years, their fights made news. They completed a number of movies together, most of them complete rubbish, although the 'experts' still wax lyrical over an overblown shouting match they churned out called Who's Afraid of Virginia Woolf? No accounting for taste I guess. In between their two marriages Richard found time to become briefly engaged to another Elizabeth; Princess Elizabeth of Yugoslavia, the mother of actress Catherine Oxenberg. In all he would marry five times. Liz would do so eight times. She seemed to have two great loves in her life. Burton was one and producer Mike Todd the other. It could be argued that Burton loved acting, booze – and himself – not necessarily in that order.
Burton and Princess Elizabeth
Mr & Mrs Mike Todd
CALHERN, Louis                             SCHAFER, Natalie                           1933-42 (div.)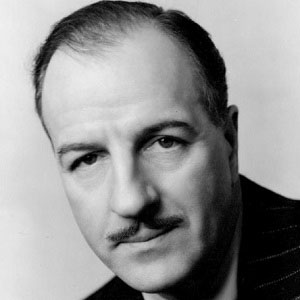 Louis Calhern                                     Natalie Scafer
Louis Calhern made movies from 1921 until 1956, the year of his death. He played the title role in 1953's Julius Caesar alongside Brando's Mark Antony. He was also Marilyn Monroe's 'sugar daddy' in The Asphalt Jungle in 1950, the picture that first brought her to the attention of the movie-going public. In that same year he was Buffalo Bill in the Betty Hutton musical Annie Get Your Gun. His final role was as Uncle Willie in Grace Kelly's High Society in 1956. He was actually in Tokyo that year making The Teahouse of the August Moon when he suffered a fatal heart attack. Louis married four women, all actresses in some small way – all but one. Natalie Schafer enjoyed a long and successful career in movies, yet is only remembered today for playing Lovey Howell in the popular TV series Gilligan's Island in the sixties. She lived to the ripe old age of 91 before falling to cancer in 1991.
Louis & MM in The Asphalt Jungle
Natalie & Jim Backus in Gilligan's Island
CANNON, Dyan                                GRANT, Cary                                   1965 – 68 (div.)
Cary Grant spotted Dyan on television in 1961 and by 1963 they were living together despite the 33 year age difference. They married in 1965, had a child, and divorced in 1968. Apart from having once been Mrs. Cary Grant, Dyan has also been thrice unsuccessfully nominated for Academy Awards. She is also probably the second most prominent Lakers fan behind Jack Nicholson.
Dyan the Lakers fan
Cary was convinced of the psychological benefits of LSD back when it was still legal, and he pressured his wife to indulge in it with him. Dyan reluctantly tried it twice and was violently ill both times. In time she came to realize that he wanted her only if she was willing to share his obsession with LSD, a price she was not prepared to pay. Did he marry her just to have a child? Possibly. One thing is certain, however. Once she refused to do any more LSD with him he instituted divorce proceedings at once. Now approaching 80, Dyan has long since found Jesus and has been holding twice-monthly Bible-study classes on the CBS studio lot. Cary, of course, went to that great high in the sky in 1986.
CARIDES, Gia                                  LAPAGLIA, Anthony                      1998 – 2016 (div,)
Gia Carides is an Australian-born actress who has made as many movies in America as she has in her homeland. Among her credits are the John Travolta film Primary Colors (1998), Brilliant Lies (1996) and Strictly Ballroom (1992). Brilliant Lies saw her share top billing with her sister Zoe and her future husband, another Australian, Anthony LaPaglia.
Anthony in The Client (1994)
He intentionally dropped his Australian accent when he went after work in Hollywood. At that time there were no Australian actors in American movies who had retained their accents. Today, they are everywhere. His Italian-Dutch parentage made it relatively easy for him to play Italians, so much so that he was offered the role of Tony Soprano in the enormously successful series. Incredibly, he turned it down. He and Gia stayed together for 18 years before parting in 2016.